Organizations have, long enough, supported the top-to-bottom hierarchy where decision-makers and employees are two different kinds. But as times change, so do organizations. Or, at least, the smart ones.
Flat hierarchy, close-knit working environment, open workspaces, and virtual teams—this is what the modern business world is about. In recent years, many organizations have switched to new approaches that eliminate the bureaucracy that often hinders an organization's speed and helps to elevate the employees' level of responsibility. The Agile approach to project management put forward the concept of cross-functional teams.
Cross-functional teams are an ongoing effort by businesses (including popular ones like Google, Facebook, Netflix, and Amazon) to find agile and innovative solutions to the various challenges they face during project planning, project management, and team collaboration.
Let's evaluate this concept from its roots. Starting with...
What Is a Cross-Functional Agile Team, and How Does It Work?
Cross-functional teams are one of the building blocks of Agile project management. A cross-functional team is a group of people with different functional expertise who work together to achieve a common goal.
Simple enough? Well, obviously, there's more.
Have you ever wondered why most organizations work in silos? What's the point—the marketing team is focusing entirely on promoting the business, the sales team just wants to drive sales, the accounting team is keeping the finances in check, and likewise, the customer success department is focusing on a different vertical. Each team is doing its job, and they're doing it well. But your business is moving in too many directions at once, which isn't good.
Now, it would be a lot better if you break down the organizational silos and show everyone the "big picture" i.e. the organizational goal. In simple words, instead of each team working independently and delivering moderate efforts, group them together to pursue a goal more efficiently. That's what cross-functional teams are about.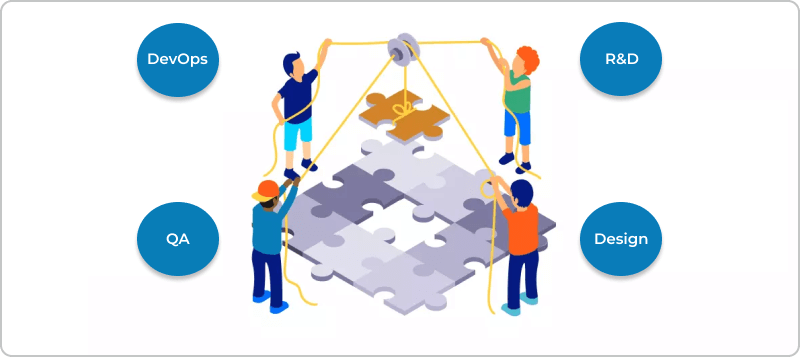 Cross-functional team in Agile
Why Are Cross-Functional Teams Important?
Cross-functional teams are a competitive advantage for an Agile organization. They're like superhero team-ups, where different individuals with different sets of unique abilities will work together for one common purpose. Every organization has potential resources scattered within in the form of various departments—HR, Marketing, Sales, Production, Purchasing, Accounting, Research, etc. Bring them all together, and you will unleash the benefits of cross-functional teams:
Increased team productivity.
Improved coordination and communication.
The team will span organizational boundaries.
Better decision-making.
Improved problem-solving abilities.
The team will deduce the overall project management cycle time.
Of course, nothing comes just like that. You also have to find the right people with the right mindset who are ready to share their knowledge and be open to changes.
Let's see what experts have to say:
"Our constant interactions across functions and companies helped everyone involved consider and understand different perspectives and how those perspectives impacted the project. We were able to achieve the precision we needed and find efficiencies along the way." — Andrew de Bray, managing director at Factum
"Since these are closely related departments, most people have crossover skills and knowledge that enable them to easily understand how other members impact the work… However, this also can lead to friction in team dynamics. For example, a person from design may have marketing experience and think a different approach is warranted for a campaign," — Sagi Gidali, CPO and co-founder of Perimeter 81
What Are the Main Challenges of Cross-Functional Teams?
To make cross-functional teams work in sync, you need to be aware of some of the most common challenges when building them. The gravest one is believing that cross-functional teams are a silver bullet to efficiency problems.
Although these groups can be extremely beneficial, breaking down dependencies is one of the biggest challenges they face, especially in an enterprise setting. You need to consider that those dependencies might be too big to eliminate, resulting in disorganization. That's why carefully inspect how to build cross-functional teams within your environment by first visualizing cross-team dependencies and then analyzing which ones can be optimized.
How Do You Create Good Cross-Functional Teams?
Here comes the best part. Now that you know how Agile cross-functional teams are different from regular teams, why they are important, and what pitfalls you need to be aware of, let's see what you should do to build such a team.
1. Bring Diversity to Your Organization
At first, people often assume that cross-functional teams encourage diversity because they are made up of individuals from distinct functional areas. But that's not all. A truly Agile cross-functional environment includes teams with individuals of different experience, age, gender, location, skills, seniority, and engagement.
2. Keep the Goals Aligned
The next step is to keep every individual and team goal aligned with the company's objectives. You need to ensure that everyone in your organization is rowing in the same direction, irrespective of their responsibilities. Usually, companies that have more closely aligned goals across their organization enjoy higher levels of financial success. Teams and individuals should clearly understand the connection between their efforts and the overall goals of their employers. If you need precision in your goal-setting process, try implementing the goal-management framework of OKR and visualizе your projects on a visual management board.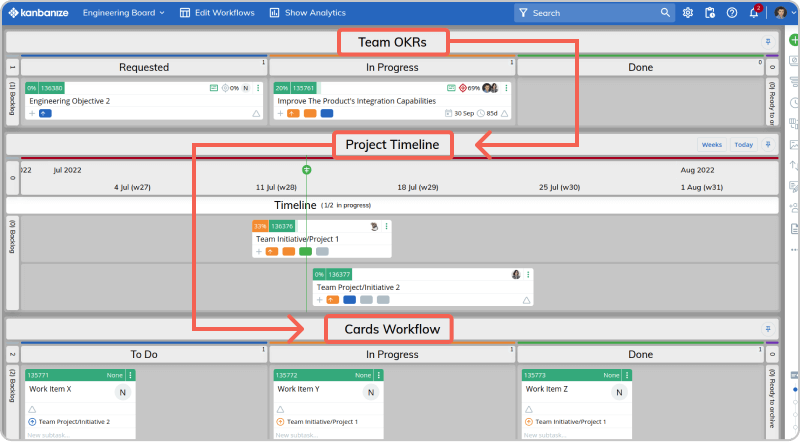 Visualizing team-level objectives and operational efforts on a Kanban board to manage the work of a cross-functional team
3. Include Influencers/Subject Matter Experts
Every organization has individuals who know more than usual about stuff like processes, procedures, products, and customers. These are the individuals who can inspire others and give helpful advice. Make sure that such individuals are involved in cross-functional teamwork or even cross-departmental collaboration.
4. Stop Over-relying on Meetings (Let People Bump into Each Other and Chat)
You and your cross-functional teams shouldn't always rely on meetings for every action or decision. It's time-consuming. Secondly, there are plenty of great team collaboration apps such as Kanbanize by Businessmap, Slack, ProofHub, Glip, Github, etc. You can also mix techniques, such as Kanban with Slack, for instance. Such solutions make it easy for everyone to communicate and check the progress status of tasks or projects from anywhere, at any time.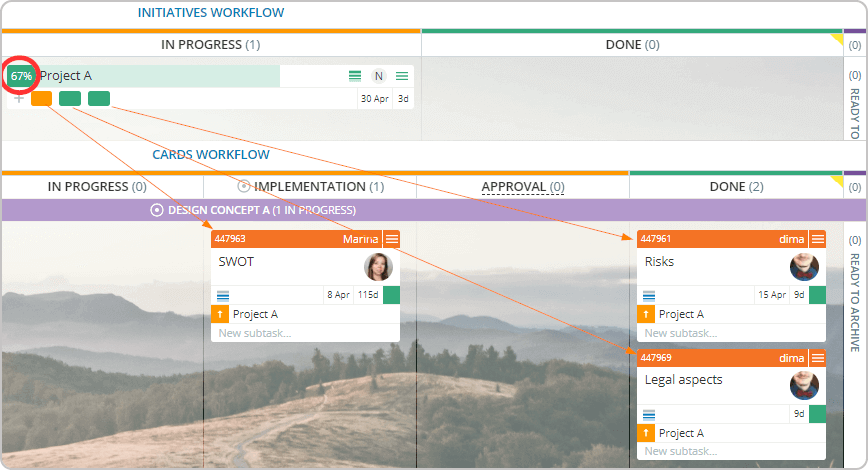 Tracking tasks and project progress on a Kanban board
5. Embrace Automation and Technological Advancements
Today's technology-driven economy plays a crucial role in increasing employees' engagement. A majority of employees out there are looking for career opportunities where they can embrace technology for growth and success. So, when you are making efforts to build a cross-functional team, be sure to keep people excited about daily work with the latest productivity apps and tools.
6. Ensure Psychological Safety
Before we finish this article, here is some food for thought. In 2012 Google started a project called Aristotle to discover the secrets of effective teams. The researchers observed 180 teams from the whole company. Guess what the #1 factor for high-performing teams is? Setting clear goals? Not exactly?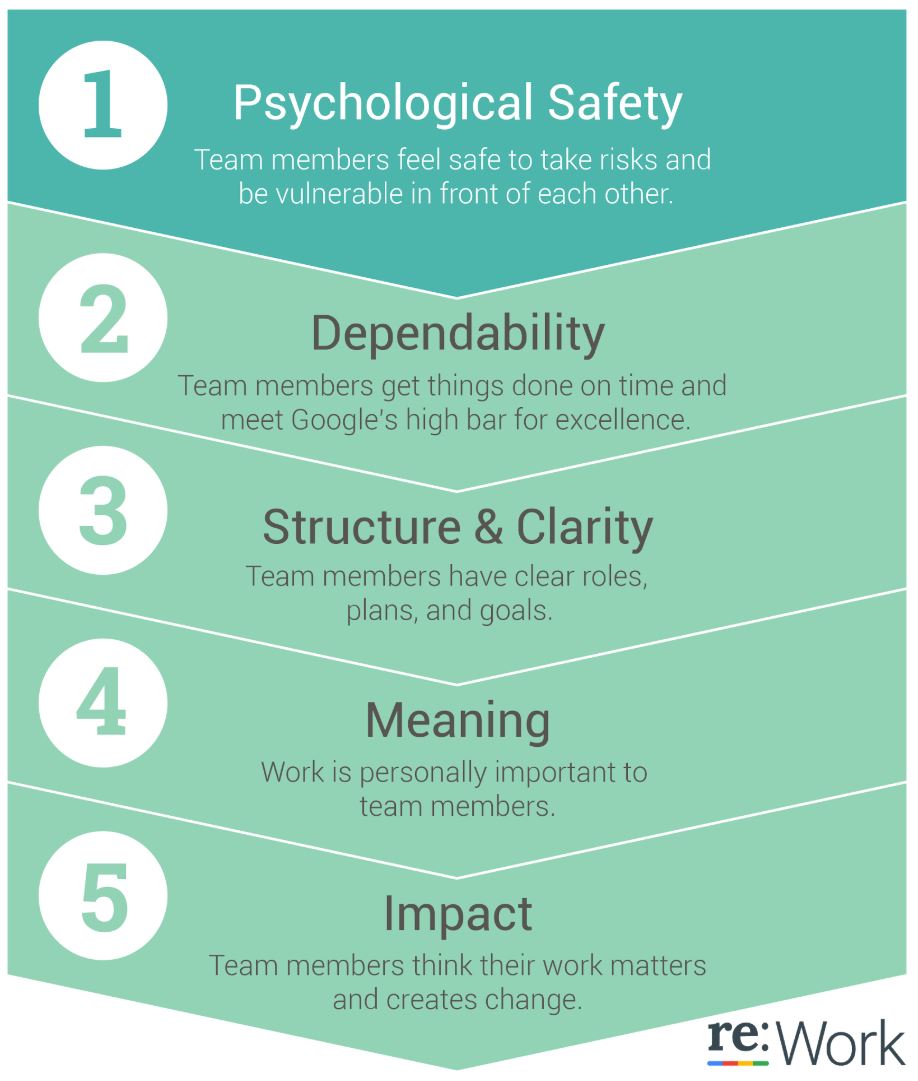 Source: rework.withgoogle.com
"But Google's data indicated that psychological safety, more than anything else, was critical to making a team work. "
In short psychological safety is when team members feel safe to take risks and be vulnerable in front of each other. So, keep this in mind next time you try to assemble a well-functioning Agile team.
"the whole is greater than the sum of its parts" — Aristotle
And the Bottom Line Is...
Two heads are always better than one. Similarly, cross-functional teams are always better than traditional hierarchical business models. We hope the details we provided in this post will lead to some fresh thinking and keep the odds of success in your favor.

Vartika Kashyap
Guest Author
Vartika Kashyap is the Marketing Manager at ProofHub and has been one of the LinkedIn Top Voices in 2018. Her articles are inspired by office situations and work-related events. She likes to write about productivity, team building, work culture, leadership, entrepreneurship, among others, and contributing to a better workplace is what makes her click.