One of the first applications of the Kanban method in the IT industry was with support teams. The reason is clear - such teams need to be extremely flexible due to the unpredictable arrival of work, they need to be able to determine priorities quickly and they must strictly track how much time each item takes to complete.
The Kanban method has been tried out in the support domain with amazing results, and a lot of teams nowadays consider it as the de facto standard to address change requests or defects. Below is a sample implementation of a Kanban project for support teams that you can implement yourself or enhance as required.
Support Kanban Board Structures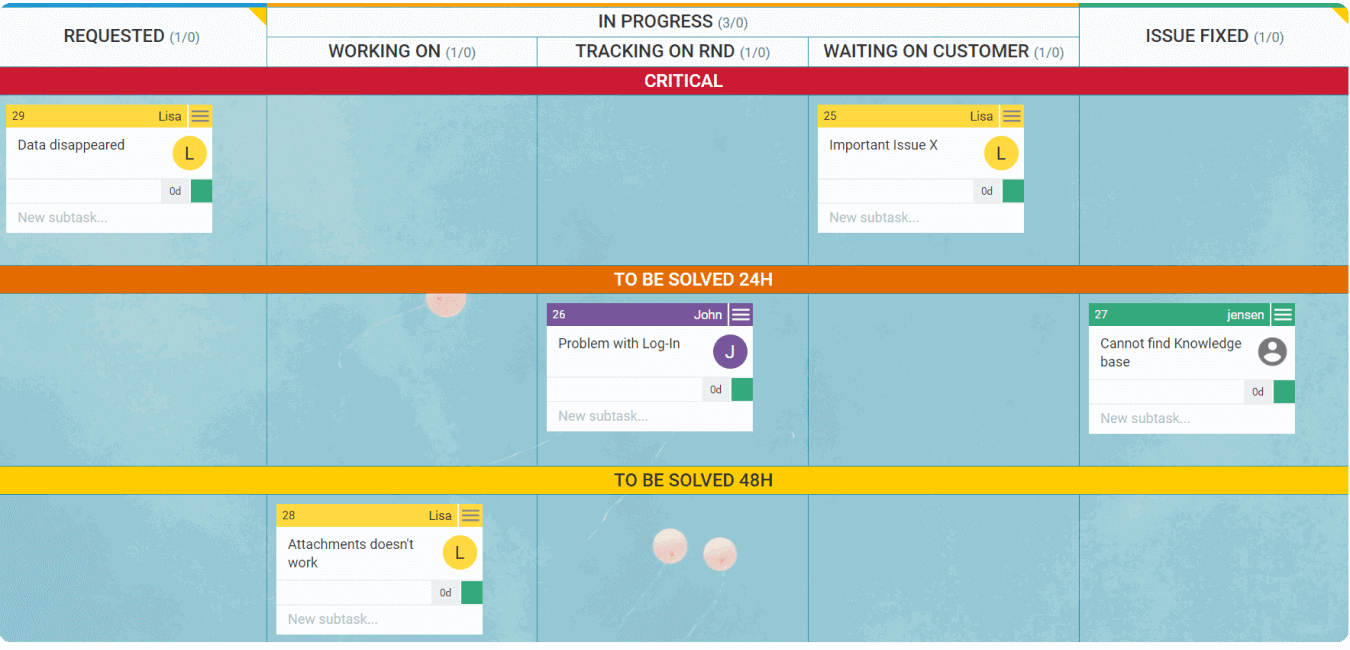 Support is a business function that may be structured in many different ways depending on the size of a company, its complexity and so on. This way, in the following paragraphs, I tried to highlight some of the most popular scenarios of Kanban boards for production support teams.
Enjoy!
First Level of Support Board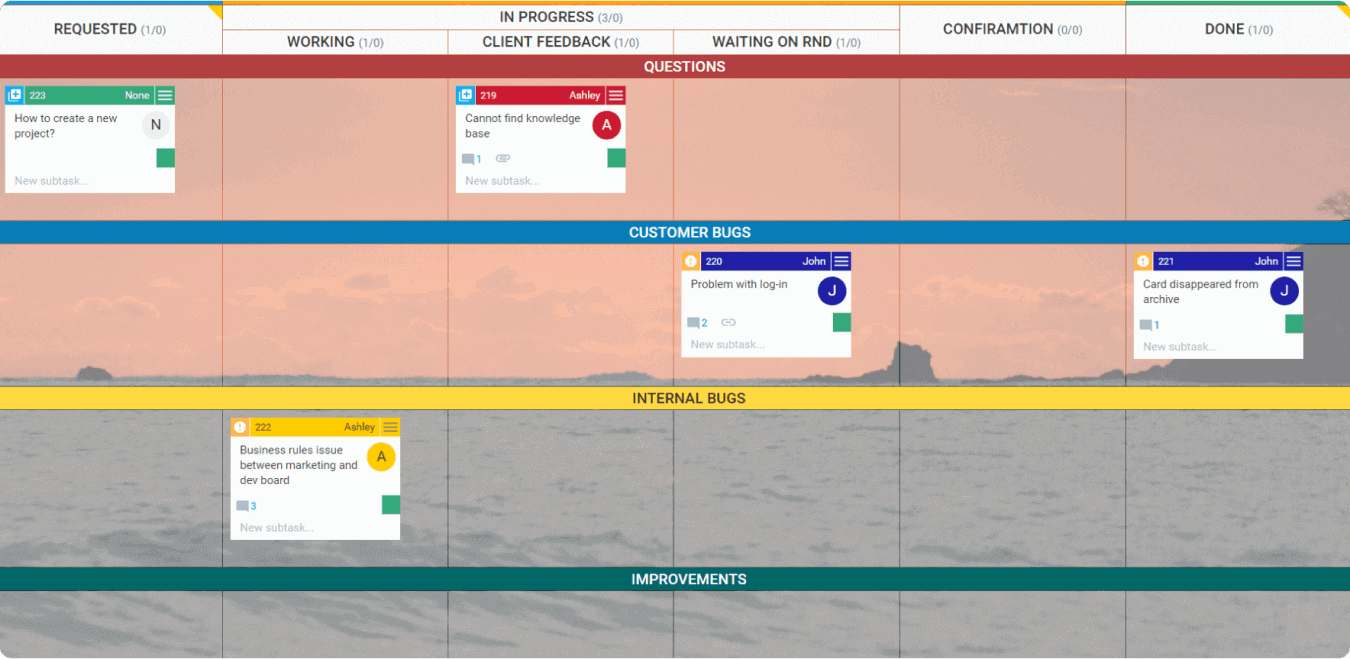 Usually, support teams are divided into the first and second level of support. The first level of support is in charge of fixing regular user's issues.
In many cases, users can be external and internal users. So it is a good idea to use swimlanes in order to separate internal support cards/tickets from external ones.
In such situations, some typical process stages may be implemented as Client Feedback, Waiting on RND, or any other stage applicable to a specific team needs.
Second Level of Support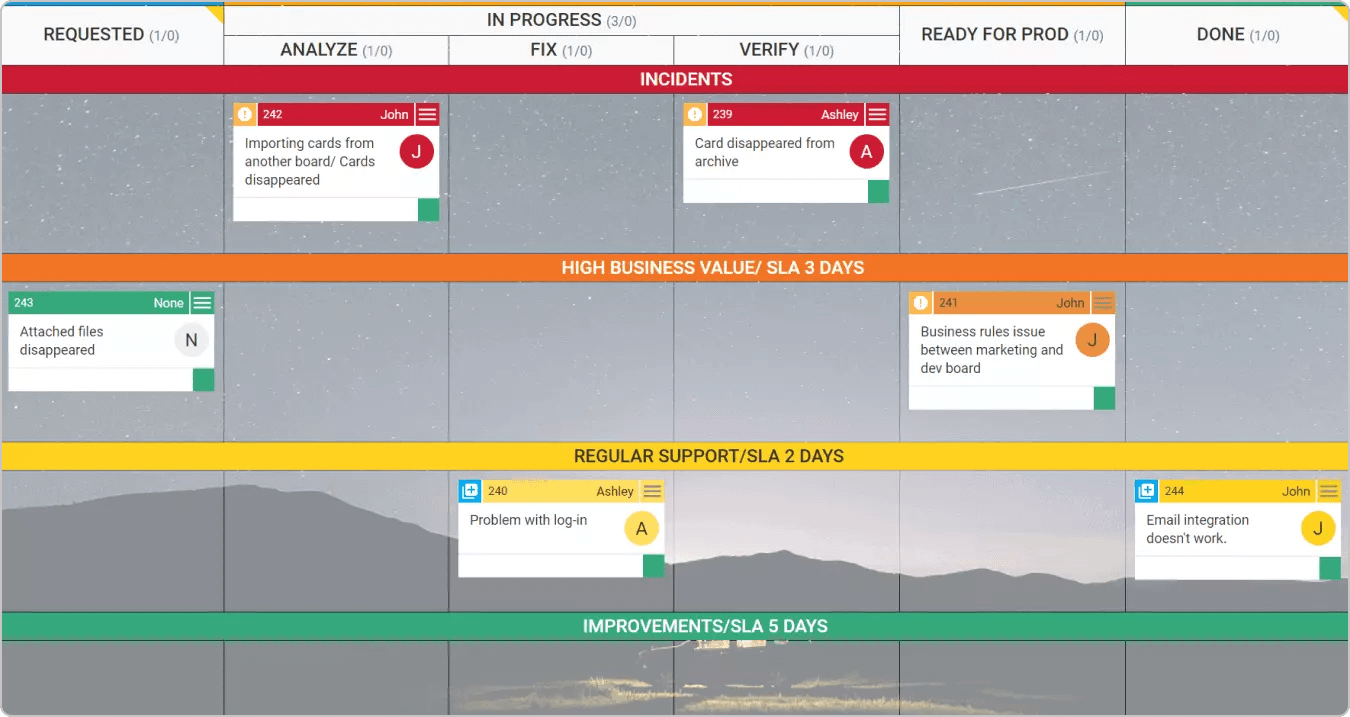 This is a more in-depth level of support where the teammates are highly skilled and have extensive knowledge of a given service (product), for example. Thus tasks may be of high business importance.
This is why swimlanes may be applied to differentiate regular support tickets from high business value tasks, as shown in the image above.
Of course, you can always apply an Incidents/Expedite lane where only urgent tasks appear.
Combined Support Board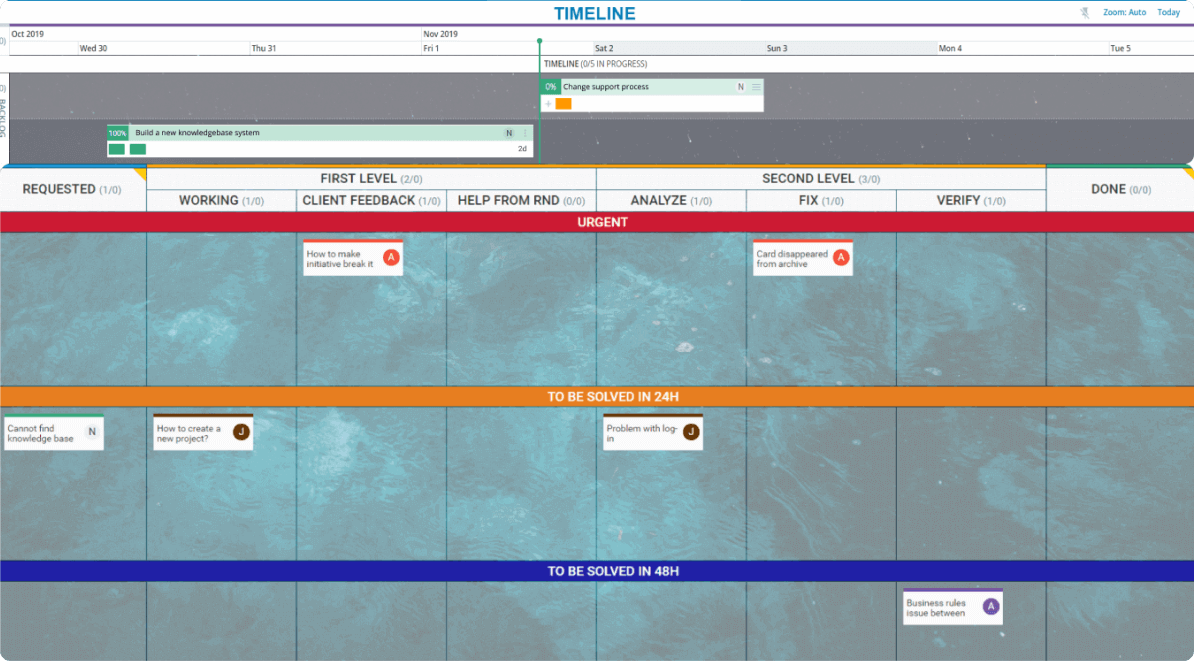 On many occasions, production support teams prefer to work on a single board in order to acquire a better understanding of the whole process. On the board above you can see a combination of the previous two examples. As you may notice the swimlanes may be used for work prioritization and time management.
This board can help the different lines of support to collaborate in a better way and keep control of all customer issues, no matter their complexity status. These are just a few templates a support team can use. Basically, each team can build its Kanban board based on its own preferences.
Kanban Helps Support Teams:
Organize and manage a great amount of work;
Keep track of every support issue;
Acquire a better understanding of the work process;
Shorten cycle times for solving customer's issues.
Check Our Case Study, "The Most Productive Way of Doing Support"

Pavel Naydenov
Head of Marketing
Passionate about online marketing, copywriting, brand management, and social media. Enthusiastic about cooking, guitar playing, and continuous improvement.