We believe that the essence of agility lies in our ability to cut through the noise and focus our most valuable asset, TIME, on the things that truly matter! After all, that's why we built our product in the first place: to help people do meaningful work and, by that, accelerate innovation.
But the question remains, how do you focus on the things that matter the most? And while we know there isn't a universal answer, we are pretty sure that what we have to offer will bring your company to another dimension.
So, get ready to meet Kanbanize 10, where you can gain a complete overview of your organizational priorities from one central place.
And yet, that's just one part of the story.
Our product is taking the next big leap in its development, and we're excited to share what we've got in store for you.
Let's get straight into it!
Know Your Business. Focus on What Matters.
In our previous major update, we introduced a powerful connection between OKRs and Kanban to align strategy with execution. But as every organization has many moving parts, all objectives, intermediate goals, or work initiatives can live in separate areas (in our case, Kanban boards).
The missing piece of the puzzle was a central place that consolidates all that information and provides a comprehensive map of your business.
And that's precisely where Kanbanize 10 comes in - with the introduction of the Initiatives and Outcomes hub. Think of it as a mission control center where you can understand what's going on at a glance and determine whether your actions are truly propelling the company forward.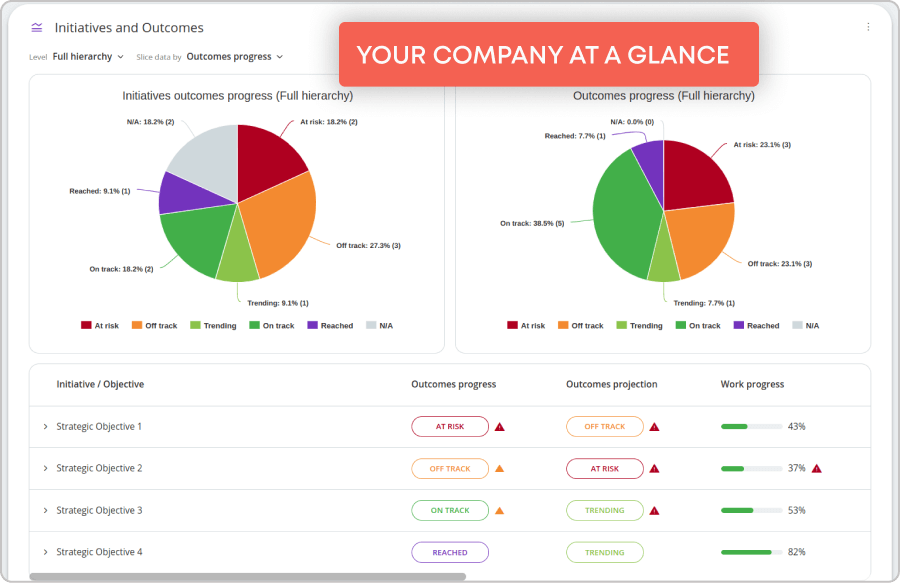 Monitor Goals Progress, Detect Risks and Get Status Projections
As the name "Initiatives and Outcomes" suggests, the mission control center provides a comprehensive overview of both your initiatives (objectives) and outcomes (key results). In just a single glance, you can monitor their status across multiple boards in your account.
How many initiatives/objectives do you have On Track/Trending? Which ones are Off Track? Or maybe you wish to see the key results which are currently At Risk? All that information is visually accessible and just one click away.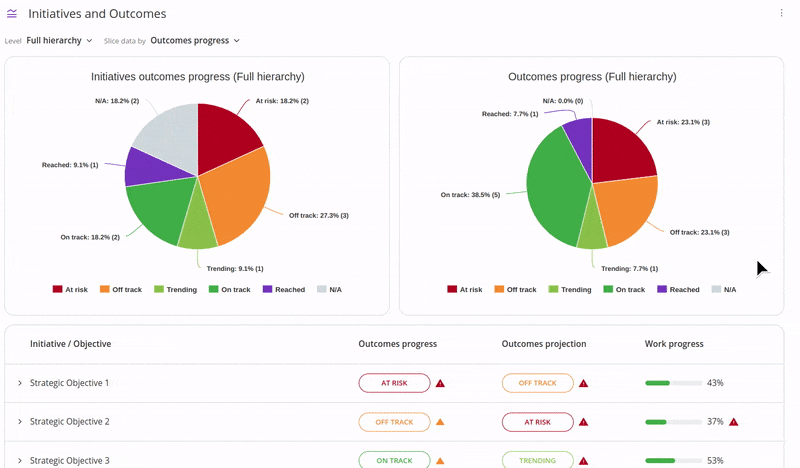 Understanding your current status is a start, but why stop there?
To enable a complete assessment of your goals' progress, the same status indicators are also available for projections. You can quickly find out whether your outcomes are projected to be On Track/Trending, Off Track, or At Risk until their target date.

This gives you valuable insights so you can detect risks on time and determine whether your most important priorities are moving as expected.
See if Daily Work Impacts Company Goals
The true definition of aligning strategy with execution is understanding whether what you're working on is bringing you the result you're after.
That's why you can also monitor the current work progress of your objectives or single initiatives and inspect what their expected progress should be.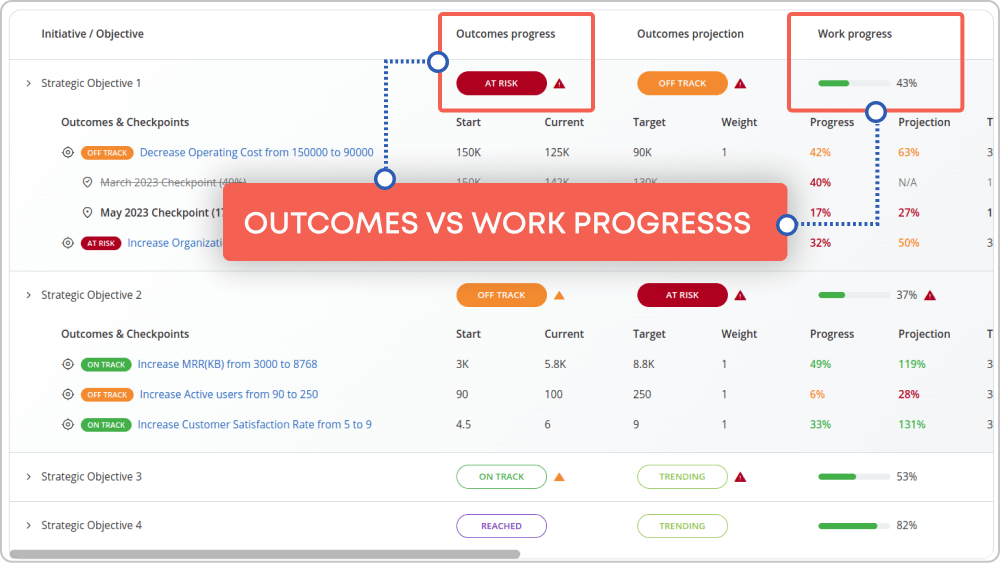 Not only that, but you can further slice the data by work progress to see how many initiatives are Off Track or At Risk.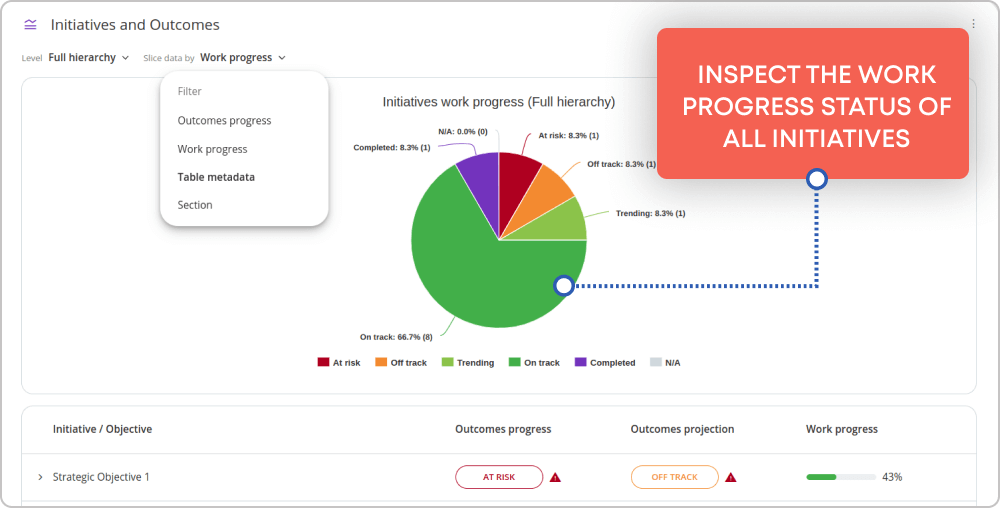 Having outcomes status and work progress available in a single place allows you to assess if what you're doing translates into business outcomes. At the end of the day, being Agile is about understanding your course of action and adjusting it when it matters.
Dig Deeper and Accelerate Decision-Making
Talking about adjustments, the Initiatives and Outcomes control center is not just an overview of your main organization priorities. Instead, it allows you to observe unlimited levels of details, including checkpoints (intermediate goals), child initiatives, grand-child initiatives, etc. This gives you insights on a more granular level to get the complete picture of what's going on within your organization.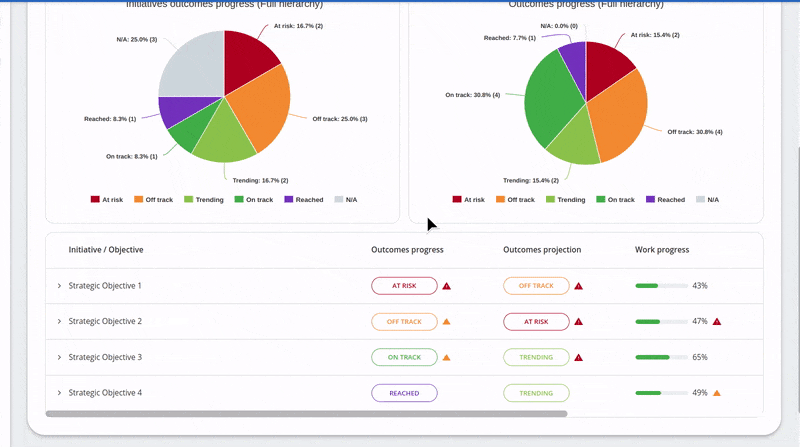 Ultimately, our goal is to provide you with the means to accelerate your decision-making so you can focus your improvement efforts on what matters the most.
Unmatched Flow Governance
Once you have an overview of your organizational priorities, how do you focus on the most important things?
This requires a new level of flow governance which comes with the release of Arrival and Departure Rules in Kanbanize 10! This novel concept in the product gives you the ability to pre-define conditions that work should meet when entering or exiting specific parts of a process.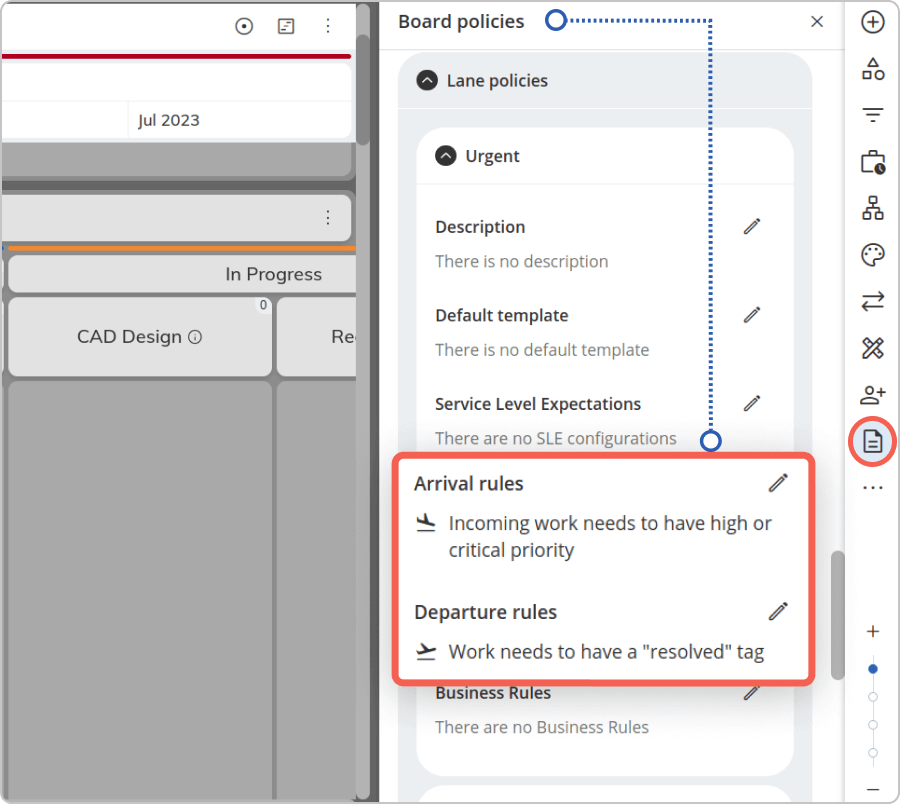 Think of it as security control at an airport. When arriving and departing, there are certain rules you need to meet, such as having your passport, making sure your hand luggage doesn't have sharp items, moving through a specific lane, etc.
The same idea applies to your work.
What work items should contain so they enter the process? Or where should they move to when exiting it? The possibilities are endless.
And while going into detail is way out of the scope of this article, think about what you can achieve on a management level.
With Arrival and Departure rules, you can specify what types of projects teams can start working on. This includes setting conditions for allowing only the most important initiatives to be in progress which opens the door to limiting work on a portfolio level.
As a result, you can ensure that your team's focus goes to the things that drive meaningful outcomes for your business.
Analyze Workflow Performance in a Heartbeat
In Kanbanize 10, we also give you the ability to analyze the performance of your workflows in no time. The "Workflow Performance Summary" widget shines a light on your most important flow metrics, including lead time, cycle time, block time, throughput, flow efficiency, and WIP.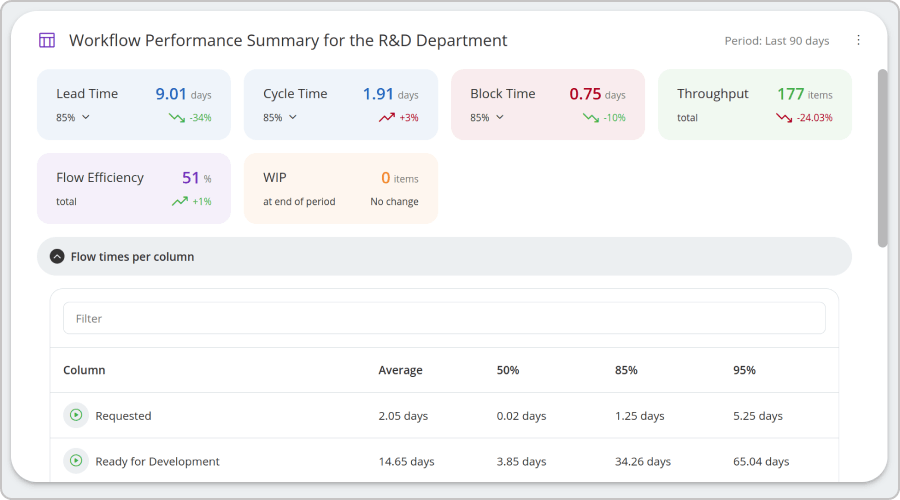 In just a single glance, you can compare your workflow performance with previous periods and understand if you're improving or not over time. Not only that, but the widget allows you to get granular and see the actual work items which constitute the data.
This helps you dig deeper into the workflow issues and take the necessary measures.
After all, doing what matters would not be enough without continuous improvement!
Kanbanize 10 Is Here to Help Take Your Company to the Next Level!
Kanbanize 10 is a huge step forward for our product which opens the door to a new realm of work management opportunities.
And yet, we've just scratched the surface of what's possible in the software.
At the end of the day, the best way to explore all the features is by testing them yourself.
So, go ahead and start your free trial today. And don't hesitate to give us feedback. Because even after our hard work, we know that there is always a better way!

Nikolay Tsonev
Product Marketing Manager
Nick is a strategic thinker, passionate about marketing, sales enablement, project management and productivity. An avid sports and Star Wars fan, he spends most of his free time in the gym or the playing field.