How do you measure success at your company?
Based on what you do, there might be a lot of different factors that define success for your company.
But I want to tell you one of the ways we measure success in Businessmap. It's simple: we celebrate success when our customers succeed through innovation.
At the end of the day, that's how Businessmap was born in the first place. To help companies free up time, so they can spend it on innovation to make the world a better place.
So, as 2023 is still in its early days, we want to take this opportunity to share in the success of one of our customers - SCHLENK!
A 2022 Bavarian Innovation Award for SCHLENK!
Who Is SCHLENK?
To set the stage, here's some brief information about the company:
Carl SCHLENK Aktiengesellschaft is a leading international manufacturer of metal powders, metal pigments, and metal foils. Founded in 1879 with headquarters in Barnsdorf (Roth) near Nuremberg in Germany, today, the company has around 1000 employees and a worldwide presence. As a holding, it divides its business into two divisions: SCHLENK Metallic Pigments and SCHLENK Metal Foilsand is now active in the coatings & plastics, printing & graphic arts, cosmetics, metal foils, and building materials industries.
The Bavarian Awards and Schlenk's Winning Product Line - Zenexo®
The Bavarian Awards (link opens a webpage in German) are presented every 2 years in recognition of outstanding innovative achievements of companies in Germany's largest state and one of Europe's most advanced and successful economic regions: Bavaria.
2022 marked the 6th edition of the awards.

Every 2 years, companies from Bavaria compete for first places with their innovative product lines. In 2022, 190 companies were nominated.
The overarching trend so far has been for electronic, engineering, and healthcare companies to win the main awards.
At the end of last year, however, SCHLENK became the first company from the pigments industry to win a Bavarian Innovation Award. They have been awarded the third main price thanks to their innovative pigments - Zenexo®.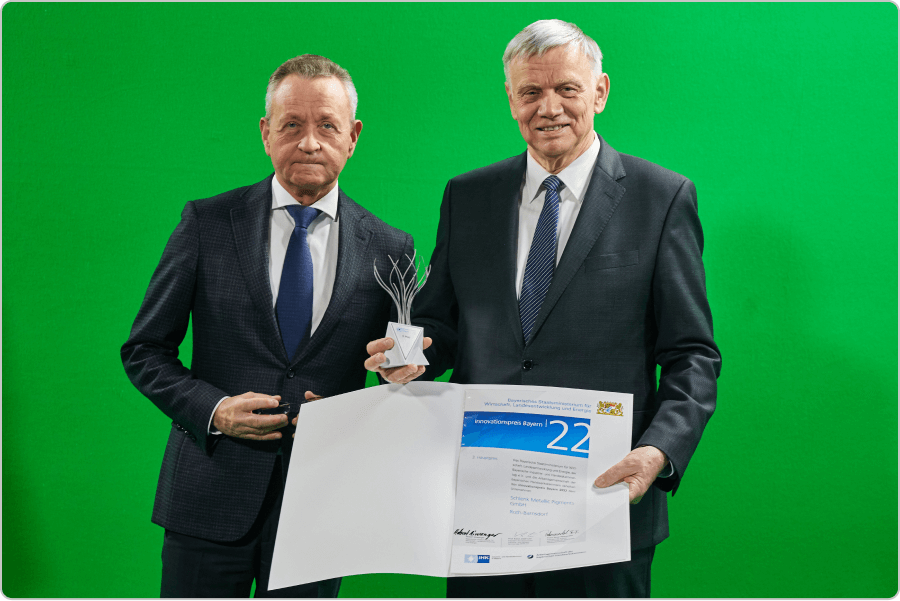 What Is Zenexo®?
Zenexo® belongs to a class of sophisticated effect pigments, metal interference pigments (MIP), which are often used mainly in red to gold-colored metal coatings for automobiles, sports, and electronic equipment. However, Zenexo can also be used in all environmentally friendly processes, such as powder coatings, ultra-high solids, and zero-VOC coatings, for the first time for this pigment class.
The high hiding power allows the formulation of up to 25% thinner paint layers, thus saving material, lowering drying costs, and reducing CO2 emissions."The precise design of the pigment makes it possible to formulate metallic coatings that are significantly more aesthetically, more brilliant in color, than before."
Ultimately, the product line positions SCHLENK as one of the most innovative companies in the pigment market.
So, What Does Businessmap Have to Do with All This?
Operational agility and efficiency.
We want to make clear that SCHLENK's commitment to continuous improvement and investment in research & development is what stands behind this award. However, everybody has supporters on their journey to excellence, and we're happy to be such for SCHLENK.
Talking to Dr. Adalbert Huber, Vice President of R&D, we learned more about how our project portfolio management platform - Kanbanize by Businessmap, contributes to SCHLENK's success in driving innovation.
1. From Waterfall to Kanban
Coming from a highly regulated industry such as the Pigments/Coatings sector, SCHLENK used a traditional waterfall approach (Stage-Gate process) for R&D. Due to the complexity of the projects, they also combined it with the critical path method.
The Stage-Gate process gave the company a sense that "everything is under control", and it was a good solution from a reporting point of view because everything was nicely laid out on Gantt Charts. However, due to the innovative nature of SCHLENK's R&D projects, the critical path was constantly changing.
Innovation means uncertainty, so SCHLENK had to find a more flexible approach that would fit their industrial research process without adding unwanted complexity and overhead.
That's how they turned to Kanban.
2. Kanban's Benefits for Knowledge Work
Kanban is famous for being a tailor-made approach that can be applied on top of an existing process. You don't need to revolutionize anything to make it work.
That usually means less overhead which was a significant factor for SCHLENK. Abiding by the method's first principle of "start with what you do now", they applied it to knowledge work processes such as research, technology development, and support.
By simply visualizing their workflows and collecting historical data, SCHLENK gained the ability to compare their processes over time and see whether improvements are actually happening. Kanban provides unmatched visibility into all work items, so teams can better understand what really matters and eventually cut down times on bureaucratic tasks.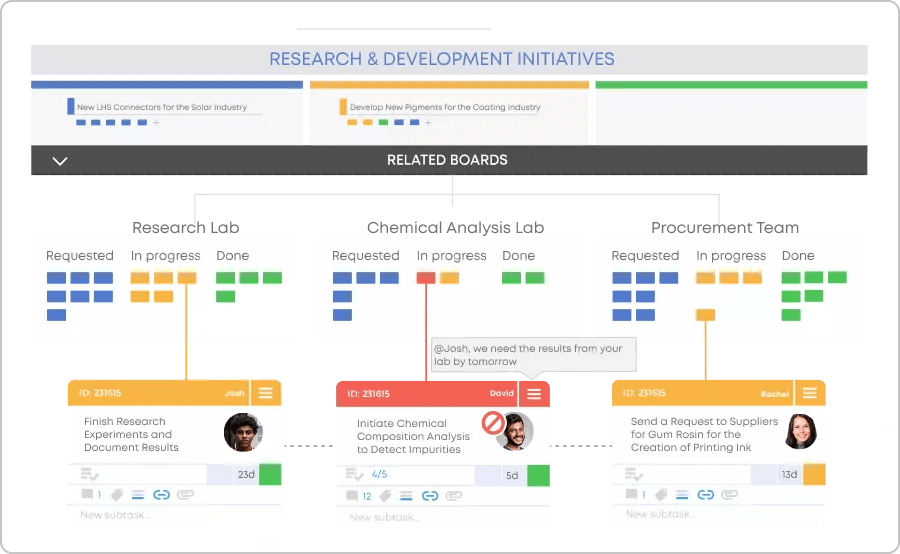 3. Kanbanize by Businessmap - The Kanban and PM Tool of Choice for SCHLENK
After deciding to go with the Kanban method, SCHLENK needed reliable software that supports it. While testing several vendors in parallel, the company chose Kanbanize due to 2 main factors:
Best compatibility with their industrial research process
Dedication/Responsiveness
In our conversations with SCHLENK's VP of R&D - Dr. Adalbert Huber, we found out that they were specifically looking for a tool that could easily implement a hierarchical work structure within a single place. In Kanbanize, that's possible due to the parent-child link relationships.
The second point, however, is where we take true pride. In Dr. Huber's words: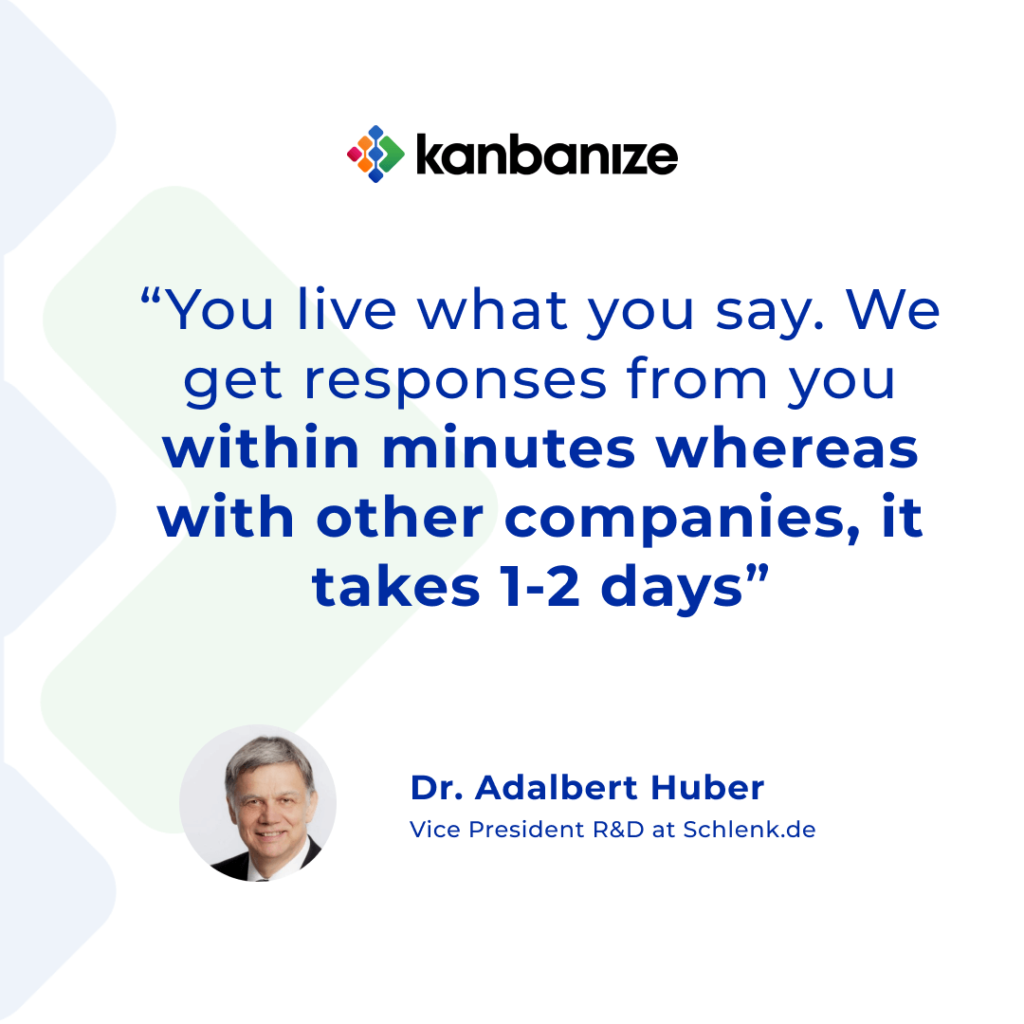 We feel nothing short of humbleness when we hear such words. At the end of the day, the happier our customers are, the more successful we become.
4. Key Results
Today SCHLENK uses Kanbanize within 20 teams across the entire company, mainly for managing knowledge work.
One of the brightest key results they've achieved is the reduction of cycle time within their industrial research processes.

As you can see from the image above, since the beginning of 2021, the company has been steadily decreasing its cycle time and stabilizing its process. As a result, they went from approximately 40-60 to 20-30-day delivery cycles.
Another key point that Dr. Huber shared with us is their estimated span from patent application to a product's market readiness. Today, that span is around 4 years, whereas it could circulate from 10-15 years for competitors.
What's the Key Takeaway?
As we mentioned, all of this is far from a Kanbanize doing alone. The important thing here is the key takeaway - operational efficiency. Kanbanize supports it by allowing SCHLENK to unburden its teams from bureaucracy and focus on the work that truly matters.
That was one of the critical factors in winning a Bavarian Innovation Award too.
At the end of the day, the ability to "cut through the noise" and dedicate our most precious resource in this world - TIME, to the things that matter is what drives innovation and our world forward!

Nikolay Tsonev
Product Marketing Manager
Nick is a strategic thinker, passionate about marketing, sales enablement, project management and productivity. An avid sports and Star Wars fan, he spends most of his free time in the gym or the playing field.