What does it mean to "lead yourself first"?
How is that important to you?
Where do you start, and how to put it into practice?
It was beyond a privilege to have Mr. Christopher Avery, founder of the Responsibility Process framework and CEO of the Responsibility company, take us on an explorational journey to agility and effective leadership. Sharing findings from his 25 years of practices of applied research in responsibility-taking and leadership, you'll find the tremendous benefits organizations, teams, and individuals can get from embracing the mental state of owning our decisions.
Here's a recap of what we discussed during the event.
What Are the Keys to the Responsibility Process?
At the beginning of the conversation, Christopher walked us through the keys of the responsibility process. These can help you understand the true power of reasoning and transition from the mental state of being defensive and resistant to being creative, owning your decisions, growing, and creating value.
Here's a sneak-peak at the 3 keys to the responsibility process or how to lead yourself first:
Intention. How to Practice it?
Awareness. How to Achieve it?
Confront. How to Recondition Yourself?
Practicing intention, being aware of your state of mind, and confronting your fears and anxieties puts you in a mental state of freedom, choice, and power. This mental state creates a space where you can own your choices and be guided not by the conformity of society but rather by your own inspiration and unique genius.
Moving forward, we got the chance to learn every single step of the Responsibility process and what it means through practical examples.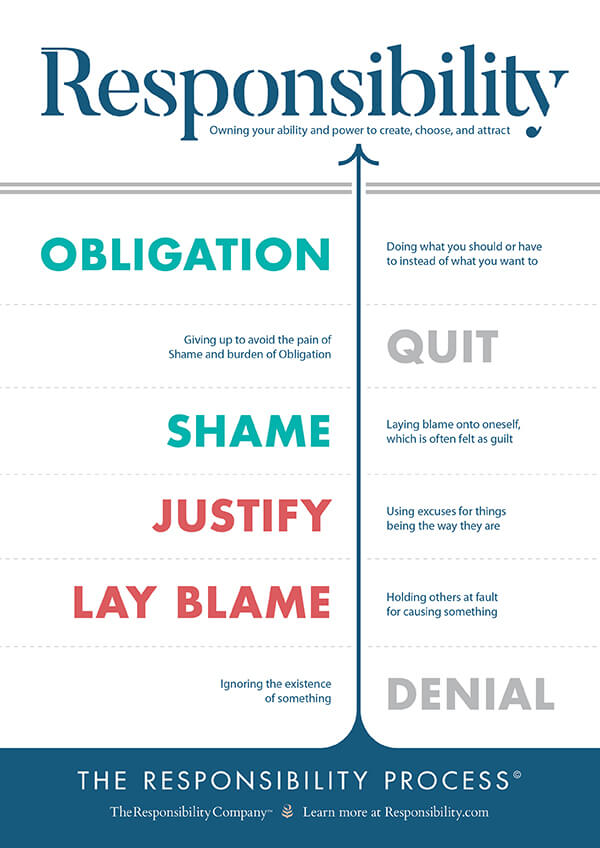 The Responsibility Process, Image credit: The Responsibility Company
While discussing how to keep climbing the ladder until we achieve a state of "Responsibility", Christopher also shed knowledge on:
How to create a space where you make your own choice?
Why the smarter we get - the better our justification stories become.
What is the mental state of "have to, don't want to"?
The Link between Agility and the Mental State of Responsibility
It wouldn't have been a KanConf if agility wasn't part of the conversation. The ability to respond to changes is a must-have capability in today's business world. As you go through the different stages of the responsibility process, you unlock full access to the reasoning available in your mind. Getting past the stages of blaming and being ashamed that result in counterproductive results will help you unlock growth, inspiration, and self-awareness.
"Kanban Done Well"
What is the connection between the Kanban method to managing projects and processes, the Lean philosophy, and responsibility? Being firm proponents of the Responsibility process at Businessmap, we've always seen the symbiosis between the three perspectives.
As discussed, the humane nature of the responsibility process can also be found in the Kanban method, where self-management and leadership play crucial roles. As a result of taking responsibility for your actions, you reduce or eliminate denial, blame, shame, and obligations that add no value to your world. In other words, you remove what's considered waste in the Lean world.
Responsibility Process in Practice
As the conversation progressed, our speakers engaged in a Q&A session where they gave answers to many questions. Some of them were related to public shaming, generational toxic energy, how to break free of conditioning and expectations, and more.
In general, as much as we want, we can't summarize everything Christopher Avery taught us in a few paragraphs. That's why we give you the complete recording of the KanConf#3 mini-conference.
It's definitely worth checking out. Don't miss this opportunity!
Learn more about:
The Responsibility Process is a behavioral science framework providing a practical approach to understanding and taking personal responsibility as a way to empower our leadership abilities. The model aims to provoke a mental state of freedom, choice and power through stimulating creativity and inspiration, and unleashing full access to the complex reasoning of our minds.
Get the Responsibility Process poster
Contact our speakers:

Iva Krasteva
SEO & Content Creator Expert
Analytical. Driven by constant learning and knowledge. Fascinated by people's creativity. Admiration for intellectual property, copywriter and SEO. Passion for nature's beauty, comic books, pop art and cinema.