Recently, our team at Businessmap, heard many Kanban board users saying they have one major pain point, no matter what Kanban tool they use:
"How can we build a more flexible Kanban board for multiple team functions or different projects? Without the need of merging columns and swimlanes. Without making compromises on the individual needs of different workflows."
Well, there is a way. In April '19, we introduce the new era of visualizing work on a digital Kanban board.
Now, with our latest feature called Multiple Workflows, Kanbanize by Businessmap gives you the freedom to build your Kanban boards in the most flexible way you can imagine. It makes it possible for you to map completely different workflows on the same board with a few clicks.
Let's check how it works.
Multiple Workflows to Define Different Types of Work
Let's consider that you and your team have multiple projects to work on. Usually, there are various work items that can be categorized in different classes of service, depending on the business impact they may have. These should be classified based on customer's expectations and their perception of value.
This means that often the different classes of service will have their distinctive workflow.
For example, there are tasks that you can't delay and must process immediately, with as little handover as possible. They fall under the Expedite class of service and must go through a simple workflow such as Requested >> In Progress >> Done.
At the same time, there are tasks that can be considered Standard. In this case, you can create a separate workflow for them and it will have a few more columns as shown on the image below.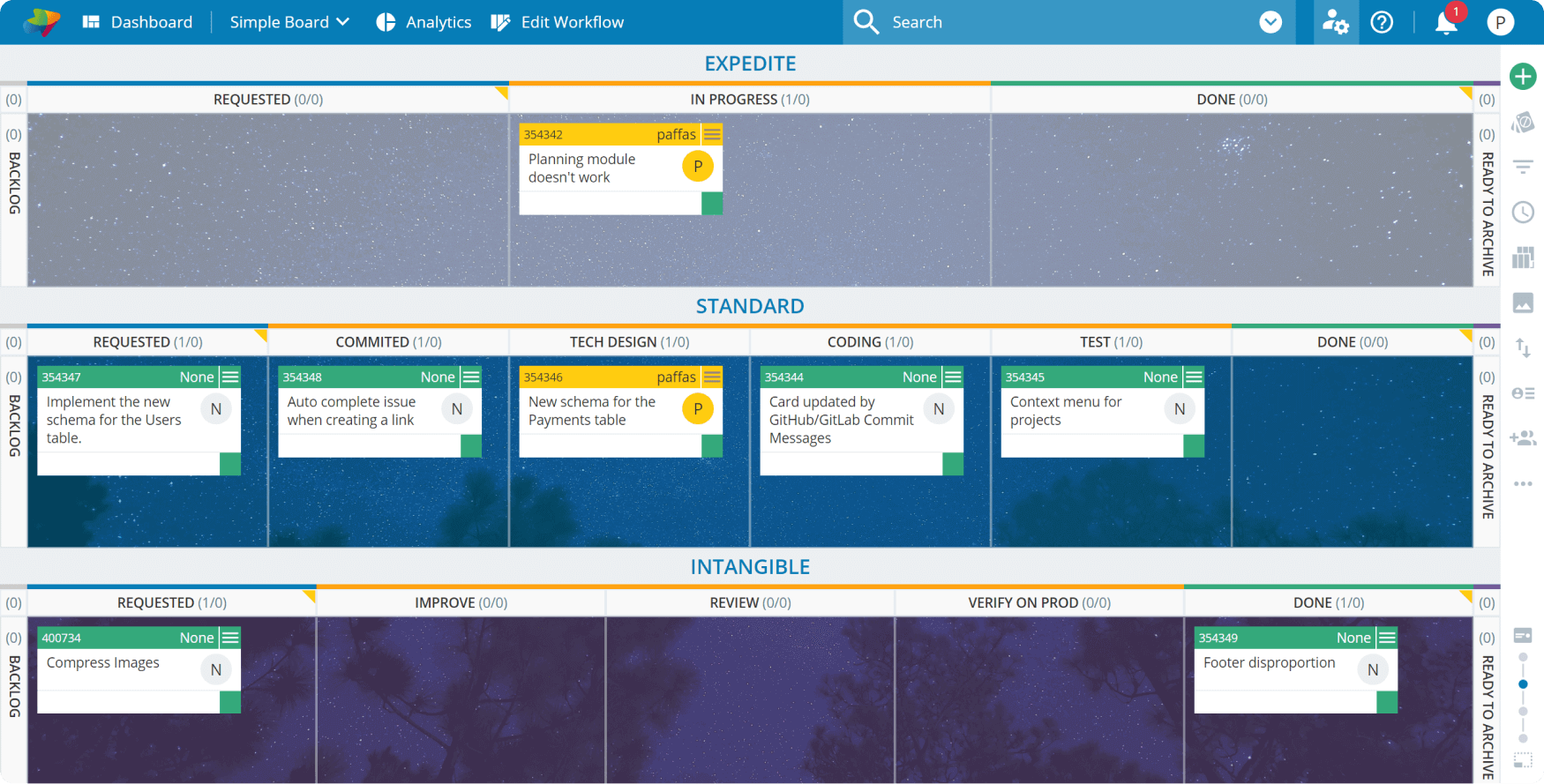 Additionally, you can also dedicate a separate workflow for tasks that don't have a huge business impact but can still be important in the long run. For example, quality improvements, documentation or process optimization. In the world of Kanban, these tasks are usually grouped under a class of service called Intangible.
In other words, you can create a workflow called Intangible and set the flow stages corresponding only to the needs of these tasks.
As shown on the image above, Requested >> Improve >> Review >> Test >> Done
Multiple Workflows for One Team with Different Skill Sets
We bet you work or at least have worked in a team where different individual contributors work on different types of tasks. Actually, this is a common case in the modern business environment.
This is where multiple workflows come into play.
Let's imagine that you work in the marketing team of a SaaS company.
Probably there is a part of the team dealing with the content production and another part dealing with the website development. As you can imagine, these two sub-teams will have slightly different process stages. Instead of wondering how to build the Kanban board so that it fits both content creators and developers, with Kanbanize, you can create a separate workflow for both processes on the same board.
How? See the image below.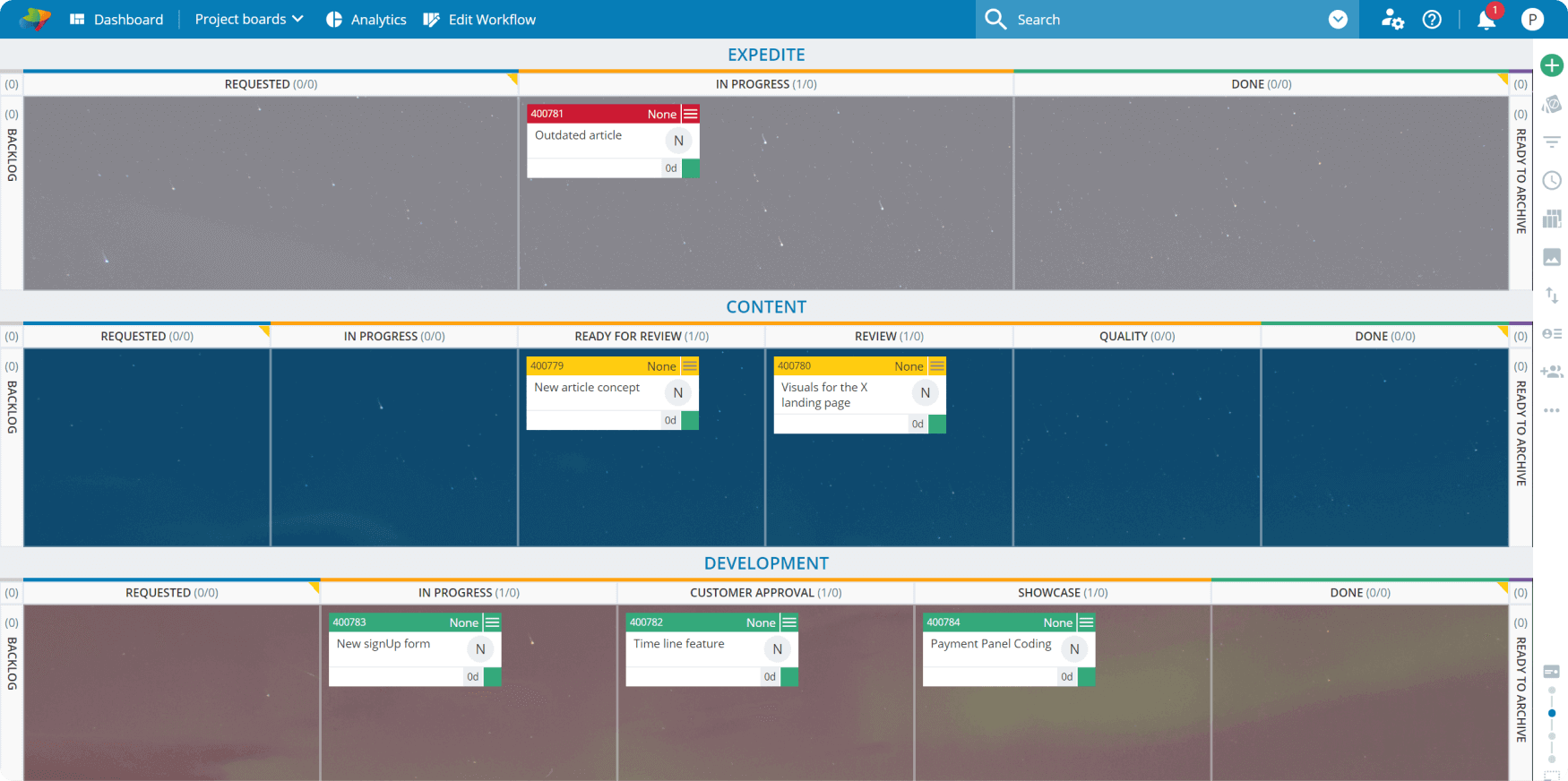 Multiple Workflows for a Portfolio of Projects
You know how sometimes teams work on two or more different projects, right? And these various projects have different work process stages.
Well, guess what?
You can now use Kanbanize to structure distinctive workflows for each project, and this can happen on the same Kanban board.
For example, your team may work on a project that requires a customer's review and another project that doesn't require such. In this case, you can build your Kanban board, as shown in the image below. And this is just a simple example of how you can manage various projects with Kanban.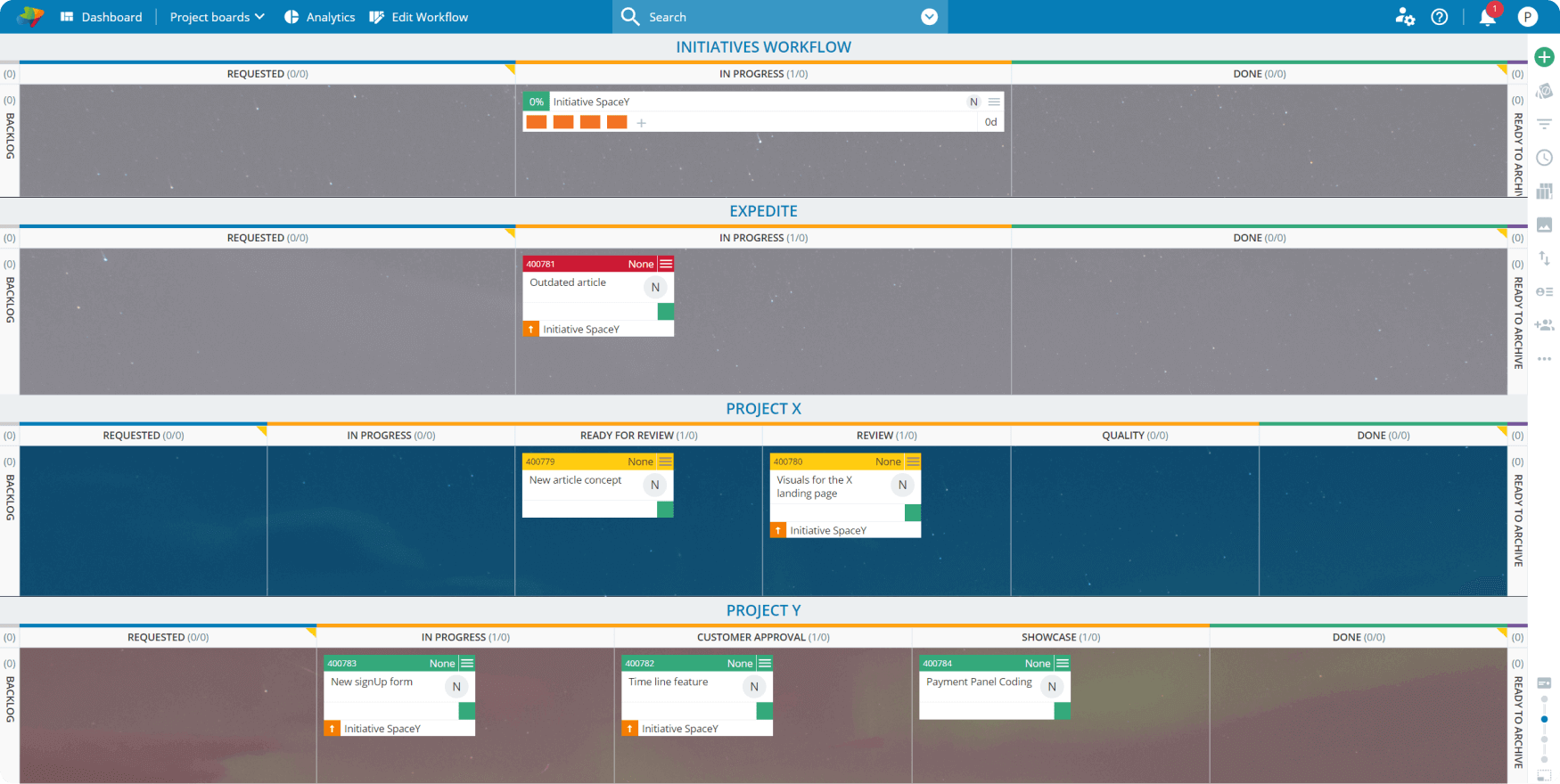 As you can see, teams can use the Multiple Workflows feature to create a multi-layer Kanban board that fits various team needs or process specifications. This way, your team doesn't have to switch between different boards and lose time in finding the right information or task status.
Everything is in one place, which makes it simple and accessible.
Plus, building your multi-layer Kanban board at Kanbanize is as easy as pie.
Watch the dedicated video below to see the Multiple workflows in action.

Pavel Naydenov
Head of Marketing
Passionate about online marketing, copywriting, brand management, and social media. Enthusiastic about cooking, guitar playing, and continuous improvement.