Program Management is an organizational process for managing a group of related projects aligned with the strategic goals. The purpose of program management is to oversee the execution of individual projects or portfolios and ensure they impact organizational performance directly. The benefits of successful program management are monitored during the program's execution and outweigh the benefits of individual projects or a portfolio within a program. Such outcomes can be related to transformation in organizational culture and values, new organizational capabilities, new product development, ROI.
What Is a Program in Project Management?
A program in project management is a group of individual projects contributing to the fulfillment of common business goals. While project management involves managing individual projects, managing a program is coordinating the said projects in their entirety. As a result, program management allows better alignment with the business goals, improved dependency management between individual projects, optimized resource management, etc.
Undertaking an Agile or digital transformation, for instance, is a typical large-scale business endeavor (a program) that requires cross-departmental collaboration. The program consists of a group of projects managed by project managers concerned with concrete deliverables. On the other hand, program managers are focused on those projects' impact on the strategic goals.
Why Is Good Program Management Important?
Good product management is not only beneficial to organizations but also vital. It brings alignment between strategic goals and execution as well as long-term outcomes. Here's why program management is important.
Global Alignment. Thanks to the global oversight of the big picture and assessment of deliverables, good program management allows companies to better align with the strategic goals.
Resource & Capacity Management. Good program managers can oversee that resources are allocated most efficiently and there's available capacity so that all projects' requirements are satisfied.
Risk management. Program management enhances the control over the execution of strategic goals by identifying repeatable processes and predictable behavior. This helps program managers eradicate risks as soon as they arise.
Conflict resolution. Understanding the synergy between individual projects within a program makes good program managers key figures in conflict resolution. Their role stands out when, for instance, challenges like resource deficiency or budget cuts arise.
Dependency Management. Competent program managers oversee the execution of a set of projects with an emphasis on managing the dependencies between the projects so each project gets what's needed to contribute to achieving the business goals.
What Is the Difference Between Program Management and Project Management?
While both program and project management's aim is to move projects to completion and are time-bound, the two approaches differ in many ways. For one, a program is a collection of related projects and benefits the organization in the long run, while a project is more specific and brings clearly defined deliverables.
Approach. Program management offers a broad overview of organizations' strategic goals. It's a strategic approach, whereas, in project management, the focus is on the specifics of each individual project. In other words, it provides a more tactical approach.
Timeframe. Program management is employed in long-lasting, even permanent initiatives with flexible time frames. On the other hand, project management deals with clearly defined project deadlines and scope.
Scope. While the program management's scope is flexible and adjustable to reflect the large initiatives and company goals, the scope of project management is better defined, and deliverables are more targeted.
Components. A program consists of multiple projects visualizing the organization's strategic direction, whereas project management handles individual projects and specific tasks driving the project to its completion.
Results. Successful program management produces outcomes that directly impact organizational development, such as ROI or digital transformation to bring long-term benefits. Project management, on the other hand, results in customer satisfaction with a concrete product or service, cost-efficiency, etc.
What Are the Benefits of Program Management?
There are 5 key benefits of program management, and the leading one is achieving the organization's strategic goals. Here's why implementing program management is worth considering.
1. Comprehensiveness: Programs represent a most condensed and comprehensive overview of the strategic objectives and how they are connected to various initiatives and projects. Program management connects strategic planning with the expected benefits as a result of individual projects' execution. These benefits can be observed during the entire program lifecycle.
2. Prioritization: Program managers apply instant synchronization of the program's priorities with the strategic goals and ensure that resources are spread across the program's projects in the most optimal way.
3. Interdependencies Management: By overseeing the big picture, program managers monitor the dependencies between the projects in a program. Managing these interconnections allows addressing all required changes seamlessly so that the rest of the projects are not disturbed.
4. Standardization: Program management brings unification by establishing global standards for quality requirements and proper documentation. Implying the application of these formalities across multiple projects eliminates the need for constant status updates and can free up capacity.
What Are the Key Factors of Program Management?
Crucial for the effective program management are personal characteristics like communication and attention to detail, as well as experience in business domains such as risk or resource management. The key factors of program management are listed below.
Attentiveness. Due to the broad nature of program managers' accountabilities, including considerations of budget, time frames, or strategic goals, attention to detail is a key characteristic of good program management.
Strategic View. Program management is employed in processes such as benefits identification, planning, or change management. Therefore, it needs to provide a broad review of the projects contributing the most to the strategic goals.
Benefits Focus. Underlined function of program management is to ensure that the program's benefits meet the business goals and the deliverables meet certain needs.
What Are Program Management Skills?
The skills of a good program manager range from project coordination and data analysis to decision-making and excellent communication. The most widely sought program management skills are listed below.
Communication. Refers to the ability of program managers to gather key insights from stakeholders about the overall business direction and relay that information to project leaders and teams.
Evaluation. Good program managers can detect and evaluate the existing relationships between projects to come up with a plan and prioritize the ones that contribute most to achieving the business goals.
Planning. The function of program management is to participate actively or provide input to project planning.
Decision-making. Making decisions from a strategic point of view is a key prerequisite for successful program management. Program managers are skilled and articulate decision-makers. They are entitled to decide on wide priorities, resources management, planning, budgeting, and issue resolution.
Risk mitigation. Program managers should be aware of business risks such as resource deficiencies, requirements change, missed deadlines, and address these challenges, support their resolution, and mitigate their effect on the business goals.
What Is a Program Manager?
The program manager is an organizational function employed to oversee the wider context of business goals and envision the benefits of individual projects' deliverables to the overall program. Program managers' role is to coordinate the projects within a program and monitor their impact on the strategic objectives. Vital skills to successful program managers include communication and liaison abilities, prioritization and planning skills, issues, and conflict resolution. In addition, program managers have key accountabilities when engaging with stakeholders, identifying and evaluating potential opportunities, establishing priorities, managing risks, and defining operational reporting methods.
What Is Program Management Software?
Program management software allows the alignment between long-term strategic goals and their achievement. Through visualizing the connection between strategic objectives and deliverables, program management software enables optimized program effectiveness. Key capabilities of program management tools include:
Transparency into strategic objectives
Alignment between business goals and execution
Prioritization and planning capabilities
Identification and management of risks
Analytics and reporting capabilities
What Are the Best Program Management Courses?
Program management certifications are ideal for upgrading your management skills and experience. These can also be used as a clear indication of solid knowledge and skills in the field. Some of the best program management courses and training on the market today are listed below.
Program Management Professional (PgMP) certification from the Project Management Institute
Portfolio Management Professional (PfMP) from the Project Management Institute
PMI Professional in Business Analysis (PMI-PBA) from the Project Management Institute
Program Management Templates
1. Dependencies Management Template
One of the benefits program management brings along is the ability to manage the interdependencies between individual projects and portfolios smoothly within a program. To help manage these relationships, using Kanban boards can be a great way to map the work of various teams and visualize cross-team dependencies.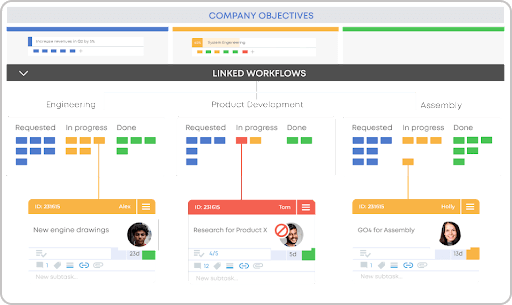 2. Timeline Planning Template
One of program management's functions is to monitor if there's progress on the strategic objectives while executing a program. To facilitate strategy execution or the connection between strategic planning and the execution of various initiatives or projects, Kanban boards can be used to create visual plans on timelines and link them to the smaller work items.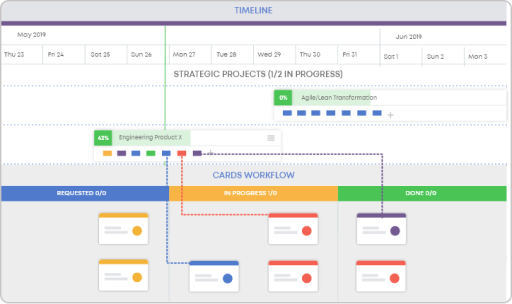 3. Work Breakdown Structure Template
Work breakdown structure (WBS) is a structural approach to decomposing work into smaller deliverables while keeping the focus on the project or program's objective. Using Kanban boards can be beneficial to program management as you can map the strategic goals there, including the required work breakdown structure levels. With the right tooling, you can make this happen in a central hub and provide a clear overview of a program's progress.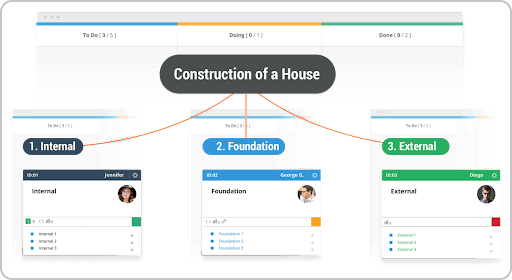 4. OKRs Visualization Template
The objectives and key results (OKRs) framework is a goal-setting technique for better alignment with the strategic direction. Kanban allows program management to map strategic objectives and visualize their respective key results or actionable steps on a single Portfolio Kanban board. There is a variety of OKR templates available, however, the combination of OKRs and Kanban brings simplicity to work prioritization but most importantly, it boosts the transparency and alignment with the high-end goals.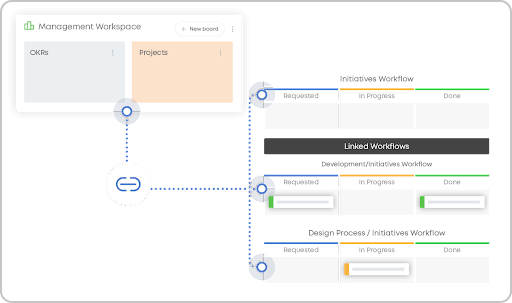 5. Workspace Analytics Template
In program management, overseeing the big picture implies tremendous abilities to gather and assimilate huge amounts of data. Some Kanban software solutions help program managers with this task by allowing them to track not only the progress of all individual portfolios and projects but also to monitor custom program metrics. These can be related to tracking progress, performance, work impediments, process efficiency, etc.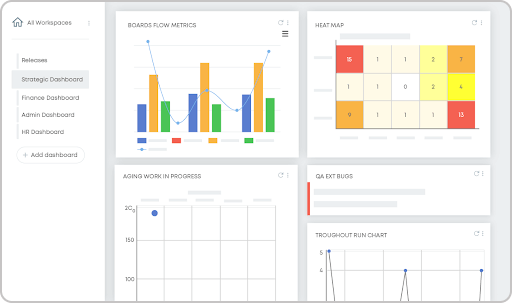 Tracking multiple workspace analytics
What Is Agile Program Management?
Agile program management is an approach to managing and coordinating a collection of related projects focusing on creating and delivering value for customers, teams, and stakeholders. Some of the founding principles of the Agile Manifesto find their application to program management too. For instance, embracing simplicity translates as the ability to respond adequately to changing demands and volatile business environments. The principle of seeking continuous excellence means striving to identify more organizational benefits within a program, finding new capabilities, bringing cost reduction, etc.
Agile program management is the coherent coexistence of program management and agile management where the focus falls not on output but on outcomes. Such outcomes can be business improvements, the usefulness of a product, or the performance of a solution.

Iva Krasteva
SEO & Content Creator Expert
Analytical. Driven by constant learning and knowledge. Fascinated by people's creativity. Admiration for intellectual property, copywriter and SEO. Passion for nature's beauty, comic books, pop art and cinema.