As the Agile approach to managing projects is getting more and more popular, there is a growing confusion about the project manager's role. What happens to it? With Agile heavily preaching shared leadership and responsibility, is the project manager in such an environment doomed?
Not at all. However, the PMs responsibilities change. Let's find out how.
What Is an Agile Project Manager?
An Agile project manager is a key figure in the operation of an Agile team. Usually, those are people with excellent knowledge of Agile values and practices and a strong background in managing projects in an Agile way.
They are primarily in charge of overseeing the entire project lifecycle, including defining project scope, identifying potential risks, and keeping track of successfully delivered projects.
Besides that, an Agile PM is engaged in regular discussions to get external and internal feedback. This allows them to be up to date with the changing business and client's needs and, thus, guide their teams to adapt and respond to these needs.
What Is the Role of the Agile Project Manager?
In the role of leading a team, an Agile PM performs many different functions. They could be leaders, mentors, coordinators, and more. No matter what they call, their central role is to create a productive and result-oriented working environment where people are open to sharing ideas and opinions.
Despite this, an Agile PM is focused on promoting self-organizing teams, transparency, and shared ownership of the work process, as well as increased team collaboration. Having said that, if we also take a look at the Agile manifesto and its values and principles, we may quickly conclude that the project manager role becomes redundant. However, is this really the case? Let me explain.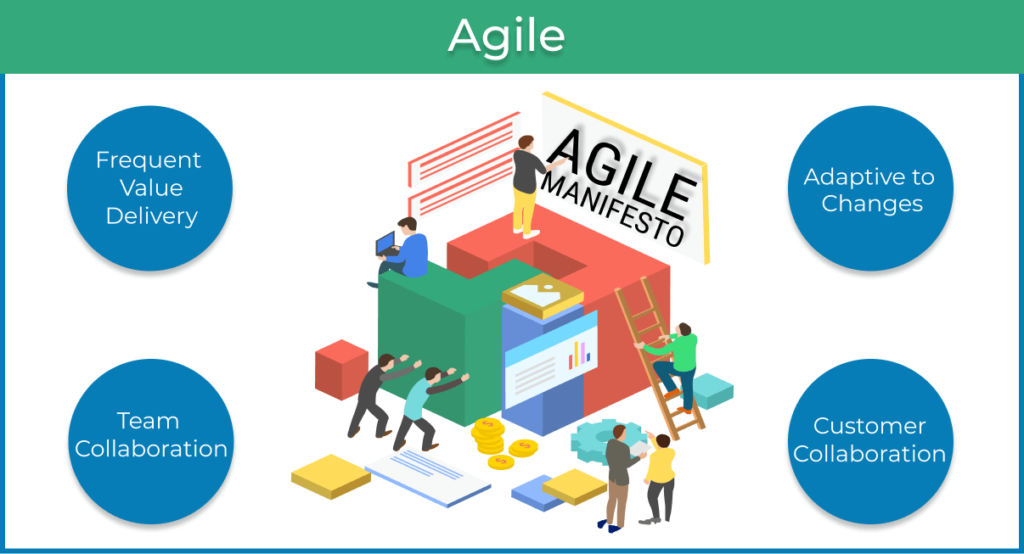 Agile manifesto values
There is widespread confusion that when moving to Agile, project managers often should take up the role of a Scrum Master (if you are adopting Scrum). There are no prescribed roles in Kanban, however, many teams still choose to have a Service Delivery Manager and call them an Agile or Lean project manager. The thing is that those roles predominantly focus on the team level. In contrast, the project manager in Agile has allegiance to the higher organizational level too.
I believe that the confusion comes from the various interpretations of the project manager's role, and it's pretty much a question of complexity and scale. Especially if your organization is handling multiple projects, then the project managers are absolutely vital even in an Agile environment. They will act as coordinators and anchors between high-level requirements and work execution on the team-level.
Having said that, we can conclude that the project manager's role in Agile differs from the responsibilities of Service Delivery Managers, Scrum Masters, or any other roles in an Agile team.
What Separates an Agile Project Manager from a Traditional Project Manager?
In traditional project management, PMs are responsible for distributing tasks across team members, defining the scope in extensive documentation, planning work activities with great detail, updating project status, etc. This is what usually depicts the conventional command and control work environment that I am sure most of you are familiar with.
In contrast, Agile project managers abandon the old command and control approach and put more focus on collaboration, agility, and adaptability. It is specific for them to embrace Agile planning, meaning they avoid heavy, upfront planning but instead develop and adjust the plan during the course of the work. In addition, they rely on constant feedback, which allows them to frequently deliver small batches of work and remain flexible to the emerging requirements of their clients. Furthermore, they advocate the idea of self-organizing team members who are accountable for organizing and managing their tasks.
What Are the Agile Project Manager's Responsibilities?
In an Agile environment, the responsibilities of traditional project managers change. Instead of controlling the playing field from a high-level position, they practice horizontal management and constantly seek both internal and external feedback. This way, they are able to react adequately to emerging changes or issues in a timely manner.
Let's look at the key responsibilities of Agile project managers.
1. Facilitating discussions to improve collaboration across the organization.
2. Empowering team members to self-organize around their work.
3. Supporting Agile transformation efforts through coaching and training.
Agile Project Manager as a Discussion Facilitator
Whether they need to plan work, resolve process roadblocks, understand the pace of the work's progress, or the talents of their team members, Agile project managers are constantly engaging in discussions. The ability to facilitate such discussions through the use of various feedback opportunities is a critical asset of the Agile project manager. Productive feedback is important to establishing cross-functional teams and a key prerequisite for success in Agile teams.
The Motivator
PMs in Agile turn into top leaders that lead by example and empower their teams to self-organize their work, considering their strengths and interests. By doing so, they manage to not only maximize the potential of their team but also to shift the focus to optimize the value delivery process rather than individual performance.
The Change Management Agent
Project managers play a significant role in ensuring the success of every Agile transformation by advocating the principles and values of Agile management. Inconsistency in Agile practices across teams adopting the Agile mindset is still identified as a leading cause of failure to adhere to the Agile ways. In this regard, project managers are responsible for teaching and supporting their teams to understand the reasoning for collaboration, shared leadership, self-organization, and flexibility on their path to true organizational agility.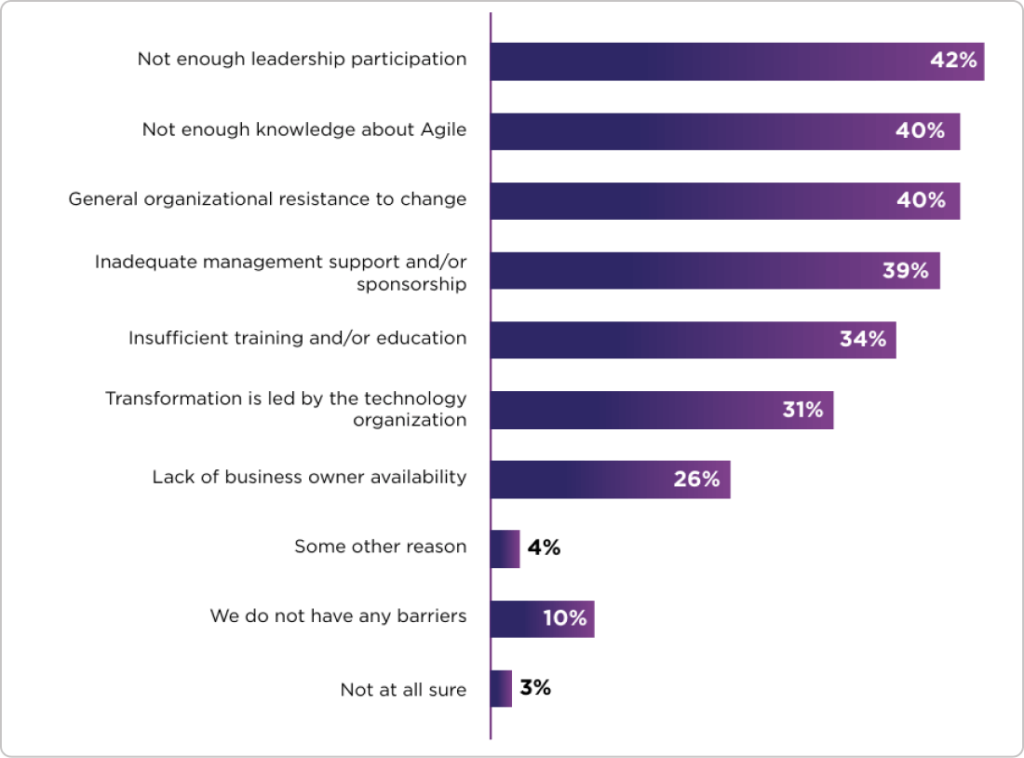 Challenges when adopting and scaling Agile practices according to the 16th Annual State of Agile Report
What Are the Key Skills of Successful Agile Project Managers?
Agile project managers develop certain qualities and skillsets to ensure that they fulfill their responsibilities at all times. Here is a short list of the qualities that a project manager should have to be successful in an Agile environment:
Understanding the big picture and prioritizing work based on high-level goals.
Emotional intelligence and active listening.
Excellent communication within and across hierarchies.
The ability to identify and analyze potential risks.
Conflicts resolution through adaptive leadership.
The ability to continuously improve the processes.
Ability to motivate and mentor individuals and teams.
Strong familiarity with the Agile mindset, principles, values, and methodologies.
What Are the Common Traits of a Good Agile Project Manager?
In addition to all the duties an Agile PM has to fulfill at any given time, a true leader needs to have many layers of good leadership and interpersonal skills for the success of the projects and efficient team performance.
Generally, it is expected that Agile project managers should be able to respond quickly to unexpected circumstances, think strategically to find the most prominent solutions to issues of any kind, have a clear vision of companies' objectives, be easy to communicate with, and motivate people to give their best.
However, turning into a project manager in Agile is easier said than done. There are many organizations where Agile frameworks are in place. However, project managers still act in the way they are used to. That's why to thrive in an Agile environment, you need to first and foremost embrace the Agile mindset.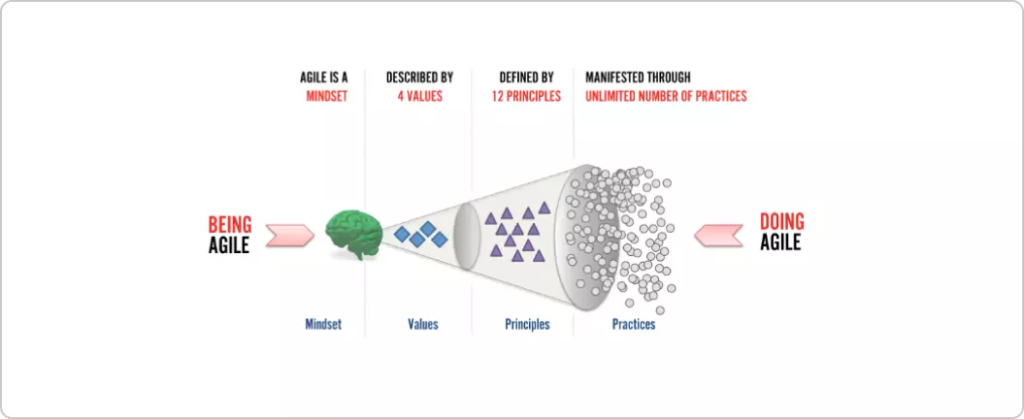 The Agile mindset: image by Ahmed Sidky
In fact, this is probably the most crucial step of all. To be successful in an Agile environment, PMs need to be more proactive and start putting into practice the Agile principles and values.
Agile Project Manager Frequently Asked Questions (FAQs)
What Does an Agile Project Manager Do?
Similar to traditional project managers, the ultimate goal of an Agile project manager is to organize and execute the delivery of a product/ service within a time and budget. The whole process, from planning through monitoring to the closing of Agile projects, is overseen by the Agile project manager. Their job involves bringing transparency to the work process by aligning corporate goals with teams' and individuals' daily tasks.
Furthermore, the set of responsibilities of an Agile PM includes empowering team members to be self-organized, encouraging cross-functional collaboration, identifying and removing roadblocks through feedback gathering, and reacting to emerging changes whenever demand for new work arises.
What Is the Difference between a Project Manager and an Agile Project Manager?
A traditional project manager is responsible for the upfront planning of projects, documenting projects' requirements, distributing tasks across team members, and observing that the projects' execution follows the well-defined project requirements list towards completion.
Unlike this model of management, Agile PM promotes shared leadership where each team member makes a meaningful contribution to the work. They also welcome constant exchange of feedback throughout the work process. This allows Agile teams to quickly adapt and react to the changing market and client's requirements and, thus, deliver value to their customers faster without disrupting the process.
What Is the Difference between Scrum Master and an Agile Project Manager?
Scrum master serves the role of a team mentor, guiding others to understand the Scrum principles and practices and ensuring a productive work environment. It is common for Scrum masters to observe the work process, remove issues, facilitate meetings and discussions, and track and update the status of projects.
However, what makes it different from an Agile project manager is that it is only the process that the Scrum Master is responsible for. They are not accountable for most of the traditional duties of the project managers, such as budgeting and cost control, risk management, defining the project's schedule and scope, etc.
Final Words
No matter what, project managers have their place in Agile. However, their role evolves in the form of project leaders rather than just managers. To become a successful PM in Agile, make sure that you embrace the Agile mindset first. Then focus your efforts on leading by example, empowering your team, and managing the work, not the people.

Nikolay Tsonev
Product Marketing Manager
Nick is a strategic thinker, passionate about marketing, sales enablement, project management and productivity. An avid sports and Star Wars fan, he spends most of his free time in the gym or the playing field.