We celebrate success on several occasions. One of those is when we hear from a customer who we've helped evolve their processes toward agility.
This is the case with Aerosud - a manufacturer of aircraft parts for some of the world's leading aerospace brands such as Airbus, Boeing, BAE Systems, etc. Above all else, the company's leadership is dedicated to continuous improvement, and we're excited to give you a preview of their story.
Heavy Regulations and Initial Challenges
Naturally, aeronautical engineering comes with a lot of challenges. It's a heavily regulated field, and just from a compliance point of view, the approval of any process improvement is a demanding experience. This means sticking with legacy work systems and lagging behind innovation, which was also the case in Aerosud.
However, the first significant signal of the need for a change came from the slow response rates within the IT area. Poor transparency and difficulties in workflow management hurt service delivery and left customers unhappy. This is when the IT group lead, Johan Pretorius, initiated a continuous Lean/Agile journey with Kanban.
From Doubling Throughput to Scaling Kanban
The application of Kanban started with physical whiteboards within Aerosud's IT group. Combined with a newly adopted prioritization method (Eisenhower matrix), the work transparency from the physical boards improved awareness of the most important things to do.
And still, Kanban is so much more than just sticky notes on a wall.
So, Johan Pretorius introduced WIP limits and other practices, such as visualizing impediments and discussing them during daily stand-up meetings. All of this helped the IT group increase throughput from 60 to 120 tickets within just 3 days!
The Limitations of Physical Boards and Introduction to Kanban Boards
While this improvement was astonishing, it comes to a point where the limitations of physical boards become apparent. Especially when looking to embrace data in work management and scale Kanban across the organization.
And this was exactly Aerosud's direction.
They realized the need for a complete work management platform to enable a holistic view of the company's processes and support their digital transformation in aerospace.
So, they turned to Kanbanize by Businessmap.
Accelerating Digital Transformation with Kanbanize
Bringing Automation to the IT Department
Logically, the first department that adopted the software platform was IT. Besides clearly mapping every step of their processes on digital Kanban boards and visualizing projects, they used the Kanbanize API to integrate their workflow with an external IT service desk. This helps them automate the support process and service more requests than ever before.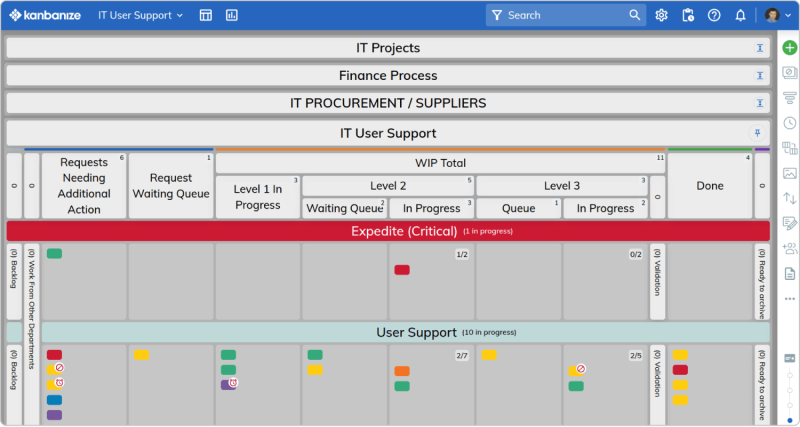 Aerosud's IT Kanban Board in Kanbanize
Expanding Kanbanize to the Engineering Department
To embrace Agile engineering in aerospace, Aerosud implemented the solution for their R&D project & portfolio management. With the help of multiple workflows in the software, they visualized the processes of different service groups - Design, Mechanical, CNC, etc.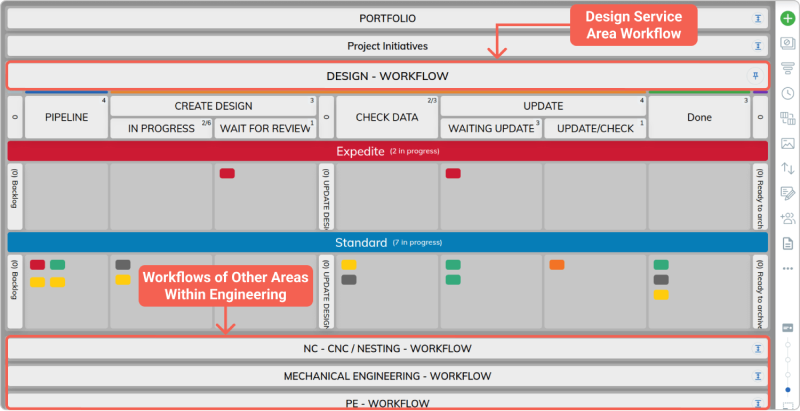 Aerosud's Engineering Kanban Board with Multiple Workflows
To manage its portfolio of engineering projects, Aerosud also made its first steps into "Flight Levels" (a concept by Klaus Leopold). They used interconnected boards to gain transparency over high-level projects and their connection to product development workflows.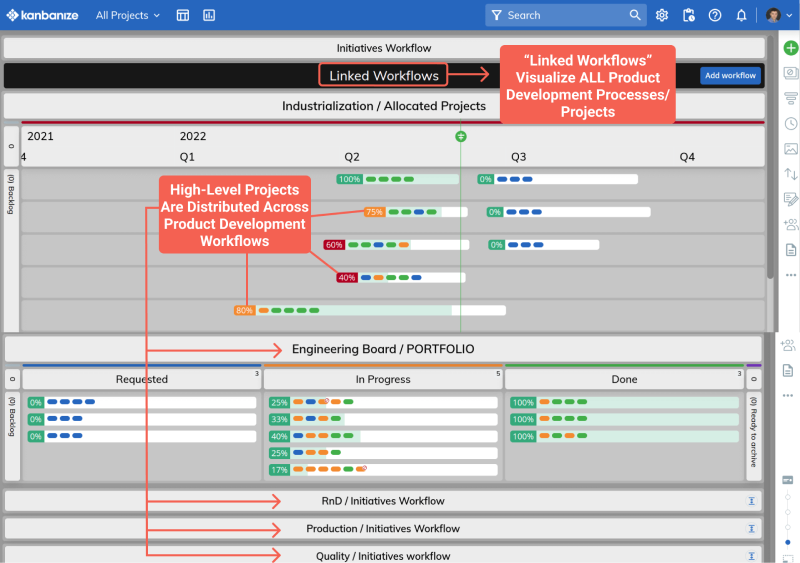 Applying "Flight-Levels" for Engineering
Embracing Data-Driven Decision Making
Any Kanban or Lean/Agile implementation would be incomplete if you didn't have the means to measure it. That's why Aerosud turned to the Analytics capabilities in Kanbanize. With their help and a Power BI integration, they can now measure everything from cycle times, WIP, or throughput to capacity levels of experts across IT and Engineering.
Key Results
As a result of the implementation, Aerosud managed to:
Gain a holistic overview across workflows and values streams in the organization
Improve service delivery to ensure customer satisfaction
Gain actual workflow data to improve planning processes
And many more...
That's Just the Beginning...
The Aerosud case is a pretty extensive example of a digital transformation, and we've only scratched the surface of it here. If you wish to dig deeper into how an engineering company applies Agile through Kanbanize to accelerate agility and digital transformation in aerospace, take a look at the full version of the case study below.
We hope it could serve as an inspiration that Kanban can find its place even in the most regulated industries in the world!

Nikolay Tsonev
Product Marketing Manager
Nick is a strategic thinker, passionate about marketing, sales enablement, project management and productivity. An avid sports and Star Wars fan, he spends most of his free time in the gym or the playing field.