Project portfolio management (PPM) is a centralized approach used by project managers and project management offices (PMOs) to analyze and manage ongoing and future projects. It connects strategic planning to project execution by making strategic goals clear and executable objectives. The goal of the PPM framework is to reach optimal project planning and execution while achieving the company's strategic objectives, financial goals and responding adequately to external factors.
Project portfolio management fundamentally differs from project and program management. Project and program management are about the execution and delivery-doing projects right. PPM focuses on doing the right projects at the right time by selecting and managing projects as portfolios. It requires completely different techniques and perspectives to manage a portfolio of projects.
Why Is Project Portfolio Management Important?
PPM provides all the necessary capabilities, such as resources, skills, time, or budget, to complete each project deliverable. The approach also brings centralized visibility into planning and scheduling to support the most efficient project delivery. In addition to helping organizations deliver projects within time and budget, PPM supports the increased quality of project deliverables.
What Are the Benefits of PPM?
By executing the right projects, project portfolio management plays a key role in complementing project and program management. Some of the most significant PPM benefits are listed below.
Increases the business value by aligning projects with strategic goals.
Brings project synchronization by using resources in the most optimal way.
Prevents project delays, poor quality, or exceeding budget by assigning the right people to the right projects.
Creates clear responsibilities and improves decision-making by establishing governance policies.
Provides a better view of the big picture by promoting simplicity and transparency.
Helps to establish clear criteria for the evaluation of the project's feasibility and profitability.
Who Is the Project Portfolio Manager?
The project portfolio manager is an individual with extensive time management and organizational skills and resource and budget management knowledge. Portfolio managers are experienced and have been exposed to various project management approaches tools, and best practices. They utilize a variety of portfolio management tools to ensure portfolios and projects follow the organization's strategic direction.
What Is the Role of the Project Portfolio Manager?
The role of the project portfolio manager is to oversee and ensure the planning, development, and execution of projects are performed in the most optimal way and align with the organization's strategic goals. It's their responsibility to create and maintain project management standards within the organization. They are entitled to gather feedback from various sources and ensure that project execution aligns with customers' expectations, allocated budget, and time frame.
What Are the Steps of Project Portfolio Management?
Through the PPM process, portfolio managers use criteria such as ROI, cost of delay, or strategic alignment to measure the impact of all potential projects. The analysis serves as a basis for selecting the projects to be executed, setting prioritization rules, rejecting certain projects, or making trade-offs. Below you can find the sequence of steps a typical PPM process includes.
Step 1. Identify the Guiding Objectives of the Business
Clarifying the business objectives of your organization is crucial to happen before the implementation of the PPM framework. To set strategic goals and tie together financial objectives, customer value, and internal work processes, portfolio managers use frameworks such as Strategy Map, OKRs, or MBOs. During the process, they gather a significant amount of feedback from shareholders until they reach a mutual agreement about the strategic goals.
Step 2. Requests and Ideas Are Captured and Researched
The second step of the PPM process requires the collection of project ideas to include in a portfolio. Sources of these ideas can be customer requests, employee feedback, business requirements, etc. Once the potential projects are clear, you need to conduct research into project management data for each of the candidates to assess whether they align with your strategic goals and valuation criteria.
Step 3. Choose the Most Promising Projects
Once key information about potential projects is analyzed, you need to determine which projects would create the highest value with limited resources, also known as portfolio maximization. In the process of determining which projects to execute, you need to weigh the projects against the established valuation criteria. Next in the selection process would be allocating resources according to project value and weighing the projects against criteria such as risk level, distribution of time to completion, market segmentation, etc.
Step 4. Validate the Portfolio's Viability and Get Started on Initiatives
Before initiating the portfolio execution, it's crucial to ensure that the portfolio is maximized and feasible. Portfolio managers need to validate the feasibility of the portfolio projects by analyzing project management data such as available capacity and capabilities of the responsible organizations, budget limitations, etc.
Step 5. Manage and Keep Track of the Portfolio
Execution is the last step in the project portfolio management process. Portfolio managers continuously oversee the progress execution of all projects included in the portfolio and ensure that strategic objectives are still the guiding direction. At this stage, portfolio managers gather performance data, resolve resource management issues, and perform periodic portfolio reviews with the assistance of project managers and PMOs.
What Are the Best Practices of PPM?
Some PPM processes will work in your business domain, while others won't be applicable. The highest value in your organization could be given to ROI, while for others, that could be innovation, environmental sustainability, etc. However, the PPM best practices listed below are widely applied.
Determine Your Business Strategy. Ensure your portfolio aligns with the strategic vision of the organization. Answering questions such as: What value does the portfolio add to the organization?" or "Is it aligned with the business goals?" is crucial for the project portfolio planning, development, execution, and overall success.
Create Project Valuation Metrics. Projects should be selected on the grounds of evaluation using the same criteria corresponding with the strategic goals. These prioritization metrics should be regularly reviewed and updated (if needed) to reflect the organization's strategy, and they need to be universally applied across the evaluation process.
Develop a Risk Management Plan. By creating a risk profile for each project in a portfolio, you can identify any potential risks a project may bring to the overall portfolio. For example, additional resource requirements or potential costs may arise, which will inevitably have an impact on the portfolio. By developing a risk management plan and assessing individual projects' risk profiles, senior management can make more accurate forecasts on a portfolio level.
Choose PPM Solution. Selecting the right software can significantly improve the project visibility and transparency of all portfolio management processes. The must-have features of such solutions include visualization functionalities to show all your projects, initiatives, and timelines. It should also include capacity, and task management capabilities, in-depth analytics and reports, real-time updates, etc.
Templates of Project Portfolio Management
Example 1. Full Project Visibility with Interconnected Kanban Boards
With platforms such as Kanbanize by Businessmap, you can connect multiple projects and teams in a single system. Managing projects and initiatives from the same hub provides immediate transparency over the alignment between projects and strategic goals and offers a direct overview of the project's progress.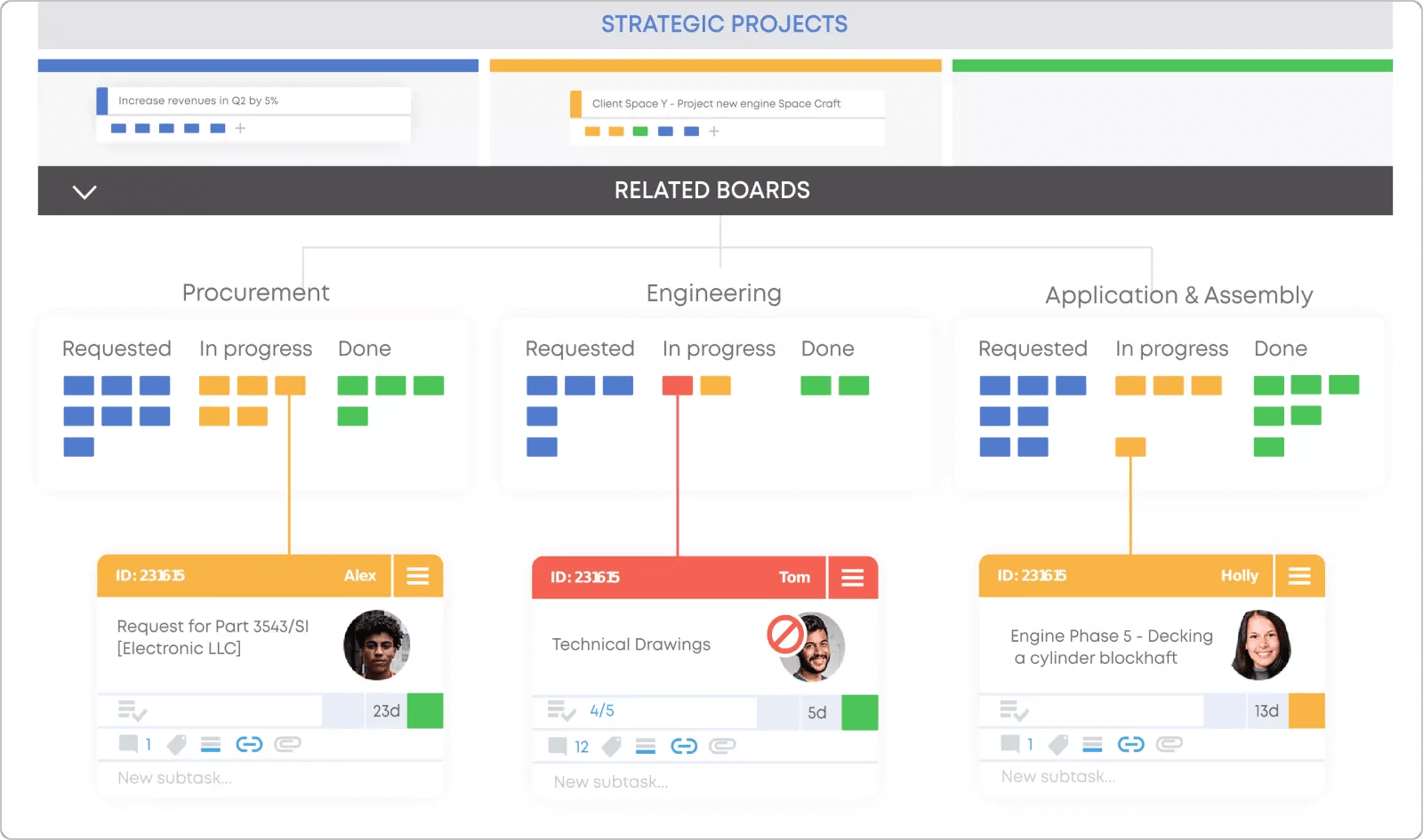 Strategic projects connected to procurement and engineering teams on a single Kanban board
Example 2. Connect Planning with Execution in a Single Place
Our platform allows you to connect your planning with execution by mapping your strategic objectives, projects, and deliverables in a single place. Our Timeline brings an Agile approach to planning so that you can see your past, current and future initiatives in a calendar view and create a high-level overview of your strategic plans. You can use timelines to track the real-time status update of each item's progress and eliminate the need for manual status reporting.
Example 3. Reporting on Project Portfolio Management Level
With the right PPM solution, you can also use workflow analytics to provide an in-depth understanding of key processes and performance metrics. This enables Agile portfolio managers to monitor projects' progress across teams and departments. It also allows them to understand how much work a team is able to deliver and make data-based forecasts about project delivery.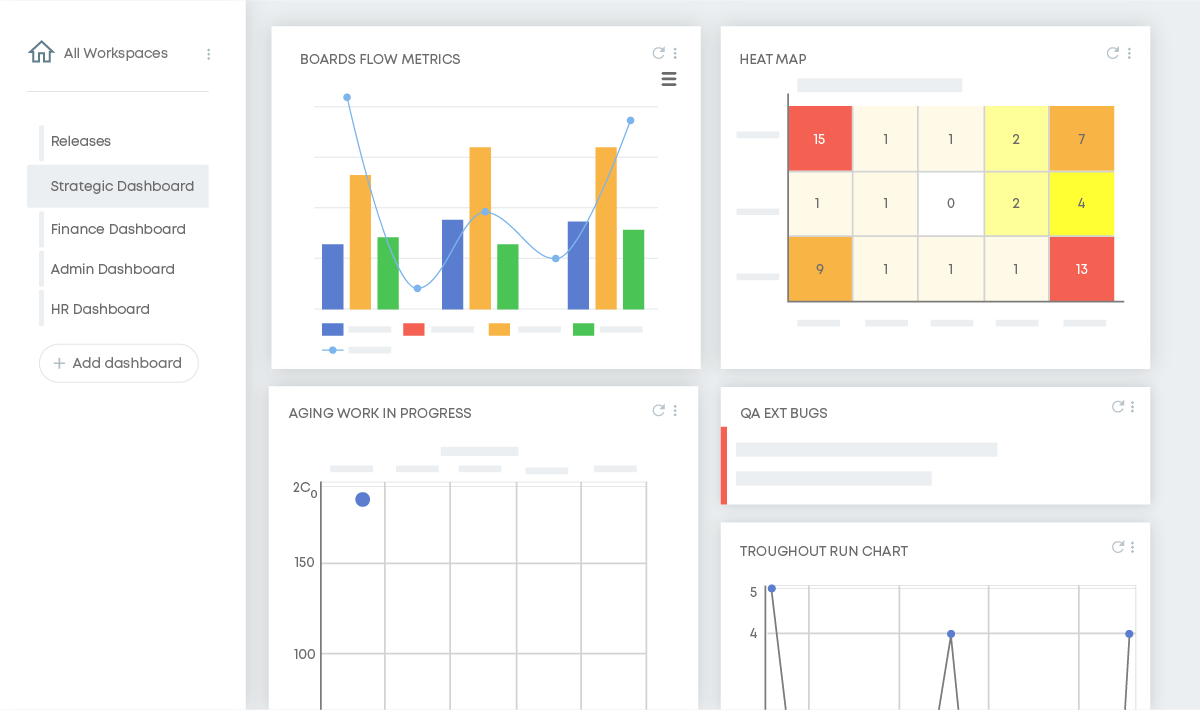 Analytics for reporting on project portfolio level
What Is the Difference Between Project Portfolio Management and Project Management?
While project management is focused on the actual execution of projects, project portfolio management is responsible for helping you choose which projects should be executed. In the assessment process, PPM considers whether the proposed projects are aligned with the company's strategic vision. Once the project portfolio is settled, project management activities support the execution and meeting of the project's requirements.
What Types of Industries and Companies Benefit from Project Portfolio Management?
Industries and companies across various sectors can benefit from project portfolio management, including:
Construction and engineering
Manufacturing and production
Healthcare and pharmaceuticals
Finance and banking
IT and software development
Government and public sector
Energy and utilities
Retail and consumer goods
Education and research
Non-profit and social services
Any organization that has multiple projects, limited resources, and a need for strategic planning and prioritization can benefit from project portfolio management.
What Are the Tools for Project Portfolio Management?
Project portfolio management software solutions must include a variety of capabilities – from basic visualization and task management features to advanced reporting and forecasting functionalities. Below is a list of some of the best tools for PPM today:
Kanbanize by Businessmap
Monday.com
Wrike
Asana
ClickUp
We offer the most flexible software platform
for outcome-driven enterprise agility.