"...and by the seventh day, God had finished the work He had been doing. After a long six days of brainstorming, he created Growth Hackers."
You haven't read this part of the Bible, have you? Yeah, I know, it's not there, I just made it up. But I wanted to make a point on how vital are Growth Hackers these days for the business world.
In general, the growth hacking team is either the marketing team itself, or they are part of the marketing team. Their role is to hack the traditional marketing approach to business, just like Kanban hacks the traditional approach to project management.
Growth hacking is the new norm in these dynamic and exciting times we live in. And as the traditional approach to the management of marketing projects isn't suitable for modern business anymore, we need to open new doors with new tools.
And as I consider myself a growth hacker, with this article, I plan to "hack" and open one door for you.
The Case of Growth-Hacking Superheroes
So, growth hackers, meet Kanbanize by Businessmap. The solution to your creative chaos. Kanban is one of the best candidates to visualize and reorganize your marketing team's tasks intuitively and efficiently.
A Kanban board gives any growth hacking team everything they need to carry out their projects from A to Z without dealing with the hassle of lost post-it notes, miscommunication, time lag. Essentially, it eliminates the challenges that inevitably come with handling many tasks at once without a proper system to visualize and keep track of them all.
How to Hack a Growth Hacker's Productivity with Kanban
The first time I started using Kanbanize, I was a newbie in the world of Kanban. I was a procrastinator when it came to finishing difficult but essential tasks and super productive when it came to finishing easy but low-impact tasks.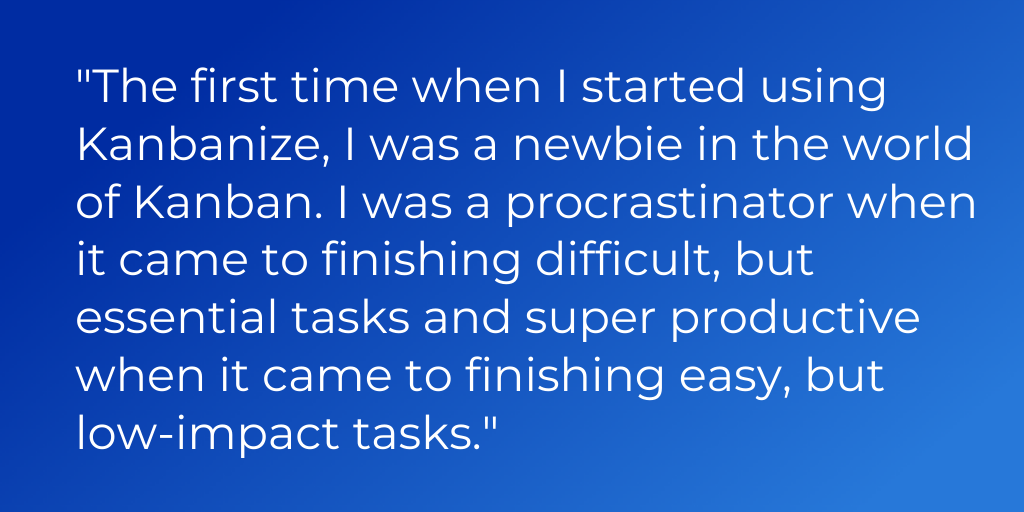 Not a very representative trait for a growth hacker, right? However, eventually, due to my high rate of started and finished tasks (having medium and high impact on the business), I earned the badge "the machine."
How did this happen? How did I, in no time, managed to hack my own productivity solely by using a Kanban board and applying the main Kanban principles? Let's take a look at the major Kanban perks that accelerated my ability to finish what I start, no matter the difficulty of the tasks:
Digital Kanban board, accessible from anywhere, which means that if your growth hacking team is distributed, they will have access to the same board as the rest of the team no matter their location (which is impossible with a physical board for example);
An intuitive system for prioritizing and organizing initiatives, projects, and tasks;
Real-time visualization and synchronization of the work so that the whole team could be updated of any status changes;
The ability to visualize separate projects on the same board showing exactly where in the future a big project is coming on your team's plate;
Preventing team overload by setting WIP limits. This way the project won't suffer if someone has too much on their plate;
Communication tracking on each piece of work within the comments feature. No more separate chats, no more, "I thought he said, but she said,"- who has time for that, anyway?
Measuring the efficiency of a process using data collected while you work on your Kanban board with your team.
How to Save More Time with Automation
Here are a few examples of work activities I automated with Kanbanize, using Business rules ("if this then that" policies) to structure work processes:
Creating recurring cards (recurring tasks). For example, Mila needs to post a blog post every week at this time, and a task request for it will appear.
Sending, previewing, and downloading all sorts of attachments. No lost email attachments ever. For example, social media post designs can be directly attached to the task, reviewed, and discussed within the card itself, without the need ever to leave your Kanban board.
Integrating my email with my Kanbanize board. I can choose how to reply or comment on each task - as an answer within the card or to send it as an email. For example, you can receive all marketing requests on your board and reply from the board, thus tracking their progress status.
You can link your social media accounts to your email and create email integration with Kanbanize, which can then make automated task cards on your Kanban board any time you get a notification from your social media channels.
Advanced automated analytics on your teamwork efficiency, work finished, work started, blocked cards, and practically anything you could ever need to understand how efficient your workflow is or how flawed it is.
Real-Life Growth Results from Our Growth Hacking Team
So, I've just explained how Kanban can be used and applied to a growth hacking marketing team to automate their work and achieve a high rate of finished work.
And when we "talk the talk" we have to "walk the walk," i.e., showing some real-life results from our marketing department.
For the past 3 years, the marketing team behind Kanbanize by Businessmap has achieved more than 500% growth in the organic traffic coming to our website. I won't share the exact traffic we get from organic search each month, but currently, it is a 6-figure number.
But how did we achieve it with a team of 4? Lots of overtime, push, and burnouts? Actually no. To stay afloat, we just used our best weapon for planning and prioritization - a Kanban board. You may think that we have done some fancy calculations and project estimations with strict deadlines, but again, my answer is we didn't.
Here is the most straightforward approach we took in order to prioritize the right work and skyrocket our throughput.
The most important thing to do is to visualize and track all the work you have to complete on a Kanban board. Then, for each quarter, we plan our most important strategic initiatives (projects) for our company growth. With the help of the Kanbanize timeline view, the backlog is divided by columns, which represent each quarter. There, we will schedule the initiatives which we think will have the most impact on our strategic goal.
What's interesting here is that we DON'T do two things:
We don't put deadlines on the initiatives; instead, we make predictions based on the historical data we have for our workflow.
We don't do project breakdown in advance. This means that we would instead focus on what's important now than trying to breakdown what might be valuable in the future on a micro-level.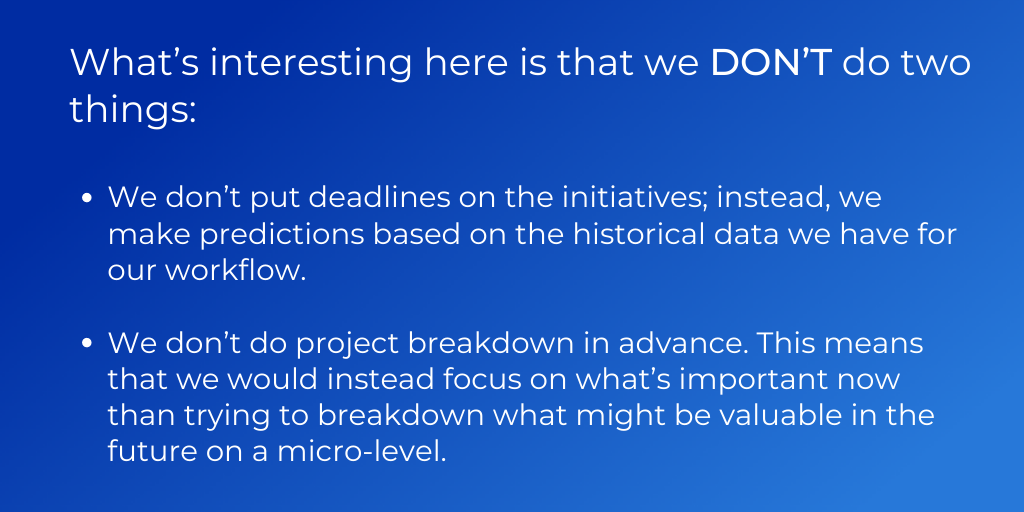 Working this way prevents us from pushing more work than we can pull and eventually depletes our brainpower to complete a task for a reasonable amount of time (e.g., a task that takes 30 minutes to be completed will take 2 hours). Also, not putting work in a strictly defined time frame, allows us to stay agile and act fast on unpredictable changes that may occur in the future.
This creates a continuous flow of tasks, a pull system, which, in the long run, allows us to finish initiatives and tasks in advance.
In Conclusion
The need to prioritize and act on one's requested tasks is universal. The online Kanban board is capable of creating efficiency in processes not just in the engineering and production teams of a company but also in the design, marketing, and publicity masterminds on the other end of the production spectrum.
There is no doubt that the "growth hacking" of growth hackers starts from the optimization of the system we work with every day to get things done.

Mila Chervenkova
Marketing Diva
Ex-procrastinator. Anti-consumerism. Trying not to leave waste behind.