A famous quote by investor and author John Doerr states: "Ideas are easy. Execution is everything".
Now that doesn't mean to undermine the value of good ideas. On the contrary, it aims to portray how good ideas, with their proper execution, can propel companies to achieve true greatness.
And we couldn't agree more.
If you've followed us for a while, you will know that we're firm advocates of connecting strategy with execution. It's one of the pillars we build our product around, and we believe this is how you can truly embrace business agility.
Over the years, our product has made a giant leap. From being a simple Kanban tool to becoming a top-performing project portfolio management software, we're now ready for the next big step!
We present to you Kanbanize 9, where Kanban & OKRs join forces to help you bridge the strategy-to-execution gap and align goals to daily work so that you can turn your ideas into reality.
But that's not all!
We're entering a new era of Kanbanize, which comes with greater work flexibility through endless opportunities for custom integrations and a stellar user experience.
Kanban Meets OKRs
As you may know, Objectives & Key Results (OKRs) is a goal-setting framework that has supported the growth of companies such as Google, Amazon, and Netflix, to name a few. OKRs allow you to bring your goals to everyone's attention in a see-through way and create a workplace where people are aligned with business priorities.
We've always had the notion of Objectives. These are the Initiatives that you know so well, if you are familiar with our product. So, you can think of an Initiative as an Objective.
Here comes the game changer.
Within every Initiative/Objective, you can now create measurable Key Results that we call Outcomes.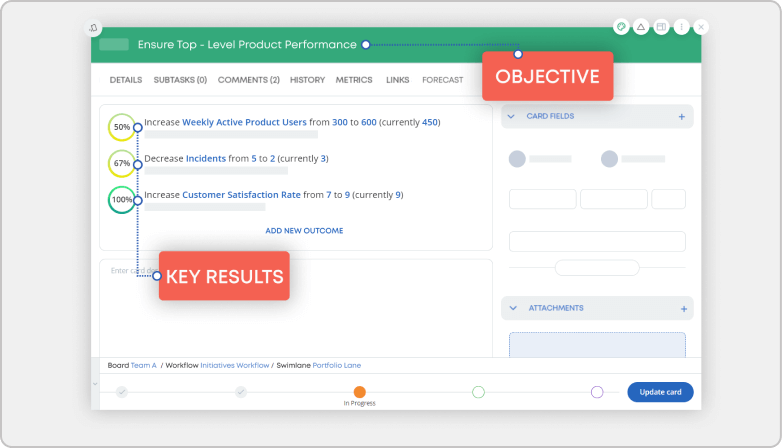 The idea is to visualize your goals across the organization and connect them to the actual execution activities on your interlinked team Kanban boards.
Track Your Key Results and Work Progress Effortlessly
Creating and visualizing your OKRs is one part of the story. Then the time for tracking and measuring progress comes.
Are your key results at risk or on target? Have you set too comfortable objectives or maybe too ambitious ones? Answering those questions can be really valuable for meeting your targets or setting new, better ones.
This is why Kanbanize 9 gives you the opportunity to easily compare Work Progress with Outcome status.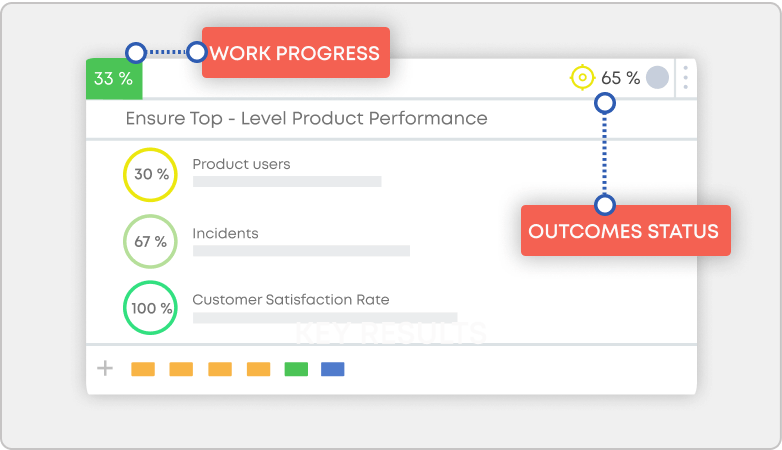 This way, you get a complete view of how daily activities contribute to achieving your goals. As a result, you can make better decisions about the most important priorities in your organization and focus on the work that truly matters.
Embrace Data-Driven Goal Projections
Relying on historical data has always been our preferred way to make projections in Kanbanize.
Therefore, every Outcome (Key Result) in our platform comes with a trend that tracks your actual progress over time against a baseline. Based on your performance, the system automatically calculates projections of when you are likely to reach your targets.
This allows you to measure how achievable your goals are within a certain timeframe and adapt them to every situation.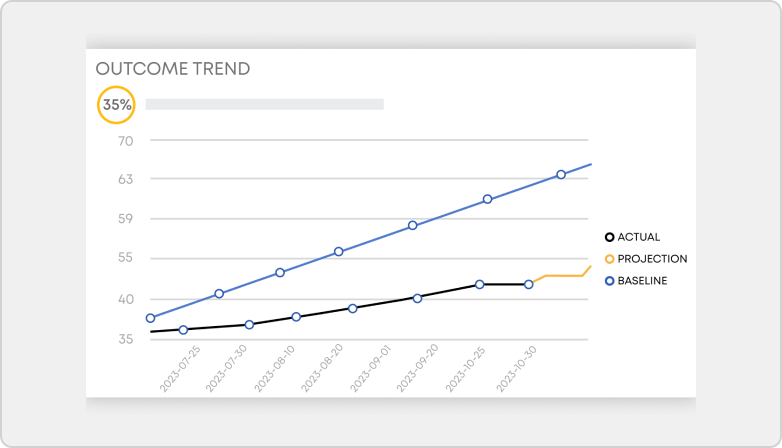 We believe that combining OKRs with the full power of Kanban can truly enable greater business agility. Hence, we invite you to experience for yourselves this natural cohesion between goal-setting techniques and Kanban.
At the end of the day, our top objective is to help as many of you as possible turn great ideas into reality. Because that's how innovation happens.
A New Era of Work Flexibility
We are aware that you might have different systems in your architecture that need to be integrated to enable flexibility and efficiency.
To make this possible, Kanbanize 9 comes with a new REST API that opens up countless integration possibilities. Even though it's hard to show you what's possible with it in a few sentences, we can tell you that almost everything that you do inside the software will be available through the API too.
If you're interested in custom integrations, dive into our REST API documentation and start experimenting today!
Reimagined UI Design for Stellar User Experience
Appearance is not everything, but we believe it's part of the equation. We want you to experience all the functionalities you know but in a more eye-pleasing and user-friendly manner. So, we give you a new user interface with multiple visual improvements for a polished, state-of-the-art look.
We believe you'll love it!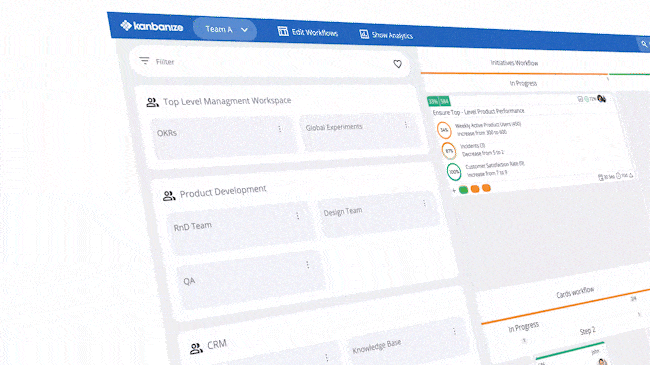 Experience Kanbanize 9 for Yourself!
As challenging and exciting as this new age for Kanbanize is, there's nothing more rewarding for the hard work we are putting in than seeing you improve your work efficiency and drive innovation.
So, don't be hesitant to experiment with all the improvements in the product, and let us know if you need any help. Because remember, there is always a better way!
---
This overview only scratches the surface of the endless possibilities Kanbanize 9 offers. For more information, check out our knowledge base.
Ready to put your goals into action with Kanbanize 9? Start your free trial today and explore endless opportunities for improvement.

Iva Krasteva
SEO & Content Creator Expert
Analytical. Driven by constant learning and knowledge. Fascinated by people's creativity. Admiration for intellectual property, copywriter and SEO. Passion for nature's beauty, comic books, pop art and cinema.