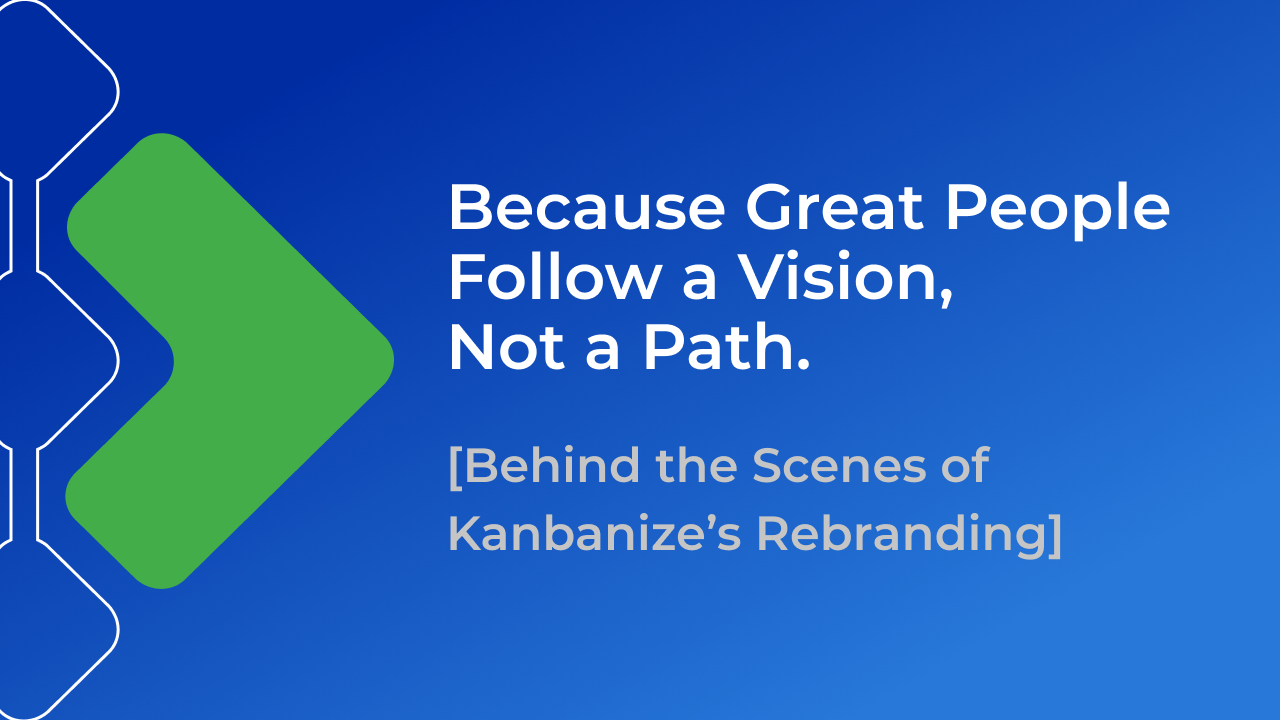 A little bit of prehistory It was 1 am in the morning on 01 Jan 2011. We could still hear the fading sound of fireworks as 99% of the country had just celebrated the new year. The remaining 1% were working - the police, the fire brigade, the medical workers and us - the founders of Kanbanize. We had just launched our product minutes ago.
Unfortunately, it was so long ago that we don't even have a screenshot to show you what it looked like. It was the result of six months of hard work and it was ugly. It's quite normal to have it imperfect the first time - it was just a pilot.
After a year of rapid growth, we released our second website and brand identity. This time we have some visuals to show.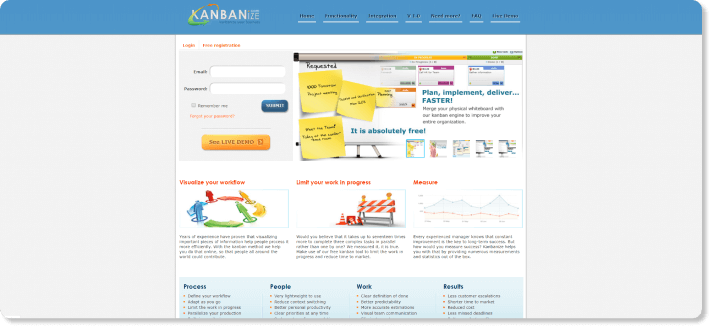 Sweet! We were very, very proud of our website at that time. If you're smirking, remember that it was 2012, alright?
Another year of rapid growth followed, resulting in the most professional brand identity and website that we could ever imagine. It was 2013, and this time we looked much more professional: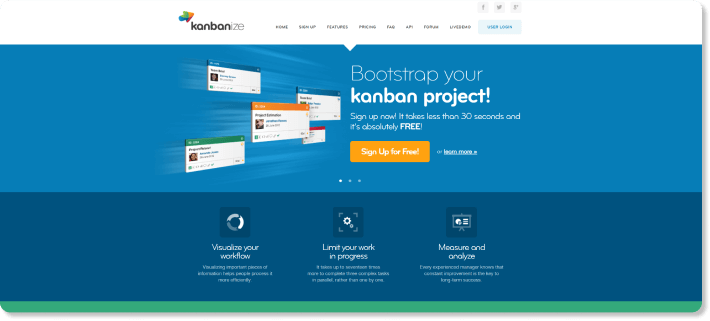 Awesome! We had a great blue color, the 3D illusion, and the new logo. The arrow pointing up that accompanied us for such a long time. It's been seven years since we launched this identity. Time flies, doesn't it?
Following the goal to start targeting mature businesses and not just startups, we made a redesign in another year. This time we toughened the tone a bit: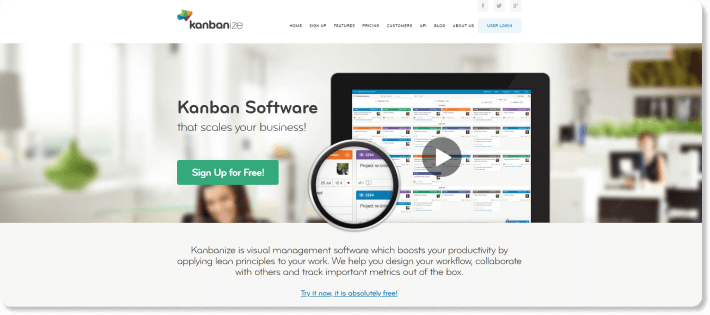 We still had the same logo, which we loved so much, but we changed the visuals and the messaging to be a bit more corporate.
There was yet another year of rapid growth. The market matured even more, and we started getting larger enterprise customers. We had to reflect that in our branding too. Besides, we were preparing for scale, and we needed a serious CMS system to start building content for the website. That's how we got into the BLACK version of the site.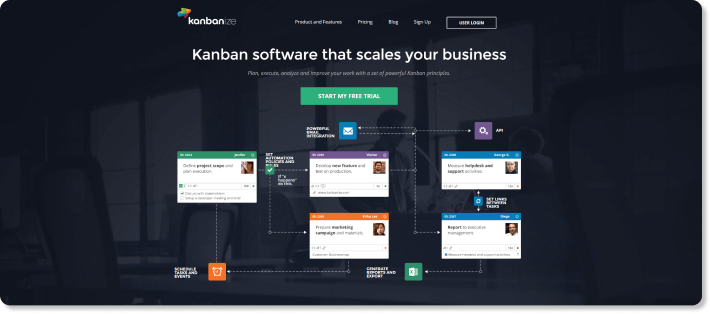 The product matured even further, allowing us to talk to large corporations that wanted to apply Agile at scale. Kanbanize was created to tackle the problems of scale in the first place, which meant we were doing the right thing. We had to adjust our website once again, this time with a notable visual on the front page that was screaming "SCALE, SCALE, SCALE".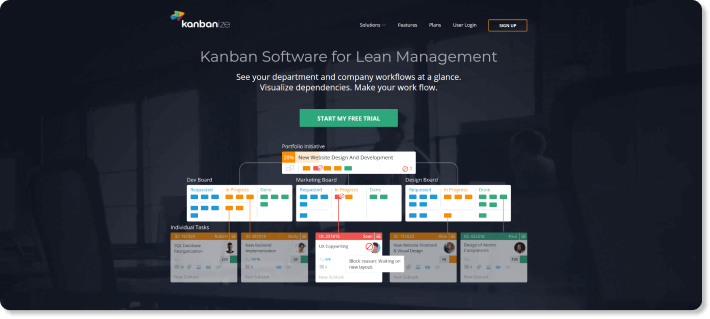 This is how we got into 2019. At that time, there was a thought occupying my CEO's mind, keeping me awake at night. Although we had invested countless hours in product development, educational materials, conference talks, events, sponsorships and so on, around 40% of the people using Kanbanize, were not utilizing the system to the fullest. They would apply Kanban on the team level but wouldn't attempt scaling it across the organization.
Because the intended usage of the product is not the team level only, we wanted to understand why that happens. After reading a lot on the subject and consulting some great marketing people, we concluded that our messaging is not clear enough, and we may be setting the wrong expectations for some of our users.
There were multiple reasons for that, mainly heritage from previous re-designs, old target audiences, marketing personas that were not attractive anymore and so on. That's how we decided it was time for us to take another big jump and reinvent the brand.
We used to describe Kanbanize as "Kanban Software", for it is exactly that, but many people think Kanban is just a whiteboard on the wall, which limits the expectations of what we can really do. That's why we came up with an alternative explanation.
What Is Kanbanize?
Kanbanize is a work management platform focusing on scaling Agile in a humane and data-driven manner. We provide unmatched transparency across all projects, connect planning with execution and stitch it all together with the right set of automation and analytics.
It depicts much more accurately what we do and moving forward, it's this statement that we are going to use.
But what about our Values, Mission and Vision? Do they remain the same or do they also change? No, they've always been what they are today, but this time we decided to announce them to the public. We think big and we want you to know it.
Mission:
"Our mission is to discover new management ways and share this knowledge through amazingly powerful tools that are easy to use."
Vision:
"We help people do meaningful work and by that accelerate innovation"
When you think about Kanbanize, don't think about software only. Think of how we help you and your organization pay attention to the essential things in your work. Think that even the tiny time-saver could lead to the most significant discovery of the century. That's what we believe in, and that's why we keep pushing the limits of Kanban and Agile as a whole - we want to help you innovate faster.
Values:
Continuous improvement - there is always room for improvement.
Everything is an experiment - test all assumptions.
Respectful customers come first.
Efficiency and Effectiveness in everything we do.
Work hard and smart.
Run with me or get out of the way.
We're all entrepreneurs and we're all leaders.
We celebrate our success.
One for all, all for one.
The Great Rebranding
And so, we decided to make it crystal clear what Kanbanize is and what we stand for. As mentioned above, we wanted to reinvent our brand. What better way to start this journey than by designing a new logo and a new website?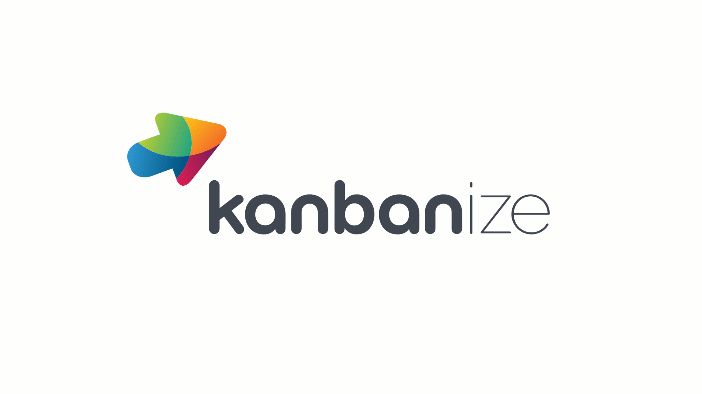 You may think it's a "Big Bang" approach, somewhat contrary to the Kanban ways, but it was a conscious decision we made. A big part of the decision was the goal to replace our Wordpress CMS with a completely custom solution, built for Kanbanize from the ground up. It's slow, it's expensive, but that's how you get superb results.
The Logo
We love the new logo! It says so much about our company... Its translation into text is:
Metric-based continuous improvement and business agility thinking at every level.
The green arrow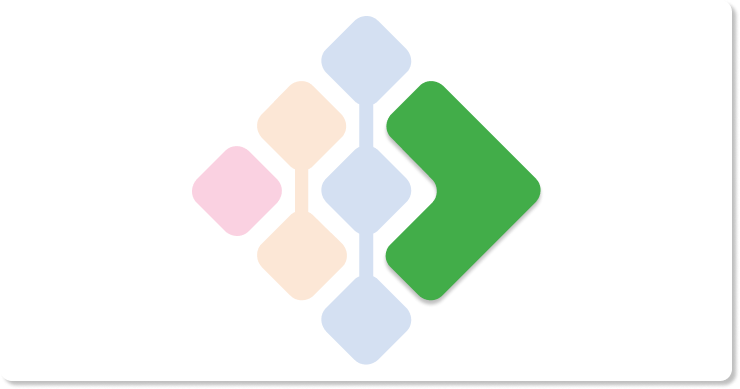 The green arrow represents our never-ending strive for excellence. And it is not a coincidence that the arrow is green, because the psychology of the color symbolizes freshness, growth, and renewal
The multiplying squares
If you look closely, you will see how the small squares multiply and get connected. They form a hierarchy that's rotated to the left. It symbolizes "˜scaling agile' across the organization. You can see three different "flight levels" starting from the strategic level (red), going into the coordination level (orange) and the team level (blue).
We genuinely believe that if a company wants to be successful, then it should incorporate business agility thinking at every level. A single team is not enough.
I have an analogy between agile companies and musicians in a band. Imagine a band where you have an experienced drummer, good enough singer, a mediocre guitar player, and a newbie bassist. What would be the result? Probably, they won't be able to play a single song. It is the same with companies. If you have one agile team achieving incredible results, it won't make any difference. But if the whole company has an agile mindset, then the results will come sooner or later.
All the colors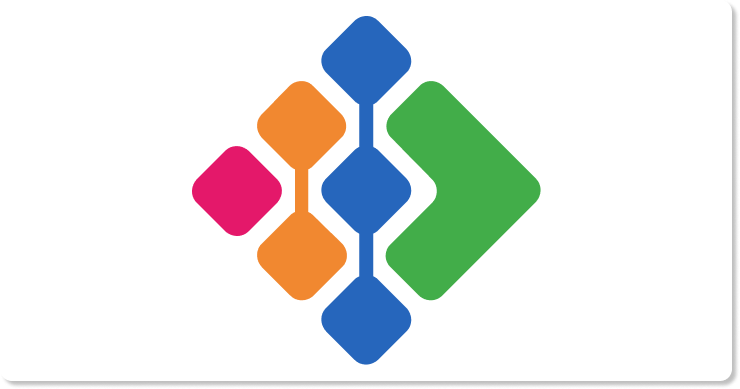 Multi-color branding represents diversity and equality. As much of a cliché this is, we mean it. We don't mind your race, skin color, sex. One of our credos is that we are all leaders and that a good idea can come from anywhere. After all, nobody has a monopoly on good ideas.
The Slogan
We all know these short and catchy or memorable phrases used in advertising. They are more than a sentence that somebody wrote in a second to fill the space under the brand name.
The slogan is the first touchpoint that tells customers what your company stands for. In our case, it was pretty easy. As you can see from our values' list, continuous improvement is encoded in our company's DNA. Today we should be a little bit better than we were yesterday - that's all we care about. And here it goes: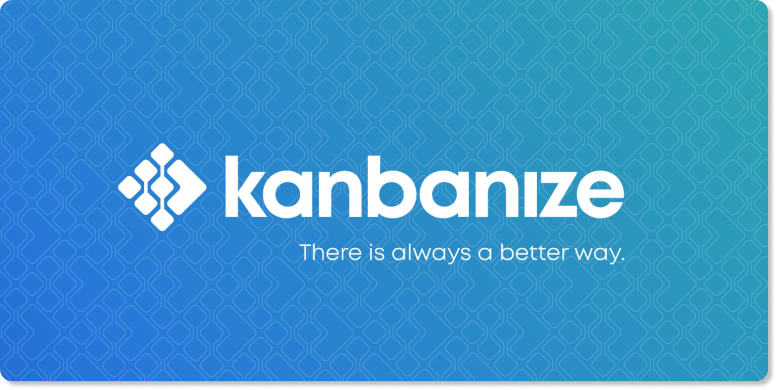 We loved the good old arrow pointing up, but we love the new logo even more. We'll miss you, sweet, rounded arrow, but it's time to move on. The future awaits us!
The Website
Let's start with the fact that we had a couple of options to choose from. All were good, but we all agreed that the home page should represent what the product and the brand stand for.
Here is the right place to mention that we put FLOW in the center of our management universe, and the platform was built around that notion. Kanbanize is about flowing work in the smoothest, most predictable possible way, irrespective of whether we talk about multi-million projects or day-to-day tasks.
Thinking about FLOW, it came naturally to choose the following animation for the most prominent place of the website: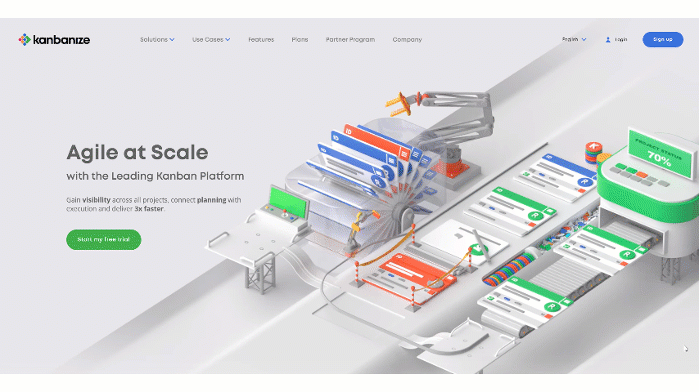 The analogy is clear - Kanbanize is the production line that you use to get your projects done.
We help you pick the right thing to work on (the crane picking one of the rotating cards), we visualize and manage the workflow (the line track), we automate the majority of stuff for you (all the robots, the movement across the line) and we track the progress as jobs get completed (the green monitor on the right shows the overall progress).
The Jump
We were always wondering. Is it all good enough? Is it catchy enough? There is always this gut feeling that something can go wrong. At some point, we even considered stopping the project, skipping the uncertainty, and staying in our comfort zone.
However, we know that without change, there is no improvement. And we jumped bravely. We did it because we know that the best things in life are placed on the other side of fear.
After the jump, it didn't take long to realize our direction was right. This is just one of the extremely positive reviews we got:
"I hadn't visited the homepage for a while and went there tonight and wanted to say that I was extremely impressed by the design. Extremely clever and cool! Great Job! -- Rashid Golchin"
We couldn't ask for more.
I couldn't thank the Kanbanize team enough. Without them, this rebranding wouldn't be possible.
Happy Kanbanizing!

Dimitar Karaivanov
CEO and Co-founder of Businessmap
Dimitar is a lean thinker and a Kanban practitioner with a solid background in the areas of software development and process improvement. He is passionate about achieving extreme performance at scale and applying Lean/Agile principles outside IT.