In Businessmap, our goal is to support organizations to increase efficiency and achieve organizational transparency by visualizing work and optimizing workflows. We are pleased when our clients share their success stories with us, showcasing that we do something meaningful and we help them become a little bit better.
The next story is from BMWC Constructors, an American construction company performing pipe fabrication and installation that applied Lean/Agile practices in this particular industry. The industries they serve vary from Aerospace to Oil and Gas Distribution.
To be able to share best practices and practical insights from BMWCs experience, we talk to Ben Jackman, Fabrication Shop Coordinator, who kindly welcomed us to their boards and introduced us to their working process.
Managing Construction Projects - The Challenges
Speaking about the needs and objectives of BMWC, we were also introduced to the most significant challenges they face while managing construction projects of such scale.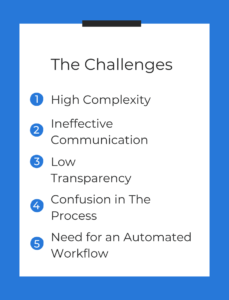 Challenge #1 - High Complexity. By the nature of construction work, the company often has multiple project teams in a wide range of locations working together.
Challenge #2 - Ineffective Communication. A lot of different people are involved in a typical scope of work, so making sure that problems "blocking" production are communicated to the right person and solved promptly becomes a constant struggle.
Challenge #3 - Low Transparency. On top of that, having more than one construction site, each job site was somewhat disconnected from what the others were doing.
Challenge #4 - Confusion in the process. Before using the Kanbanize by Businessmap software solution, communication between the Fabrication Shop and multiple job sites was accomplished via email and phone calls. Historical tracking of work was done using Excel. There was a lot of "He said, she said" which created confusion and difficulties at every stage of the shop drawing, piping fabrication, pipe installation, and quality control processes.
Challenge #5 - Need for an automated workflow. Having in mind the complexity of work, ensuring effective communication is closely related to creating an automated workflow that doesn't depend on each person's attention, memory, and presence to function smoothly. Automation dramatically reduces stress levels in the management of construction projects with an Agile mindset, creates standards, and increases predictability.
"Our main goal in adopting Kanbanize was to create transparency and increase visual communication throughout our region."
Implementing Kanban and Best Practices
To address these and other challenges, BMWC introduced Kanbanize. As a first step of the implementation process, the managing of construction projects moved to digital boards. With the boards being available to all team members, no matter the location, seamless, real-time communication of the data across different geographical areas was enabled. For the main fabrication board used by all job sites, production stages, and the respective roles and responsibilities were clearly defined. For every scenario that could cause a delay, they created visual indicators (stickers and blockers).
The next step was to move from increased transparency and more effective communication to process efficiency and stability through automation.
Business Rules
Combining the already mentioned stickers and blockers with business rules, BMWC created an automatic "if-this-than-that" notification system. The goal was to inform relevant teams or team members in real-time about specific high-priority events occurring in the construction process without someone having to ring an alarm.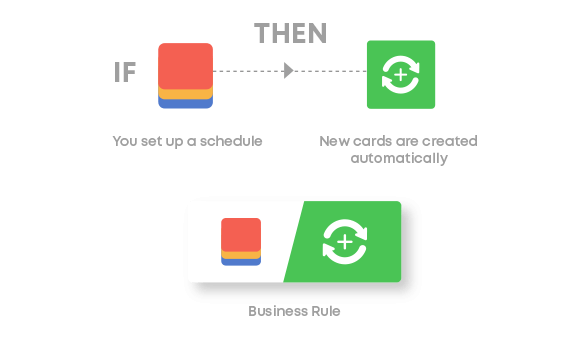 Business Rules Examples:
When a sticker "missing material" is put on a card, a business rule is triggered, and a notification is sent to the person responsible for the materials in the project.
When a child card is blocked, the parent initiative is also automatically blocked to highlight potential delays of the whole project.
Custom Fields
As managing construction projects is related to very specific work items, some information about the tasks should be added manually. With the custom fields function of Kanbanize, BMWC added new work-specific fields to their cards in order to ensure all the relevant information will be collected upfront and no delays will be caused by missing input.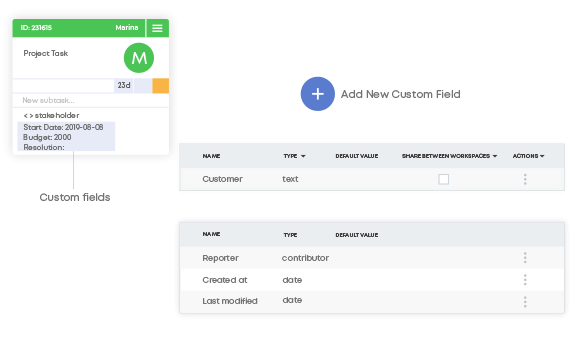 Customer Fields Examples:
"Material type" (high purity tube, high purity plastics, carbon steel, etc.)
"Weld inches" (how many inches need to be welded to complete a fabrication)
Moreover, BMWC can filter data by custom fields and easily generate the specific reports they need.
Results and Next Steps for BMWC
Nine months after the implementation, BMWC has five departments using digital Kanban boards. The entire Western Region is using their board tied to the fabrication shop to track pipe fabrication from receipt of "issued for fabrication" spool drawings through delivery to field. They also have a team using Kanbanize to monitor proposal tracking and estimating for each scope of work and a separate board to track construction, testing, and commissioning in the field.
"Now that we know its full capabilities, we want to do several things including using the analytics data to address bottlenecks, benchmark our capacity and use historical data to help increase or decrease it as necessary and use the Monte Carlo simulations to forecast and estimate more accurately"

Nikolay Tsonev
Product Marketing Manager
Nick is a strategic thinker, passionate about marketing, sales enablement, project management and productivity. An avid sports and Star Wars fan, he spends most of his free time in the gym or the playing field.