The Kanban method is a work management approach focusing on visualizing work, limiting work in progress, and improving efficiency. Originating from the Toyota Production System in the 1940s and the manufacturing field, various industries later embraced the approach, including software development.
Its key component is the Kanban board to visualize the workflow. Kanban principles and practices of visualizing the work and setting work-in-progress limits are at the heart of the method. All its building blocks emphasize continuously improving the process by enabling teams to work more effectively, collaborate better, and constantly hone their productivity.
5 Kanban Examples Straight Out of the Industry
But don't take our word for the method's benefits. Let's explore some examples of real-world Kanban implementations across various industries.
Kanban Example 1: How Kanban-Enhanced Transparency and Value Focus Improved Operational Efficiency in Logistics
Determined to improve its international purchasing division's agility and operational efficiency, distribution logistics company Encoparts initiated its Agile transformation with the help of the Kanban method.
At the time of the implementation, the most critical challenges that the department was facing included:
High complexity of the processes involved in international purchasing work management
Unpredictable work processes and low visibility
Lack of focus and bad communication
The transformation started by introducing Kanban through the STATIK approach (Systems Thinking Approach to Introducing Kanban). The premise behind the approach is to help teams focus on the entire network of services along with all the interdependencies and connections. Looking at the system from that point of view, Agile teams are empowered to arrive at improvements that would affect global delivery and not just drive local results.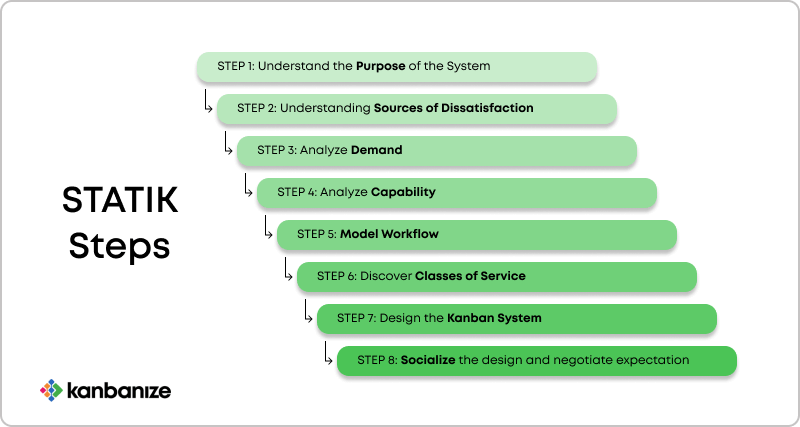 Kanban STATIK implementation steps
Introducing a detailed Kanban board visualizing the entire end-to-end work process enabled the very purchasing team members to elevate the constraints of their own work system with unmatched transparency. Using their Kanban board to map the complete value delivery process allowed them to identify where value-adding and non-value-adding activities were indeed happening in the workflow.
Implementing Kanban flow metrics, such as lead and cycle time, provided insights into the purchasing process by enabling team leaders to assess delivery speed, identify blockages, and analyze time spent on purchasing activities.
Consequently, the cycle time and throughput for order fulfillment became consistent, and within the initial two months of measurement, the team achieved an average of 152 work items in 12 days. By uncovering their value-adding and non-value-adding steps, they could also apply improvements, almost doubling their flow efficiency stats from 34% to 67%.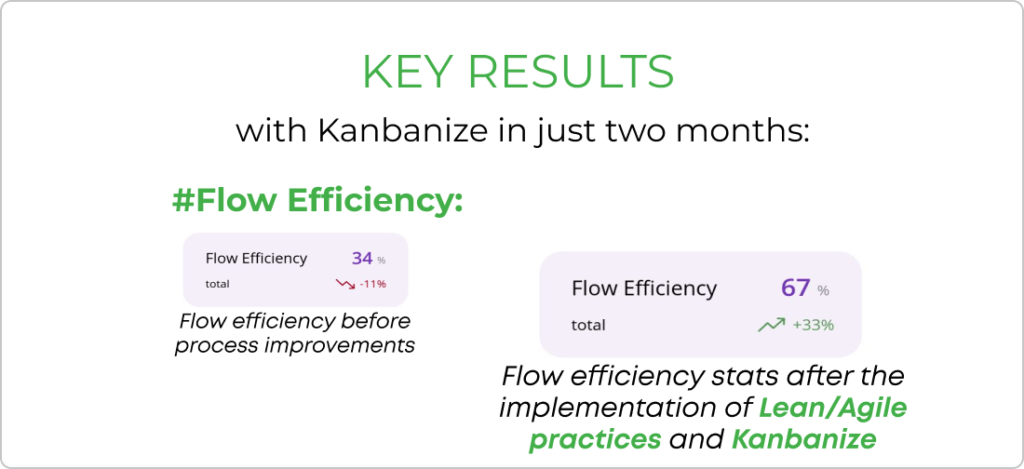 Visualization of reduced flow efficiency within two months of applying Kanban
Source: Encoparts Case Study
Kanban Example 2: Enhancing Flow in Engineering Project Management
Developing an automated intralogistics solution is a complex project with a typical life cycle of 1.5 to 2.5 years, including cross-departmental dependencies, meeting regulatory requirements, and high-quality expectations. To improve the project and portfolio management process, Spanish industry player ULMA Handling Systems set out to implement Kanban practices to manage their long-term technological solutions efficiently.
Some of the most common challenges related to the management of ULMA projects and portfolios were related to the following:
Missing visibility into the work process
Lack of efficient communication and addressing unforeseen events
Increased project delivery times
With a commitment to address the pain points, senior management set out to make things much simpler and more comprehensive. The change was initiated by introducing Kanban boards and Kanban cadences or meetings. The two practices facilitated communication and improved the visibility into the real-time status of work.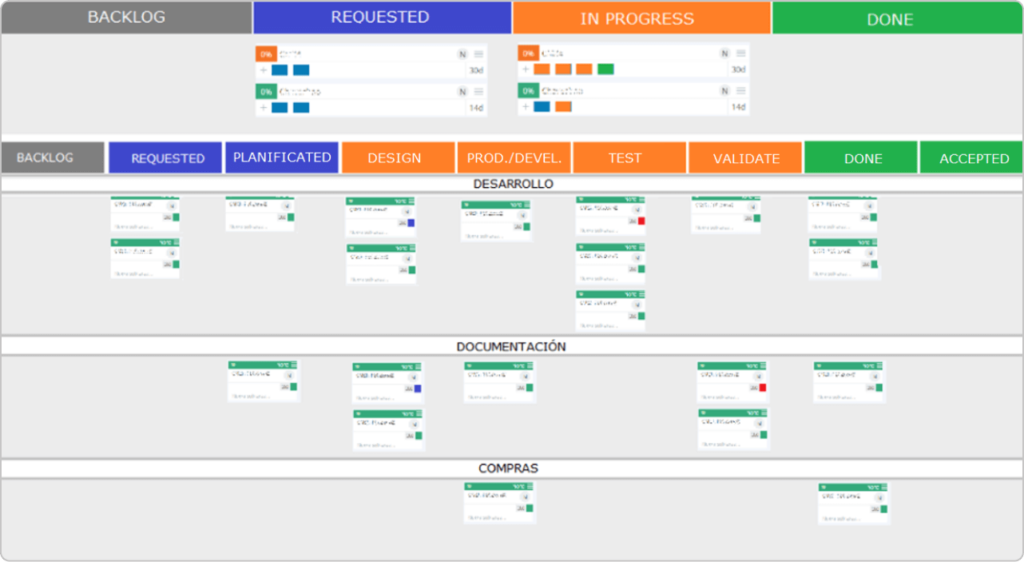 Visualizing an end-to-end workflow on a Kanban board
To improve their work delivery process further, the pilot projects' team members used the explicit Kanban policies practice. They created a smooth and coherent delivery handoff process by defining internal agreements on how work should be done.
The improved understanding of the end-to-end workflow developed a shared knowledge of the workload and the actual team's capacity. Introducing Kanban practices also led to improving the way internal dependencies were managed.
Source: ULMA Case Study
Kanban Example 3: Visualizing End-to-End Flow of Work and Boosting Efficiency in the Chemical Industry
With a mission to achieve project agility and drive sustainable results, chemical manufacturer Schlenk started a transformational journey with Kanban. The initiative's main goals were clear - achieve transparency in the innovative project management process and make process bottlenecks visible so they can be addressed.
Some of the challenges that influenced the decision included:
Inefficient handoffs due to missing links between the different teams and project phases
Limited transparency into process blockers
Lack of project performance review
Another milestone was the ability to structure the end-to-end value delivery flow in one place, depicting different organizational levels and how they were linked.
The company started building flight levels on interconnected Kanban boards to scale its flow and improve its overall business agility.The concept of flight levels by Kalus Leopold focuses on managing the flow of work from strategy to execution by visualizing the link between strategic portfolio management, coordination, and daily operations. The interconnected Kanban boards made that possible in practice. It allowed them to visualize strategic initiatives and link them to related sub-initiatives and projects down to every single work item contributing to the progress of the project portfolio.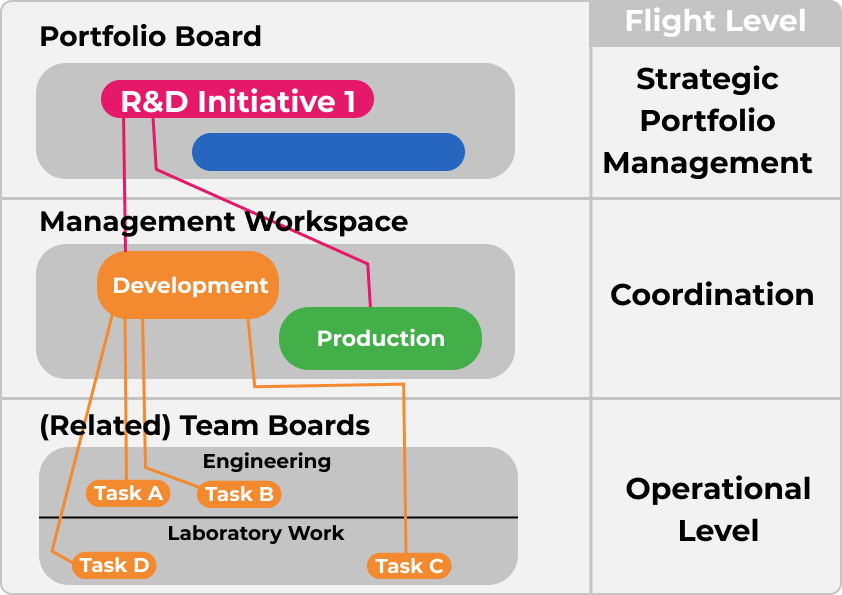 A depiction of the Flight-levels concept to organizational development
Even at the Portfolio level, elevating process blockers using visual signaling allowed the teams and management alike to uncover the process blockers and dependencies. This, in turn, resulted in a better understanding of the relevance of different work, reduced waiting times, and promoted faster issue resolution.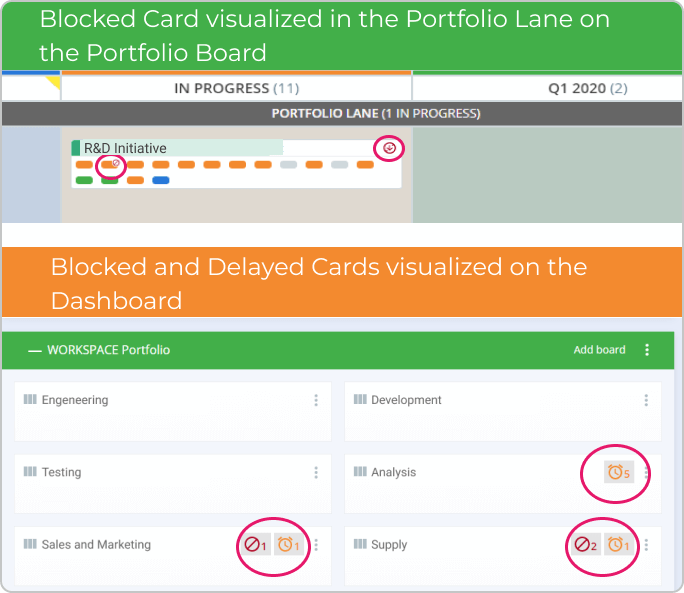 Signaling a blocked work item on a Portfolio board
Speaking of tangible results, the flight levels' concept created a perpetual connection between strategy and execution, elevating how every team member contributes to reaching the strategic plan. On the other hand, at the team level, the Kanban practice of limiting the number of work items in progress helped one of Schlenk's teams significantly reduce their cycle time from 110 days to 44 days (at the 85% percentile.)
Source: Schlenk Case Study
Kanban Example 4: Increasing Delivery Speed and Managing Engineering Portfolios with Kanban
Fixed processes and compliance regulations give little to no room for changes or flexibility, which is exactly what businesses in industries such as aerospace or pharma face. The aerospace manufacturer Aerosud started their Agile transformation to adopt and spread business agility.
To support this goal, the IT division introduced Kanban boards and adopted work-in-progress limits on the individual boards. Along with visualizing impediments and incorporating daily meetings, the practice improved communication and the understanding of the team's capacity. This increased the IT group's throughput from 60 to around 120 tickets within 3 days.
This milestone achieved within the IT area encouraged the expansion of the implementation across the engineering project and portfolio. To do this, team leaders decided to combine Kanban practices with the flight levels' concept to establish a natural link between project portfolios, cross-team coordination, and day-to-day operations.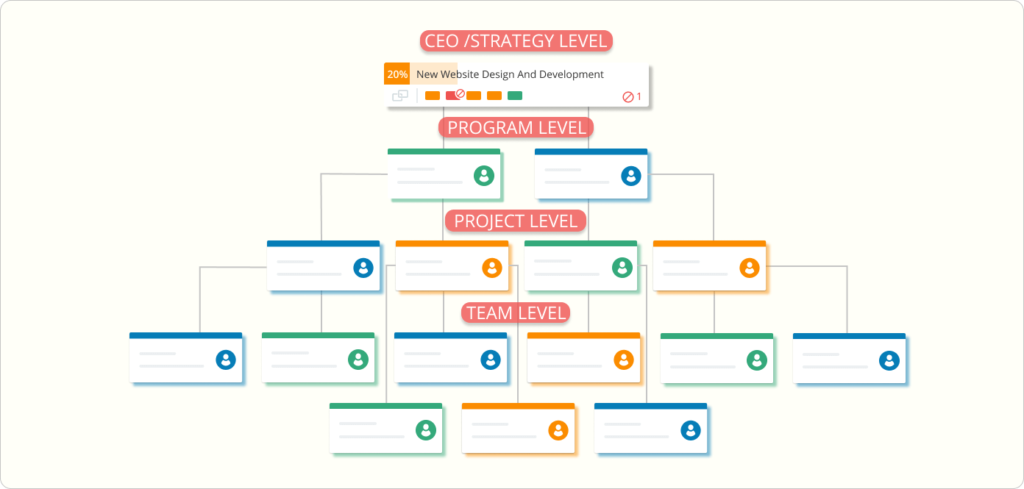 Visualizing the link between top-level projects and project execution on a Kanban board
Source: Aerosud Case Study
Kanban Example 5: How Kanban Empowers Digital Transformation
Set out to foster business agility, Brazilian financial solutions provider Boa Vista had two very clear objectives for their digital transformation initiative: accelerating project delivery and becoming more flexible in their response to the changing customer needs.
Creating value-stream-oriented departments and product-oriented teams and reducing the batch size of work items helped reduce the long project delivery cycles lasting from one to six months on the operational level. However, overcoming the missing alignment between team operations and strategic goals was a more pressing challenge.
A depiction of value-stream oriented departments
To help address that challenge, the company adopted the Kanban Maturity Model (KMM) as guidance on scaling agility across the organization. The product team at Boa Vista was also trained in the goal-setting framework OKR. The ability to link team initiatives and company OKRs on the same Kanban board created a better alignment between the different company levels. In addition, introducing Kanban cadences further supported a smooth information flow across the organization and strengthened their efforts toward reaching the digital transformation goals.
Source: Boa Vista Case Study
Is Kanban the Sustainable Project and Portfolio Management Approach?
With the listed hands-on illustrations, we hope we have demonstrated that flow-based methods like Kanban support Lean portfolio management. Its focus on visualizing and optimizing workflows, reducing waste, and promoting continuous improvement makes it well-suited for sustainable and efficient management of projects.
According to industry data and experience, companies today use Kanban for three reasons: elevating work transparency, increasing delivery speed, and driving continuous improvement. We can generously contribute to this list: Kanban can help standardize work, improve flow management, better team collaboration, align projects and portfolios to strategic goals, scale agility across the organization, and many more.

Iva Krasteva
SEO & Content Creator Expert
Analytical. Driven by constant learning and knowledge. Fascinated by people's creativity. Admiration for intellectual property, copywriter and SEO. Passion for nature's beauty, comic books, pop art and cinema.