At Businessmap, our story is fueled by the relentless belief: "There is always a better way." We live and breathe this mindset, driven by an unwavering passion for delivering unmatched quality, listening to our customers, and continuously improving ourselves, our knowledge, and our product. These three pillars have propelled us forward, shaping our journey.
That's why we are overflowing with honor and humility as we proudly announce our recognition and the prestigious Operational Excellence Award for Lean Software Product Development. This remarkable achievement acknowledges our organization's innovative and impactful implementation of Operational Excellence practices and initiatives. It is a testament to the tireless dedication of our people.
We extend our deepest gratitude to the Lean Institute Bulgaria and Tomorrow Redefined for making this incredible event a reality.
The Cornerstones of Our Operational Excellence Journey
"Synergy - the bonus that is achieved when things work together harmoniously." Mark Twain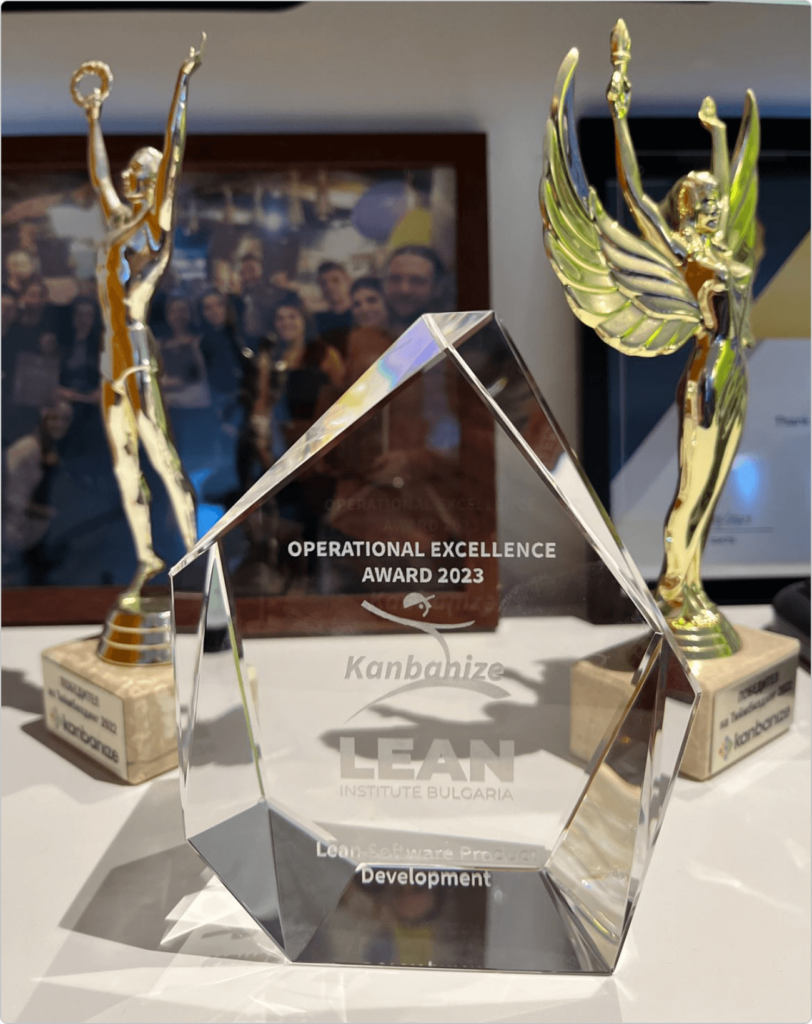 Our accomplishments are firmly grounded in the shared understanding that we are all working toward common goals and united in our vision. To us, operational excellence means the following:
Our Partners Are Our Family
First, we want to clarify that our journey is not a lone one. It relies on incredible people who tirelessly champion our cause, bridging gaps between teams and organizations. Their unwavering support has been a cornerstone of our achievements.
We take pride in our global network of 300+ partners who excel in delivering Lean/Agile consultations and providing invaluable guidance for achieving business agility. Their contribution humbles us, and we're not just committed to fostering a long-term partnership but creating a family that works together to help businesses optimize their resources and unlock their true potential.
No Compromise on Customer Service
We pour our hearts into delivering exceptional customer service, driven by our commitment to excellence. We are fueled by the relentless pursuit of maintaining zero open customer issues, knowing that each satisfied customer is a testament to our dedication.
Moreover, we are truly devoted to keeping our audience well-informed about the latest news, invaluable insights, and transformative learnings from the world of business agility. After all, as Peter Drucker says, "Knowledge has to be improved, challenged, and increased constantly, or it vanishes."
Continuous Improvement Is in Our DNA
The motto of our company is "There is always a better way". And we mean that.
We're committed to an ever-evolving product that brings together the best from 3 worlds - project portfolio management, OKRs, and work management. It's a platform that transcends boundaries, forging a meaningful connection between strategy and execution. Our passion lies in providing our customers with a limitless realm of possibilities, enabling them to uncover weaknesses, conduct profound analysis, and embark on a journey of constant improvement.
We embrace this path to constantly improve, harmonizing our efforts as we work toward shared goals and a vision. Throughout our journey, we remain passionately committed to delivering exceptional results for our valued customers and partners.
We firmly believe that together, we will forge a future that surpasses all expectations. The path of the future might be rocky, but we are built for survival!
Check out our remarkable team in action as they accept the prestigious award!

Iva Krasteva
SEO & Content Creator Expert
Analytical. Driven by constant learning and knowledge. Fascinated by people's creativity. Admiration for intellectual property, copywriter and SEO. Passion for nature's beauty, comic books, pop art and cinema.