It comes as no surprise that as we live in the digital era, more and more companies are looking to initiate digital transformation programs. In fact, studies show that by 2026 digital transformation spending is projected to reach 3.4 trillion dollars.
But there is one recent trend which we believe grabs the attention of many, including our own. That's the accelerated digital transformation in pharmaceutical companies.
Surveys show that an industry where change usually moves slowly due to heavy regulatory processes has now accelerated its adoption of digital transformation by more than 5 years. I am sure you can guess why that's the case (hint: Covid-19).
So, even a highly regulated industry, such as pharmaceuticals, can move fast when necessary. The question is, do we have to go through crises to realize the need for modern-day work operations to achieve agility and fast time to market?
What Is Digital Transformation's Current State
Digital transformation is defined as the process of adopting digital technologies to transform how the business runs. This could include creating new or optimizing existing business processes, customer interactions, management practices, etc., through the use of cutting-edge technology.
It is a wide strategic initiative that can coverall organizational functions. Digital transformation is most commonly used to enhance customer experience, drive innovation, and help companies improve their adaptability to changing market conditions.
Here's the place to mention some interesting stats. In 2017-2018, Mckinsey found that only 8% of companies would remain economically viable if the rate of "going digital" remained at its speed back then. And now, 5 years later, in the wake of the global pandemic, 62% of executives hold digital transformation as their highest priority.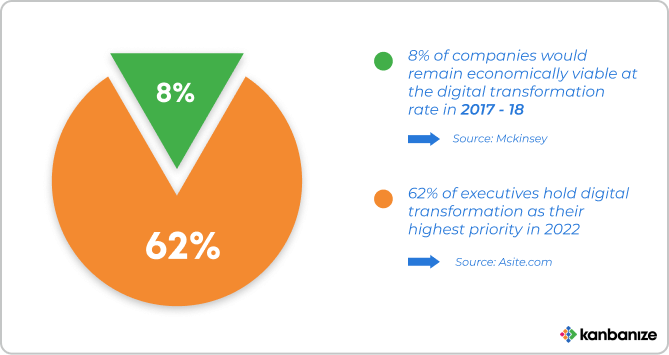 Digital transformation is indeed happening faster than ever, which means businesses across all industries need to act as soon as possible. The pharma industry is no exception.
Common Challenges in the Pharma Industry
So, why focus on the pharmaceutical industry? Well, did you know that research over the last decade (2011-2020) shows that, on average, it takes 10.5 years for a drug to progress from R&D and Phase I clinical trials to regulatory approval?
Obviously, this creates a lot of financial risks for sponsors because there is a huge lag time until any returns on investments. Considering that in the U.S. (for example), patents on new drugs last 20 years, meaning that half of this time is spent on R&D and regulatory approvals, the situation can get concerning.
In contrast to all of that, Covid-19 vaccines came out at a record time, and the pandemic has significantly sped up transformation processes in companies. Now don't get me wrong. We don't believe in conspiracies, and we recognize the fact that there was a lot of funding and political willingness involved in achieving that fast time to market.
The important thing here is what the data shows. With enough willingness to embrace digital transformation at an even higher rate, those long R&D cycle times could be reduced in the future.
Of course, the long time to market and slow ROI are far from the only challenges in the industry. Experts list uncertainty in supply chains, data integrity, drug wastages, and the need for improved process efficiency as some of the most pressing challenges in pharma.
It is because of suchchallenges that digital and Agile transformations are becoming increasingly popular in the industry.
The Role of Agile for Digital Transformation in Pharma
To tackle some of the above-mentioned issues, there are many digital technologies that transform pharma companies (Source: Deloitte Insights):
Artificial intelligence (AI) to manage the impact of disruptions to clinical development operations
Cloud technologies to facilitate day-to-day work (especially when it comes to remote working)
AR/VR technologies to help manufacturing sites configure equipment and operate with "skeleton crews" during the COVID-19 travel restrictions
Internet of Things (IoT) innovations to manage disruptions to logistics and transportation
But what is the key concept here? Aren't all those technologies a "means to an end", and could they be applied without cultural change? Probably yes, but would they bear the same results?
At Businessmap, we believe that every wide-scale transformation starts by building a Lean/Agile culture first within an organization. Transparency across work operations and decentralized control are some of the main concepts that enable it and support your digital transformation efforts. We believe that real change happens when there's an open environment for knowledge sharing, collaboration, and visibility into the entire value stream.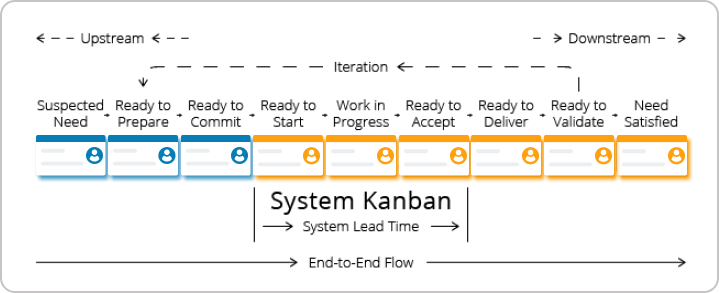 And most importantly, a visibility that doesn't aim to help managers keep teams accountable. Instead, allows them to discover bottlenecks, blockers, and optimize dependencies.
In fact, one of Lean's core practices of visualizing and eliminating "non-value-added" activities has been cited by Pharma News Intel as one of the best ways to cut down R&D cycle times. Furthermore, by building an operational model that focuses on MVPs (minimum viable products) in R&D labs, experts can run tests faster and get early feedback about what they've developed so changes can be applied on time.

So, what's the key takeaway?
It's clear that digital transformation is revolutionizing the pharmaceutical industry (and many more). But at the same time, it's essential that a company's existing work processes and culture are agile enough to adapt effectively to the digital trend and ultimately adopt it.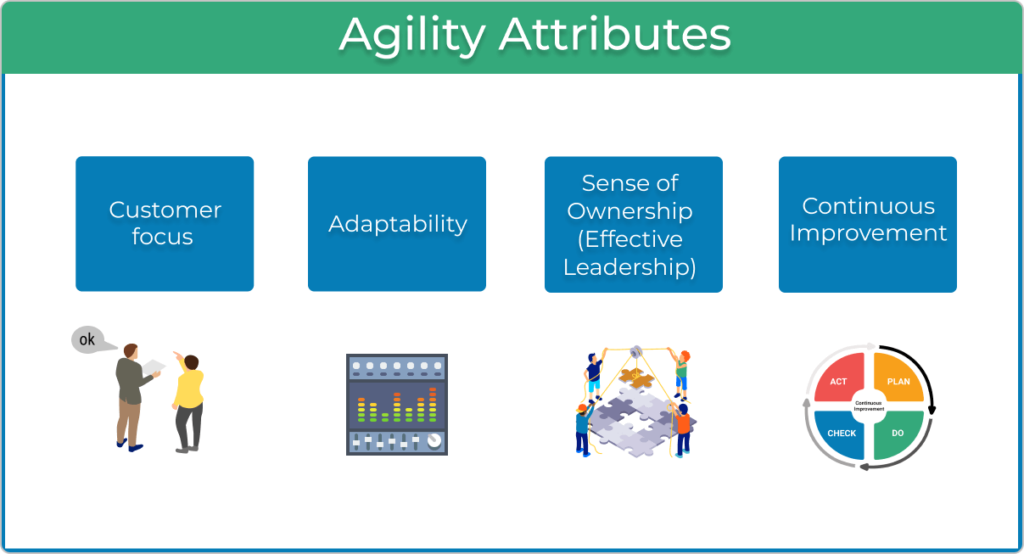 Agile and Digital Transformation Examples in Pharma
Contemplating digital and Agile transformations in the Pharma industry is a start. But what are some examples of companies actually seeing benefits from such initiatives?
This is what we're going to discuss next.
The Vision to Deliver Better Outcomes to Patients at Roche
Roche is a Swiss multinational healthcare company founded in 1896 which operates in two divisions: Pharmaceuticals and Diagnostics. Embracing a long-term vision to deliver 3 to 5 times more benefits to patients at 50% less cost to society, the company embarked on an Agile transformation and process optimization through digital technologies.
Roche recognized the need to form a more agile culture first in order to adopt new ways of working. Most importantly, they focused on developing a customer-first mindset, promoting self-leadership (by having only 2 management levels in the organization), and getting feedback as fast as possible for their R&D processes. The company embraced a number of Agile practices, such as short development cycles, daily stand-up meetings, and organizational transparency through networks of Kanban boards.
As a result, they report many new partnerships, better customer interactions, faster internal processes, and improved collaboration because of less "silo thinking". You can find more information about Roche's journey here.
Other than that, one of the company's most successful Agile transformations has happened inside its Korean branch. By using Agile ways of work to support their initiatives for building personalized healthcare systems for Korean hospitals, the company reports 30% revenue growth in 2021 compared to 2020 (Source: Korea Biomedical Review).
In the words of Nic Horridge, president atRoche Korea:

Culture of Agility at AstraZeneca
AstraZeneca is one of the largest pharmaceutical companies in the world, which has been on an Agile transformation journey since 2013. As a result, the company continues to strengthen its presence in the market by being able to respond to new challenges and increase the levels of scientific innovation.
Through leveraging transparency at the project and portfolio levels, teams and management have been able to understand better and plan capacity across the organization. One of the company's pressing challenges was the complicated information management which lacked transparency. With the help of digital tools, AstraZeneca improves the entire project's visibility and enables knowledge sharing by giving access to the full history of the science behind a project.
Despite extremely heavy regulatory requirements, AZ continues to demonstrate how adopting a Lean/Agile culture supports successful transformations. Ultimately leading to improved decision-making and time-saving.
You can learn more in this case study.
Driving Digital Transformation with Agile at Johnson & Johnson
Another example comes from another pharmaceutical giant - Johnson & Johnson. The company embraced Lean/Agile in the context of business strategy (instead of a one-time initiative) to accelerate its digital transformation efforts. They combined Agile ways of working (ex., short development cycles to test new ideas rapidly) with design thinking and data science. This enables them to apply global optimizations, create better customer experiences, and ultimately free up time to focus on innovation.
A Key Lesson
In conclusion, Covid-19 was (and still is) a plague to this world. But it has taught us a valuable lesson.
Companies need to free up their time from wasteful activities to innovate more at a faster rate. Embracing a Lean/Agile culture and investing in digital transformation is a way to achieve that. Even though operating in one of the most regulated industries in the world, pharmaceutical companies are a bright example to inspire others.

Nikolay Tsonev
Product Marketing Manager
Nick is a strategic thinker, passionate about marketing, sales enablement, project management and productivity. An avid sports and Star Wars fan, he spends most of his free time in the gym or the playing field.