There is no doubt that Kanban is among the most famous methods for software development these days. However, people often forget that the method was initially tested and applied successfully in IT departments.
Back in 2004, an IT team in Microsoft managed by Dragos Dumitriu was struggling to improve his team's efficiency and to optimize its capacity. David Anderson helped the team as he designed a pull system, which later evolved into the Kanban method. Just a few months later, the team achieved its highest productivity per person rate, shortest lead time and highest customer satisfaction. The rest is history. We all know how popular Kanban is today.
However, I often fail to explain why using Kanban to manage IT departments is so helpful. Recently, I realized that real-life examples speak best for the usefulness of anything. So, after a few days of surfing around the web, digging into research, white papers, and case studies, I discovered these companies that benefit from applying Kanban in IT operations.
Here they are. The companies that actually use Kanban in IT operations management.
Kanban at Spotify
If we exclude the Microsoft case mentioned earlier, this is probably one of the first and most famous examples of Kanban in practice in IT. An operations engineer at Spotify called Mattias Jansson shares that their main problem was scalability. What he meant was that the operations team did not scale well with the growth and needs of the company.
So, they decided to implement Kanban as their workflow management tool. The team agreed to start simply. As you can see on the image below, they set up a Kanban IT operations board in a simple way:
3 columns (to do, doing and done);
3 horizontal lanes. Two for the main types of service: standard type and intangible stories and an expedite swimlane;
They set a low WIP limit on the To-Do stage to ensure that the internal, intangible tasks are actually done;
They also set a WIP limit on the Doing column equal to the number of ops team members minus one.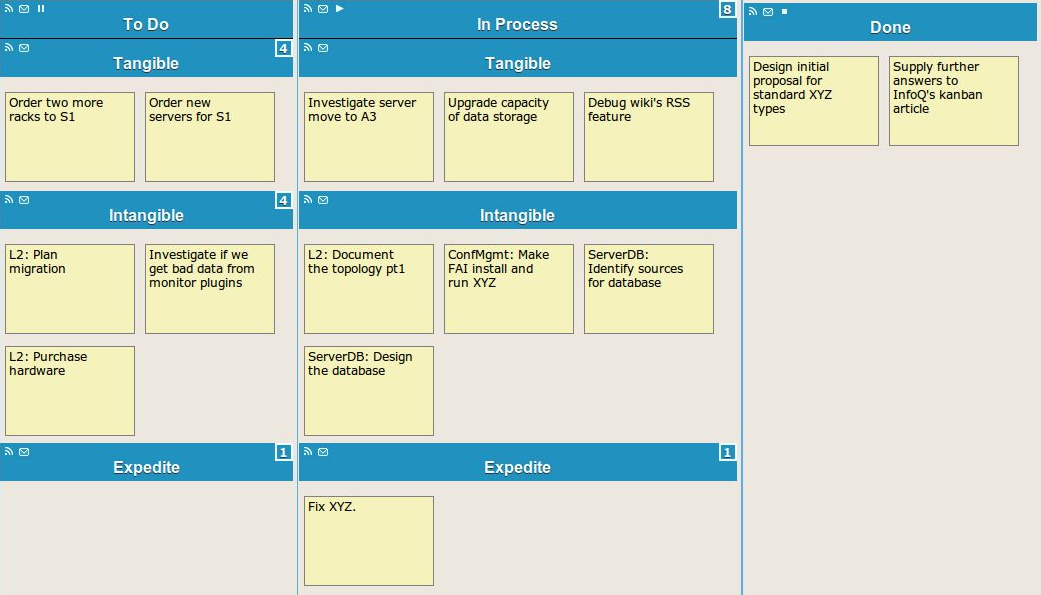 Image credit: infoq.com
After all, it appeared that Kanban helped the Spotify Ops team become more efficient. As Mattias said in an interview "We've noticed that our lead times are shorter, we get more internal tasks done, and the departments we interface with are happier."
Kanban at VMWare
Les Viszlai, an advisory strategist at VMware, says that Kanban actually helps IT operations teams avoid work overloading, and it uncovers the different capabilities of the teams.
It turns out that a huge company such as VMware finds a very simple application of Kanban for IT operations teams. Les Viszlai describes a very light version of a board as you can see below.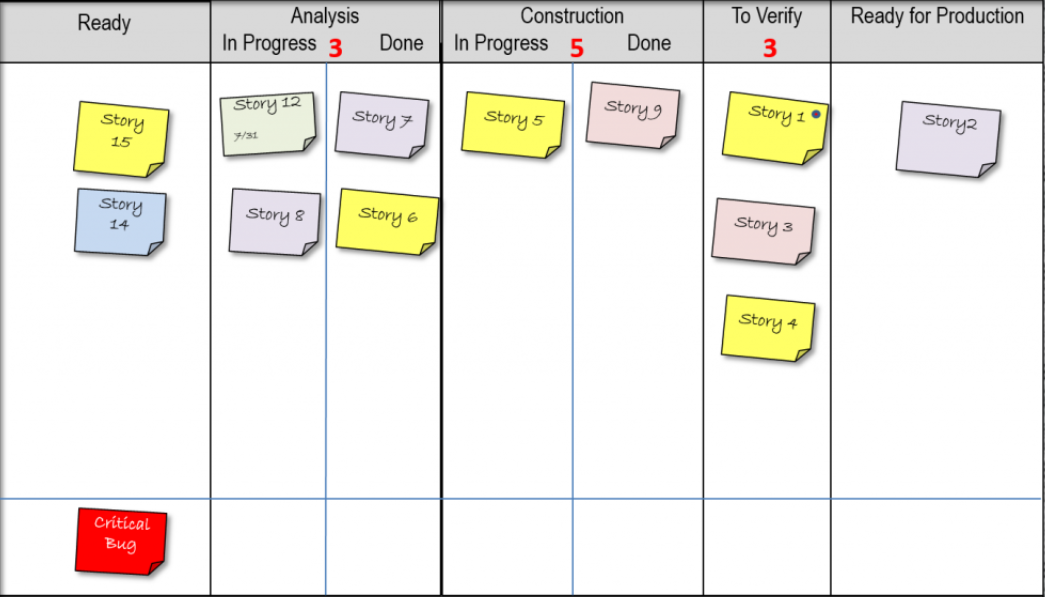 Image credit: blogs.vmware.com
In their case, new work tasks are tracked as Stories and placed in the Ready column. Then the tasks naturally go through the workflow. Once completed, the work item is moved into another column labeled Done (not included in the image above). As you can notice, their board also has one swimlane at the bottom of the board. They call it "the silver bullet lane" and use it for work items of the highest priority.
Last but not least, the team agreed to focus on 4 areas of measurement: lead time, due date performance, blocked time, and queue time. This helped the team acquire a better understanding of:
How long items sit before they are started by operations;
Which area within IT is causing blockage for things being done;
How good is the team at hitting due dates;
The overall time it takes things to move through the system under each workstream.
Kanban at Volvo IT
Volvo IT is a subsidiary of Volvo Group responsible for the maintenance and support of existing IT services/solutions and the development or procurement of new IT-related services. Unfortunately, they had a few problems that corrupted their work process: lack of efficiency, a non-standardized system of work and a tendency of slow response to high-priority requests. The team also had to meet the challenge of increasing delivery capacity.
This is where Kanban comes into play. Actually, the entire team was trained on how to use Kanban. Furthermore, three of the key team leaders attended Kanban training led by David Anderson. As you can see in the image below, their initial IT Kanban board is relatively complex.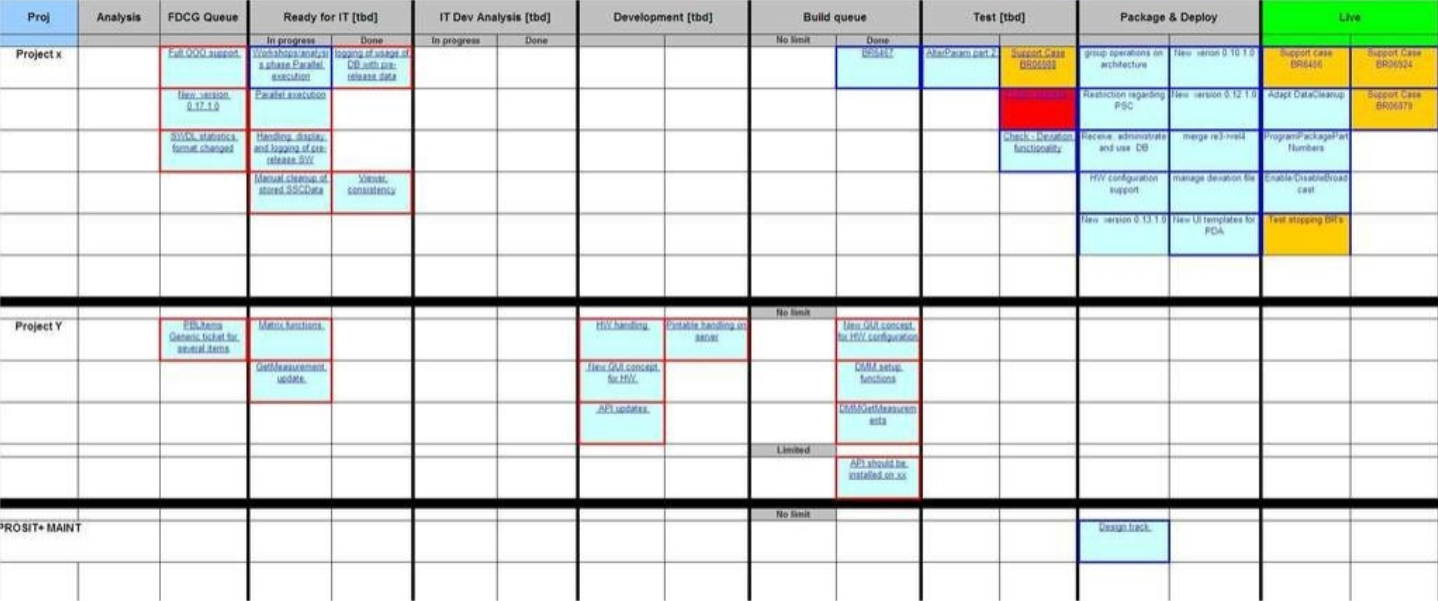 Image credit: slideshare.net
After the team mapped its process, the Kanban board appeared to have 10 columns and 3 swimlanes. In this case, the swimlanes are used to keep track of projects and there is also a swimlane for maintenance tasks. Expedite tasks are marked in red.
After all, this helped the team identify bottlenecks and prioritize work in a better way. As Anders Jonsson (PM at Volvo IT until 2014) states "Work progressed in a good way, productivity goals were reached, capacity planning became really easy and visible."
Kanban at Auto Trader (UK)
This is one of the most completed Kanban implementations in IT operations I have ever seen. The company Auto Trader is based in Manchester, UK and its entire IT department took advantage of using Kanban. They had plenty of reasons to do so:
Teams (DBA, Networks, Sysadmins, Service Desk, Release team) often working against each other;
All internal communication is done via helpdesk software and email apps resulting in a lack of collaboration and teamwork;
Large overtime. Many employees regularly working a 70 hour week;
Difficulties with prioritization. Teams struggling to manage many stakeholders and strike a healthy balance between projects, incidents, and BAU;
Regularly missed deadlines, wasted capacity - particularly around hand-offs, waiting time, and lots of partially done work.
In the very beginning, they started with the simplest version of a Kanban board with only 3 columns: Not Started, Doing, Done. Led by Ian Carroll, an experienced Agile coach, things evolved into 5 different boards: Portfolio board, Sysadmin board, DBA board, Business apps board, Network and Infrastructure board.
On the image below, you can see their sysadmin board.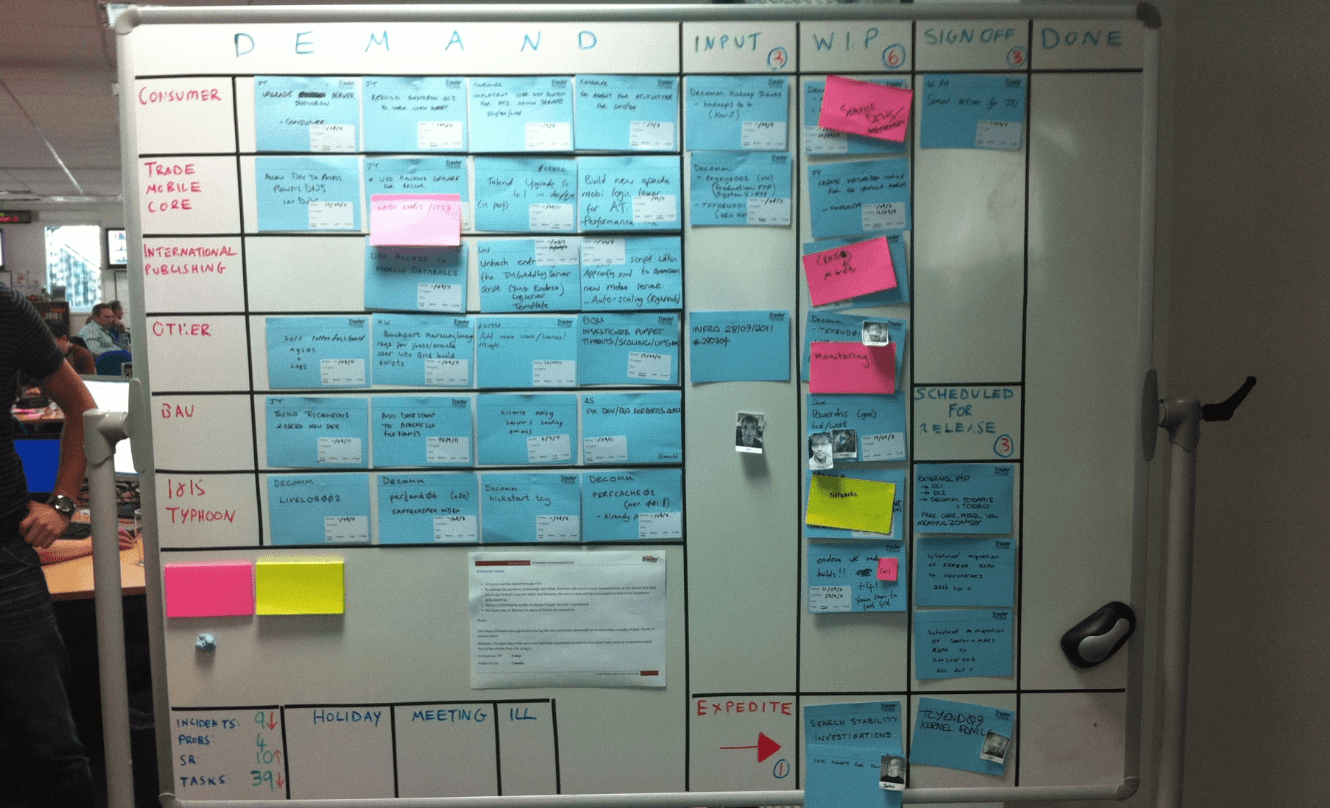 Image credit: itopskanban.wordpress.com
As you may notice, the board is relatively simple, with only 4 columns before the Done stage and one additional sub-column called Scheduled for release. There are also a few swimlanes that help the team separate different types of work.
The rest of the boards look similar, but the important thing is that using Kanban for IT operations helped Autotrader's IT department optimize its work processes. The CTO shares that after the implementation, he was able to see the demands on the department and to manage the expectations.
On the other hand, the DBA team states that it is much easier for them to prioritize work and to spot what is blocking the team. Other teams also share they are a lot more informed about each other's work and simply "work just gets done".
Kanban at Blizzard Sport
Blizzard Sport is an Austrian alpine ski producer and one of the biggest ski equipment manufacturers. Back in 2011, they had some serious issues with managing the IT operations team. As Eric-Jan, the manager of the team shares "other departments saw IT as a big black hole".
In short, the IT team has a problem with prioritization and therefore the team worked on everything simultaneously. This naturally led to more delays, longer cycle times and unhappy internal clients.
One day as Eric shares "I read David J. Anderson's book over a sunny Easter holiday, and everything fell right into place." Shortly after, Blizzard Sport was using Kanban for their IT operations team.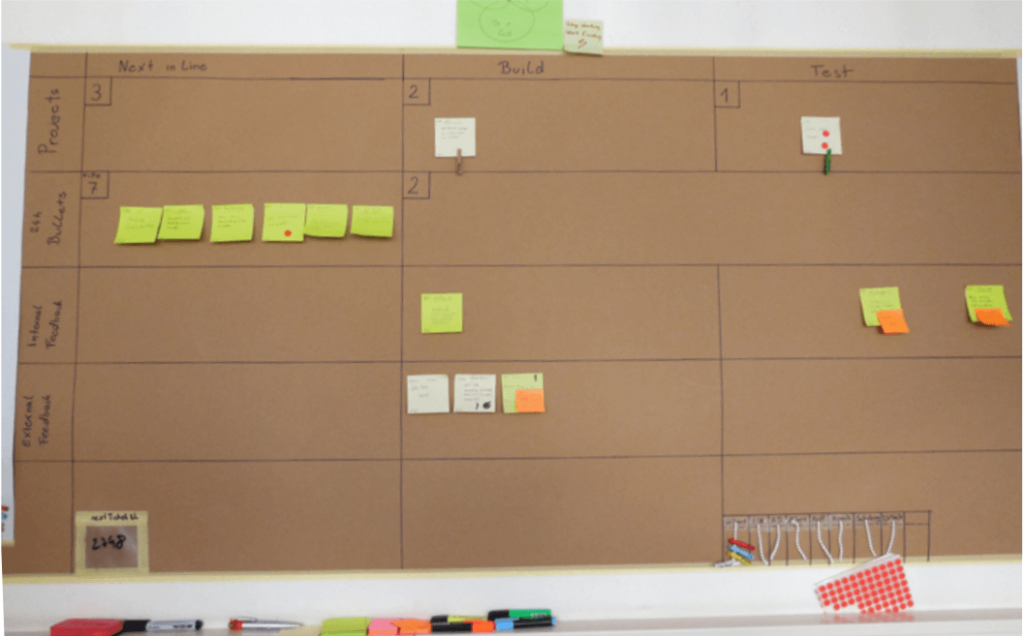 Image credit: kanban.university
The board you see above is pretty simple. The top swimlane is reserved for tasks related to projects. The second one is for maintenance tasks, which usually take no longer than a day. The third is for tickets that need feedback from an internal source and the last one is for tickets awaiting external feedback.
However, the results were fascinating. The team was able to prioritize work in a much better way, set clear expectations and reduce cycle time. The Kanban culture was spread across the entire organization and Eric received the 2013 CIO Award for Best IT Manager in Austria.
Bottom Line
Managing IT projects and IT departments, in general, is not an easy quest, but as obvious from the examples above you can deal with it, while using the right tools.
All these cases mentioned in the current article come to notice that even the simplest version of Kanban can have a tremendous positive impact on IT ops team processes. One of the main reasons is that with Kanban, you agree to pursue evolutionary change.
As Ian Carroll says, "The beauty of Kanban is that you start with what you do now". Then you improve.
References:
infoq.com/articles/kanban-operations-spotify
slideshare.net/leantribe/kanban-experiences-at-volvo-it-anders-jonsson-ltg4
diva-portal.org/smash/get/diva2:732264/FULLTEXT01.pdf
leankanban.com/wp-content/uploads/2016/04/Blizzard-dist96.pdf
blogs.vmware.com/accelerate/2015/11/kanban-it-operations.html
youtube.com/watch?v=EzFEKwx3HkY&t=159s
infoq.com/presentations/kanban-for-software
vimeo.com/80371814
djaa.com/brief-history-kanban-knowledge-work

Pavel Naydenov
Head of Marketing
Passionate about online marketing, copywriting, brand management, and social media. Enthusiastic about cooking, guitar playing, and continuous improvement.