Lean is an endless topic that can be discussed until the end of time. The positive impact on the way organizations work and achieve their goals made the methodology formidably successful and widespread across various industries.
The Lean concept appears to be a universal management tool. We've sure come a long way since the dawn of Lean and there is already a great number of practitioners with solid experience.
Many of them share their thoughts with a wide audience, and we selected 19 blogs related to the Lean topic that you may find extremely helpful. Suitable for both beginners and seasoned practitioners, each of them is worth checking out.
Enjoy!
A Lean Journey - by Tim McMahon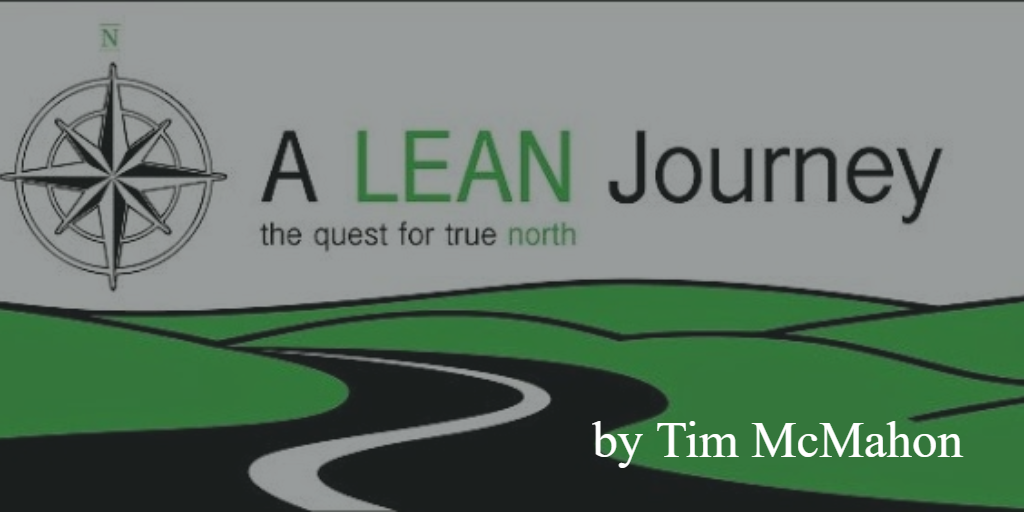 Image credit: aleanjourney.com
Tim is a Lean implementation leader, author, and blogger. Tim has nearly 20 years of leadership experience in implementing Lean manufacturing.
A proven leader in high-tech manufacturing companies, he is passionate about quality improvement methods by actively learning, thinking, and engaging people. If you are interested in Lean management practices, then you definitely have to visit Tim's Lean blog, where you can find insightful tips and detailed explanations.
The Lean Thinker - by Mark Rosenthal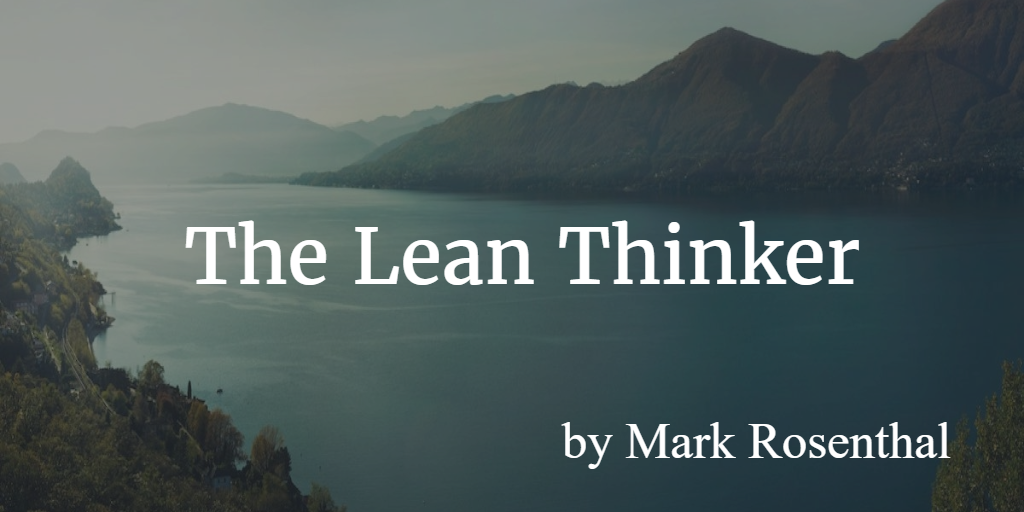 Mark is seasoned in Lean manufacturing and has more than 20 years of professional experience.
He has helped various organizations to implement and understand continuous improvement. Whether you are a beginner or an advanced professional, in this Lean blog you may find valuable information about broad or more specific topics.
Business901 - by Joe Dager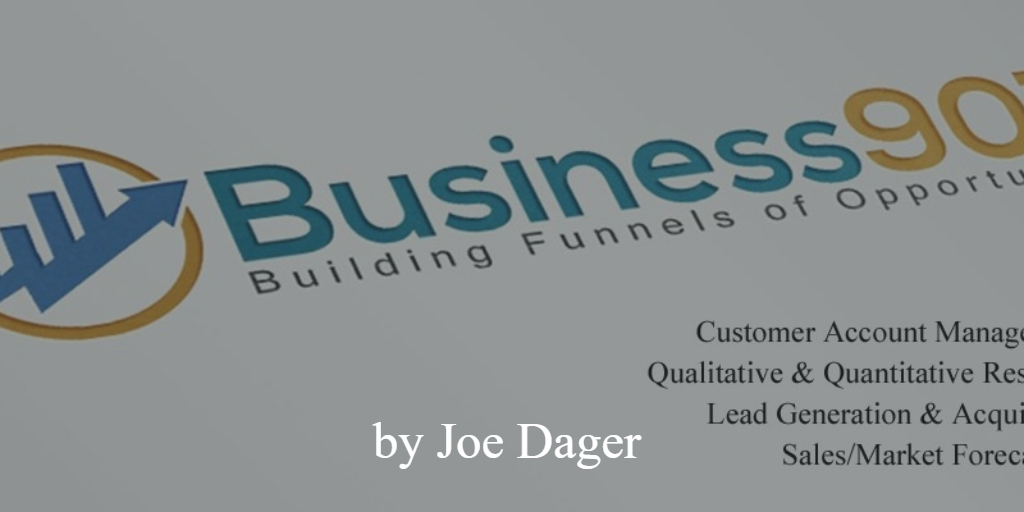 Image credit: Business901.com
Joe Dager is a Lean Six Sigma Black Belt and has experience in various industries. As a process thinker, he has always attached Lean to the way of implementing marketing and sales. Joe sincerely believes in continuous improvement and he dedicates his professional life to bring continuous improvement process to the sales and marketing arena.
In addition to all the valuable blog posts, in Business901, you can enjoy podcast series where Joe Dager discusses different topics with thought leaders and edge thinkers from various industries. A Lean blog worth reading.
Curious Cat Blog - by John Hunter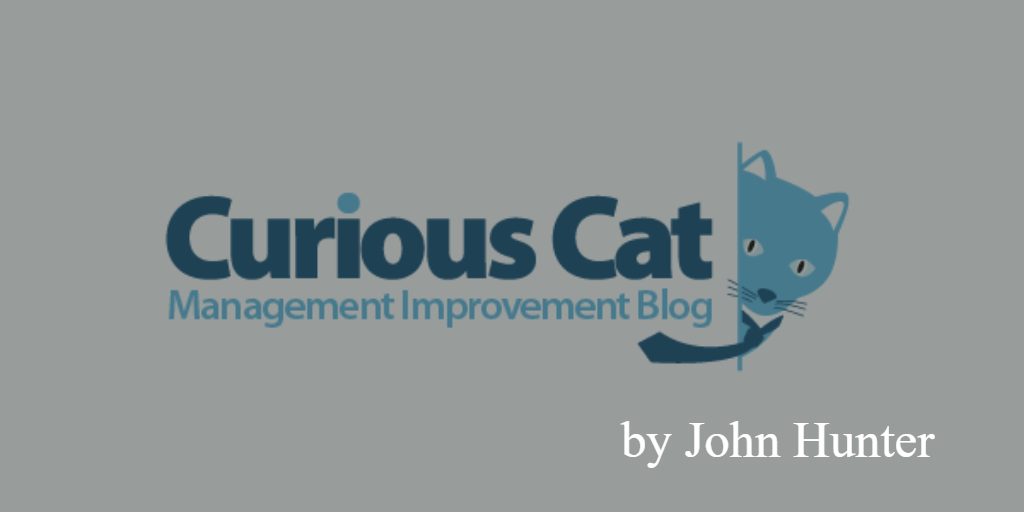 Image credit: management.curiouscatblog.net
Are you interested in continuous improvement? Then, this is the Lean blog to read. Here you can find original commentaries related to different topics such as Lean management, management improvement and etc.
In Curious Cat, John Hunter shares opinions and challenges derived from his professional and personal experience. John is an author, Lean management practitioner, software development consultant and much more. If you want to get started with continuous improvement, don't miss this Lean blog.
Shmula - by Pete Abilla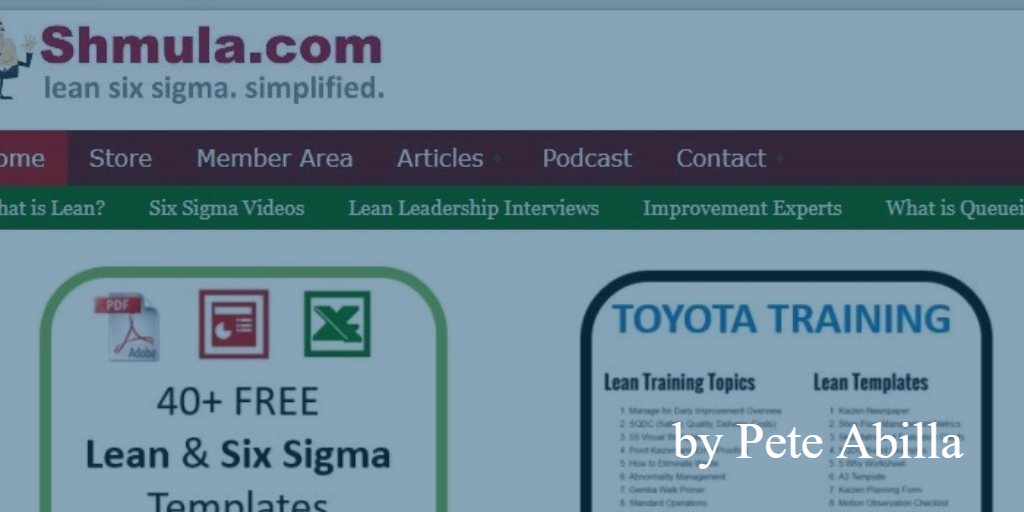 Image credit: shmula.com
Pete started his blog back in 2006 as a hobby, but it turned out to be a lot more than this. He became a passionate Lean learner and practitioner over the years. Pete had the chance to enter a Six Sigma training program, which included visits to Toyota's facilities.
Now, he consults organizations and helps them find a way to improve how they operate. Meanwhile, he shares his professional experience on shmula.com. On his Lean blog, you will find insightful articles, interesting videos and much more.
Kevinmeyer.com - by Kevin Meyer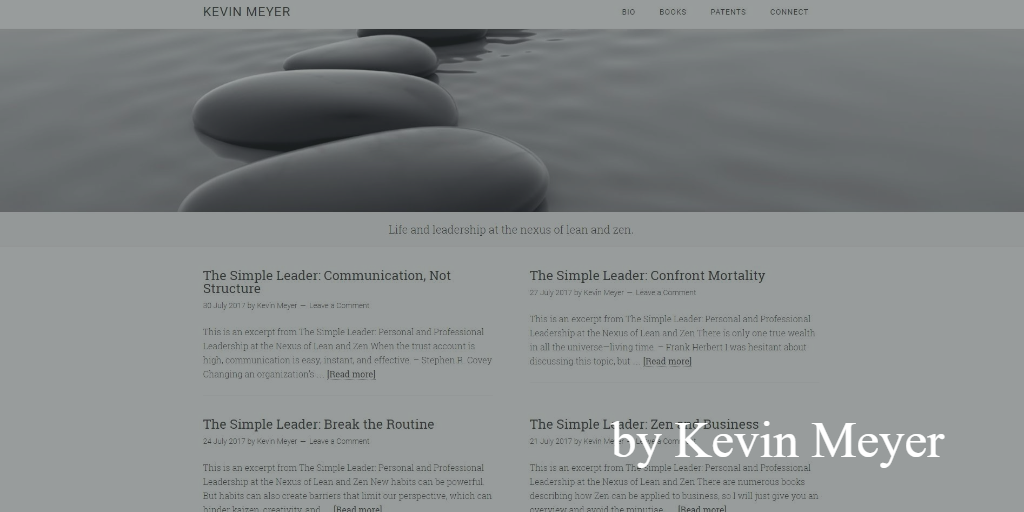 Image credit: kevinmeyer.com
Kevin is a co-founder of Gemba Academy and an accomplished Lean practitioner. He has been in a variety of executive leadership roles, primarily in the medical device industry.
Kevin's background is in engineering and operations with a focus on Lean manufacturing and Lean leadership. These are serious arguments that will make you visit kevinmeyer.com and find insightful articles on various topics such as leadership, Kanban, Lean and much more.
Jamieflinchbaugh.com - by Jamie Flinchbaugh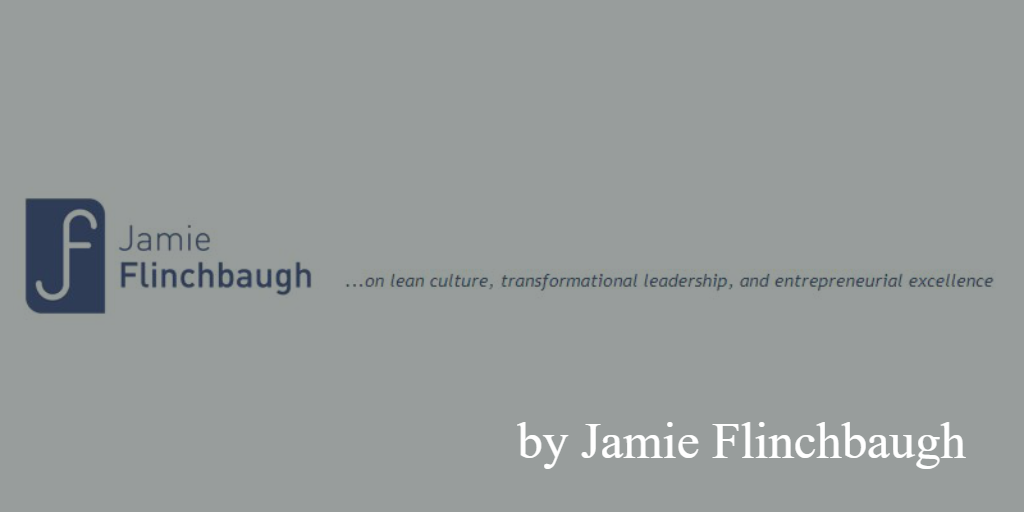 Image credit: jamieflinchbaugh.com
You will find anything about Lean here. All from an experienced practitioner. Jamie Flinchbaugh is a Lean advisor, speaker, and author. He has advised over 300 companies around the world in a Lean transformation.
Jamie co-authored the book "The Hitchhiker's Guide to Lean" and continues to share his experiences as a contributing editor for IndustryWeek. He shares everything for free on his blog. Don't pass it by.
Old Lean Dude - by Bruce Hamilton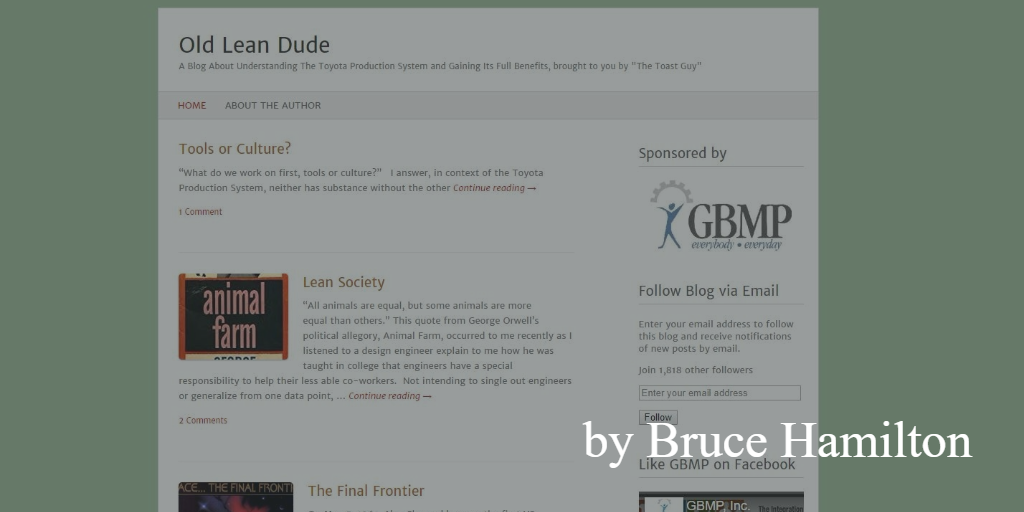 Image credit: oldleandude.com
"Welcome to Bruce Hamilton's Blog, an ongoing reflection on Lean philosophy and practices with an emphasis on keeping good jobs close to home." Bruce has been around the Lean scene since 1985, first as a practitioner and later as a consultant.
He is passionate about learning and shares all his thoughts and learned lessons on his blog. As he says "Everyday there is something new to learn and to share." Keep an eye on it.
Blog Lean Systems - by Pascal Dennis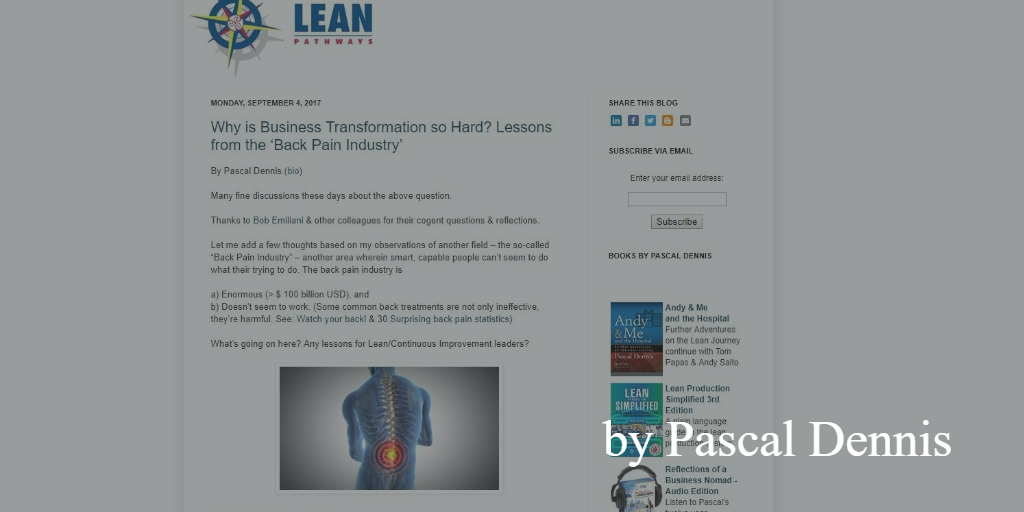 Image credit: blog.leansystems.org
In this outstanding Lean blog, you can enjoy insightful articles, find interesting facts and curious points of view. The author often presents commonly accepted norms and theories related to Lean but from a different angle.
Pascal Dennis is a professional engineer, advisor and author of several books. He has a solid background with Lean and has supported Lean implementation at leading international companies from different industries.
Michel Baudin's Blog - by Michel Baudin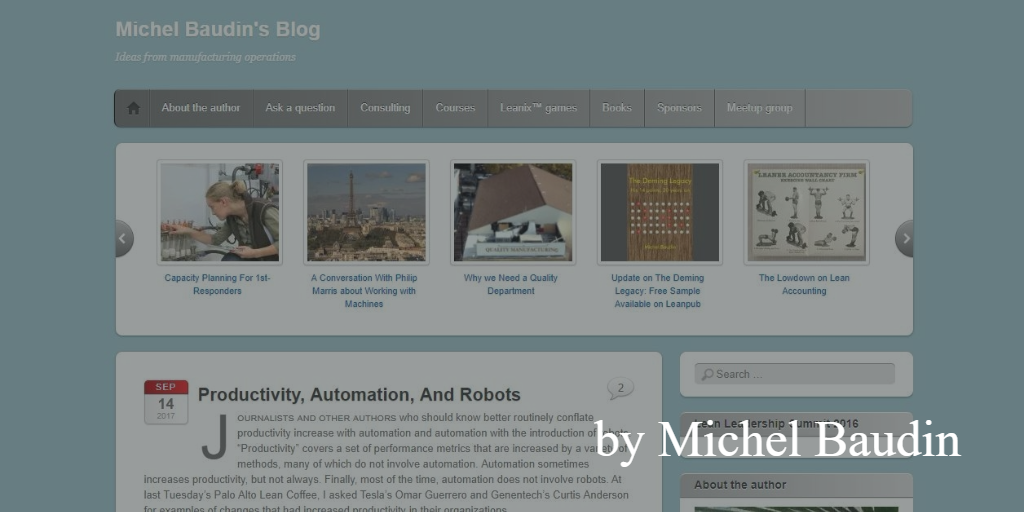 Image credit: michelbaudin.com
Michel is an experienced Lean thinker and is passionate about process improvement. He has a solid background as a product engineer and developer/implementer of manufacturing software.
Michel's work is now focused on Lean and currently involves consulting on implementation, teaching short courses, and writing. On his blog, you can find insightful articles and challenging opinions related to the Lean topic.
All About Lean - by Christoph Roser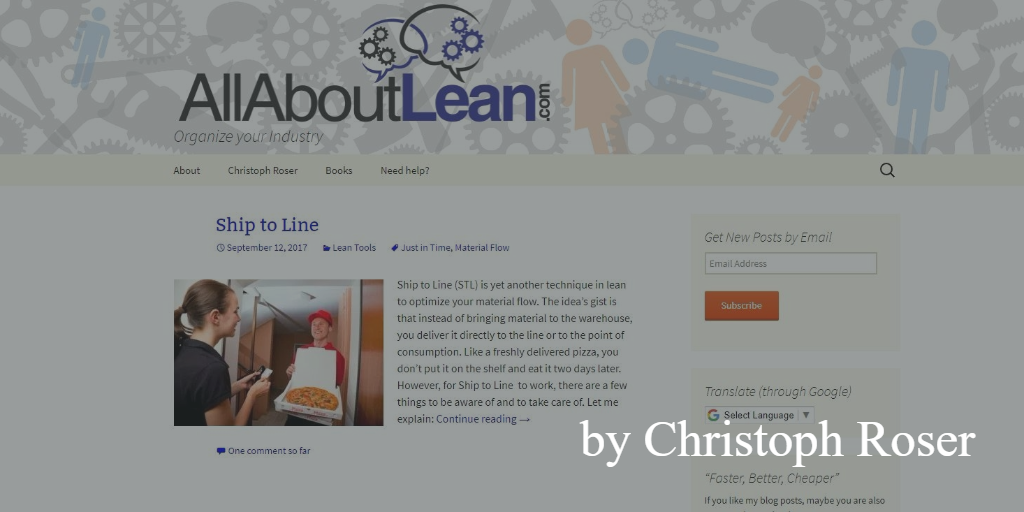 Image credit: allaboutlean.com
Christoph Roser is a professor of production management at the Karlsruhe University of Applied Sciences. The content on this Lean blog is based on decades of experience in implementing, researching, and teaching Lean manufacturing, including five years working at Toyota in Japan.
Christoph worked in different industry fields including but not limited to automotive, machine building, robotics, injection molding, power tools, heating technology, security systems, energy, food industry, and more. He explains that "this blog discusses the underlying fundamentals of the Lean manufacturing approach as well as its specific tools".
Billy's Blog - by William Waddell
Image credit: bill-waddell.com/billy-s-blog
Bill Waddell (father) is a Lean manufacturing expert with over 30 years of experience. He has been consulting companies from all around the world, always trying to help companies transform from traditional manufacturers into Lean Enterprises.
His son, Billy, who runs the blog is also passionate about the Lean philosophy and after he graduated from the University of Arizona in 2011 joined the Manufacturing Leadership Services team. On this blog, you will find unorthodox points of view and interesting discussions.
Lead with Lean - by Michael Ballé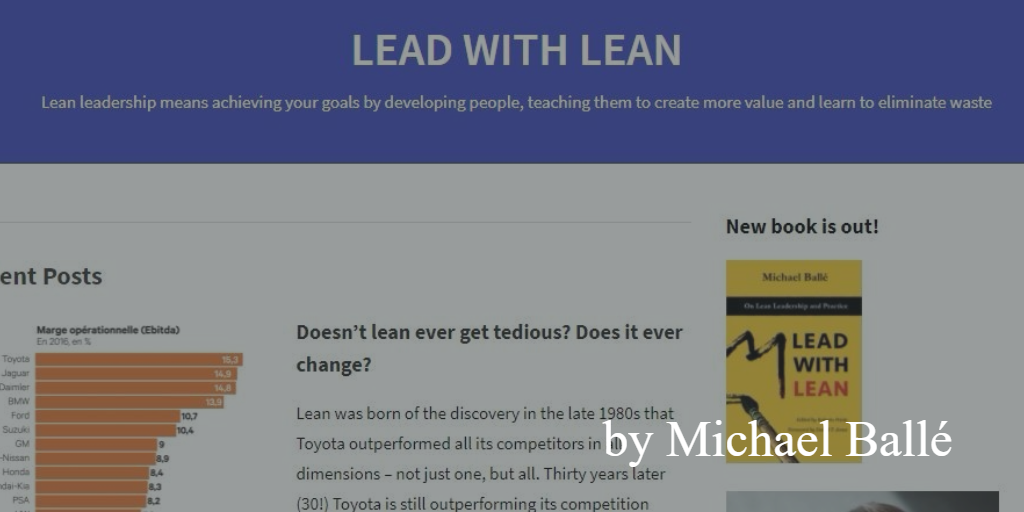 Image credit: leadwithlean.com
Michael is an author, speaker, and researcher in the field of Lean transformation. He has worked side by side with many executives in order to leverage their Lean efforts into market share.
Michael is a co-founder of the Projet Lean Entreprise and the Institut Lean France. On his blog, you will find good advice and insightful discussions on various topics related to Lean management.
Bobemiliani.com - by Bob Emiliani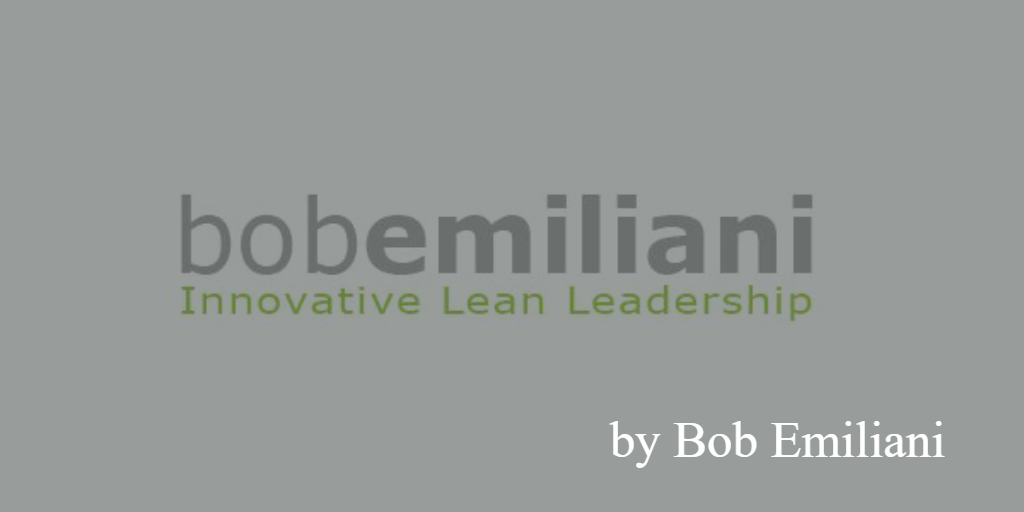 Image credit: bobemiliani.com/blog
Bob Emiliani is a professor of Lean management at Central Connecticut State University. He is an author of 17 books and 47 research papers based on his deep researches in the fields of leadership and management.
Prior to his academic career, Dr. Emiliani has 15 years of industry experience and he is more than passionate about Lean management. All this knowledge converts into insightful articles presented in his blog. A gold mine for both, Lean practitioners and Lean enthusiasts.
Lean Insider. Productivity Press - by Michael Sinocchi & Ralph Bernstein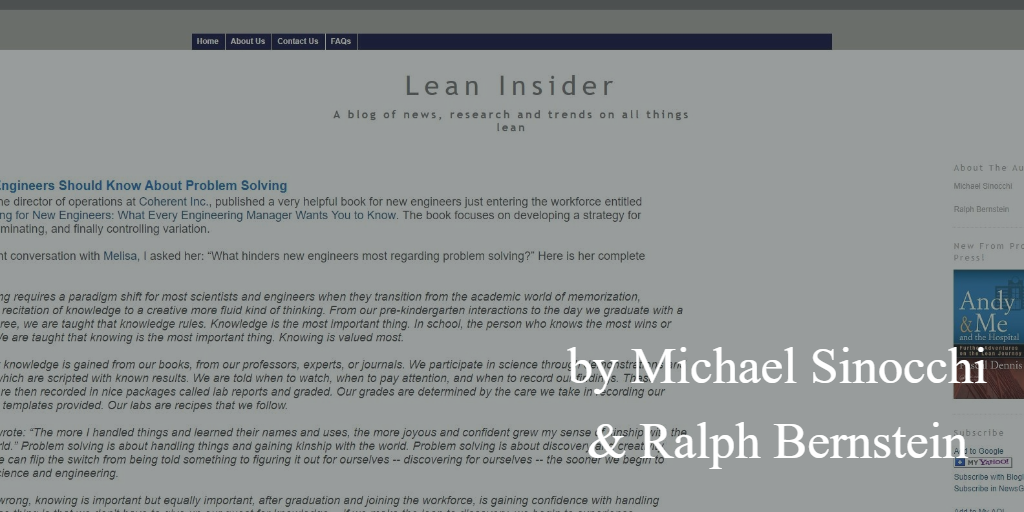 Image credit: leaninsider.productivitypress.com
This Lean blog differs from others with a great idea. Both authors actually review different books related to topics such as Lean, leadership and else. If you need to find an insightful review of a book or just want to check the latest headlines, this is your place.
Ralph Bernstein is a business journalist with more than 30 years of experience as a reporter and editor. Michael Sinocchi is an executive editor and has been acquiring and editing books on lean management and performance improvement for publication for more than 15 years.
leaninsider.productivitypress.com
Leading transformation - by Gregg Stocker
Image credit: Leadingtransformation.wordpress.com
Gregg is an author, speaker, and Lean advisor. He has more than 20 years of experience in different fields including operations, manufacturing, strategic planning and more.
He is passionate about Lean and helped many organizations to implement change and achieve results by improving teamwork, focus, and communication. His blog is full of insightful articles discussing topics such as Kaizen, Lean, motivation and much more.
Leadingtransformation.wordpress.com
Kbjanderson - by Katie Anderson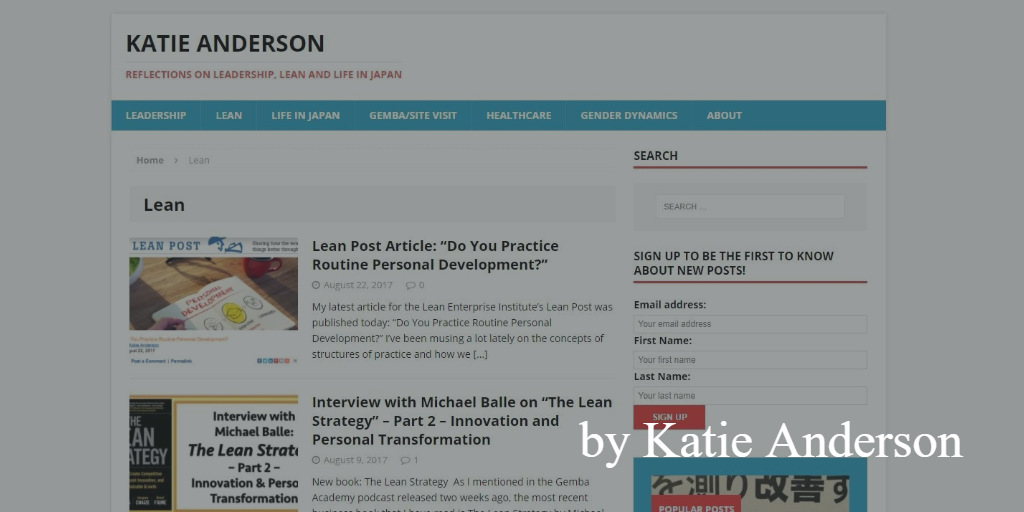 Image credit: kbjanderson.com
Katie has more than 20 years of experience in supporting change and improvement in organizations across a range of industries, including healthcare, academia, research, start-ups, and insurance. She started her blog back in 2015 when she moved to Japan for 18 months.
As she says "I wanted to use this unique opportunity to not only learn as much as possible about Lean, leadership, and Japanese culture but also to share it with a broader community." So far, she shared plenty of good articles on her blog including posts, book reviews, interviews, and podcasts. You will definitely find it useful.
Lean Blog - by Mark Graban
Image credit: leanblog.org
Mark started this blog back in 2005. He is a veteran Lean management practitioner in the manufacturing industry and later he decided to dedicate his professional life to incorporating the principles of Lean in the healthcare industry.
As he states about the blog "it is all about improving hospitals and other types of organizations through." Visiting this blog, you will find discussions, news, podcasts and more about the Lean way.
Lean and Kanban - by David Joyce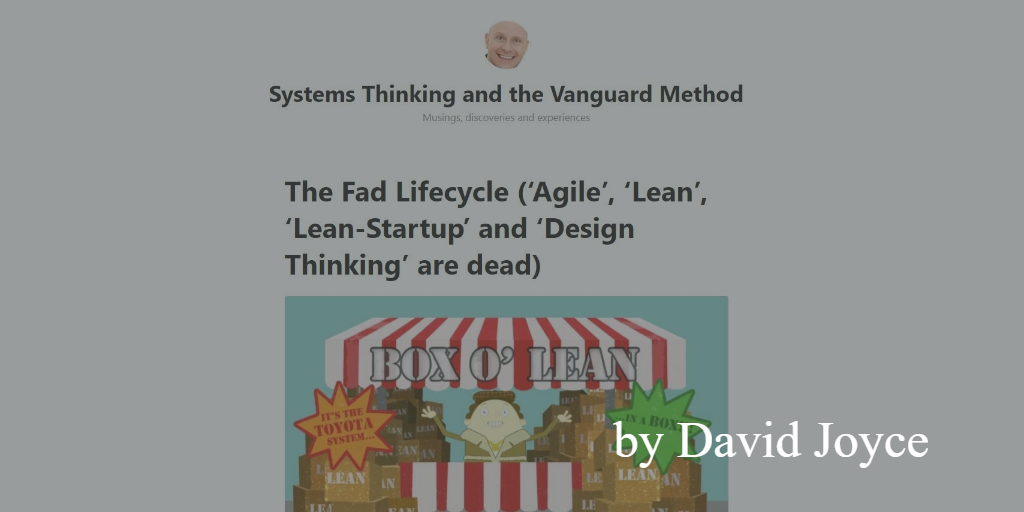 Image credit: leanandkanban.wordpress.com
David has a solid background in software development and team management. He is skilled in project management and product management. Dave helps teams to integrate sustainable change and improve their performance continuously. On his blog, you can find articles related to different topics, including different Agile methodologies such as Lean, Agile, Kanban and etc. All of them are written with a twist.
We have tried to focus on personal blogs here. Yet, there are many other helpful Lean blogs that are not on this list. Spread the word and let us know other blogs that you enjoy reading.

Pavel Naydenov
Head of Marketing
Passionate about online marketing, copywriting, brand management, and social media. Enthusiastic about cooking, guitar playing, and continuous improvement.