The key to understanding the true meaning of efficiency is striving to eliminate all waste of resources in accomplishing desired results. Perhaps the only constant when discussing ways to achieve efficiency is the dynamics of the term. It implies the mindset of continuous monitoring, assessment, and improvement.
The process efficiency in the knowledge work domain refers to achieving an uninterrupted flow of delivery. A steady flow itself requires tracking and measuring mechanisms. To bring more clarity on the matter, we'll look into:
What is process efficiency in Kanban terms?
How to measure the efficiency with Kanbanize?
Process efficiency use cases and benefits.
The Kanban Take on Process Efficiency
One of the great aims of the Kanban method to workflow management is to maximize efficiency on individual and company levels. To achieve that, Kanban relies on workflow analysis based on historical data and the use of customizable metrics to help us gain actionable insights.
Why measure process efficiency?
The ability to identify redundant stages in a workflow, track performance, and gain valuable insights for process improvements are key desired outcomes of a process efficiency analysis. Monitoring these metrics at a glance cultivates a strive for continuous optimization of the work process and making it all more efficient. Viewing our personal or company efficiency in real-time metrics helps us track our progress and serves as a compass to show us the direction of necessary changes towards efficiency.
How to measure process efficiency?
With Kanban, you can monitor metrics such as lead time, cycle time, throughput, work in progress (WIP), and your team's productivity - integral parts of your workflow. To further investigate milestones and weaknesses, Kanban uses the flow efficiency metric. A simple yet very effective ratio between the time an individual or a machine is actively working towards completing a given task (value-added time), and the overall time a task spends in your workflow (lead time) - from order to delivery.
Flow Efficiency[%]=Value-added Time/Lead Time*100
Measure Process Efficiency with Kanbanize by Businessmap
To identify process efficiency, Kanbanize offers the use of visually appealing, highly intuitive, and customizable metrics.
Flow Efficiency Chart
The Flow Efficiency chart available within the analytics module of your account allows for a detailed view of the time a task spent in each stage of your work process.
Having a visual representation of both value-adding and waiting times will help you figure out which stages of your workflow need attention and which are going smoothly. You will find out in which stages your team takes less processing time, and you'll be able to analyze the ones where work gets piled up.
Furthermore, you can configure the Flow Efficiency chart to a great extent. For instance, using the "Add cards filter" functionality, you can visualize only the high-priority tasks processed on a selected workflow for the last month. You can filter the results by assignee, lane, type, or any custom field you created.
To get the most of the Flow Efficiency chart - understand how fast tasks are flowing through your work stages, make proper use of the "queueing" columns in the software. These represent the waiting stages in your process. The graph allows you to distinguish these non-value-adding columns from the value-adding steps. This way, you get a clear view of the time spent actively working on given tasks - your workflow efficiency.
Process Efficiency Widget
Being highly dynamic and influenced by internal and external events, you may want to keep an eye on how efficient your process is on a regular basis. At times, you will discover that your team's performance is lower, or you'll find out that there's a stage in your workflow where work gets stuck. To act accordingly, you need solid data to analyze and an alert that something needs attention.
In Kanbanize, your alert prompt is called the Process Efficiency widget. With its easy configuration and straightforward visual representation of the results, it is probably one of the most used metrics to monitor how efficient a work process is. The efficiency metric provides an overview of the ratio between value-adding time and non-value-adding time tasks for a given workspace and a period of time.
One of the most useful filter options of the widget allows you to exclude weekends from your efficiency calculations or tasks which took an unusually long time to complete.
Note: To get an insightful view into the efficiency of your process, take the time to accurately set up the cycle time of each board and think about the activity and waiting stages in your workflow.
How does cycle time provide key insights into workflow efficiency?
Think of the cycle time metric as the basis to understand your workflow efficiency. You are in charge of selecting the stages of your process to be calculated in the cycle time. The visualization of your work stages as "activity" or "queue" stages is a great place to start when configuring the cycle time of your Kanban boards.
How do we exclude stages where no active work is done from cycle time configuration?
Since an optimized process corresponds to shorter cycle times, you can exclude the stages where no activity is performed from the cycle time calculation by configuring the cycle time per board.
Furthermore, the Cycle Time Scatter Plot will help you get a clear view of the individual tasks which took more time to be completed and give you ideas for improvement of the stages they're in or the reason for the delay in their completion.
How does setting up Work In Progress (WIP) limits impact your process efficiency?
Except for being one of the ground Kanban practices to achieve a steady and efficient workflow, the use of WIP limits creates a pool of possibilities for improvement. As such, setting up WIP limits to the waiting (queue) stages of your workflow will help your team be more focused, refrain from context switching, and be quick to deliver. This will inevitably shorten the cycle time and boost the overall workflow efficiency.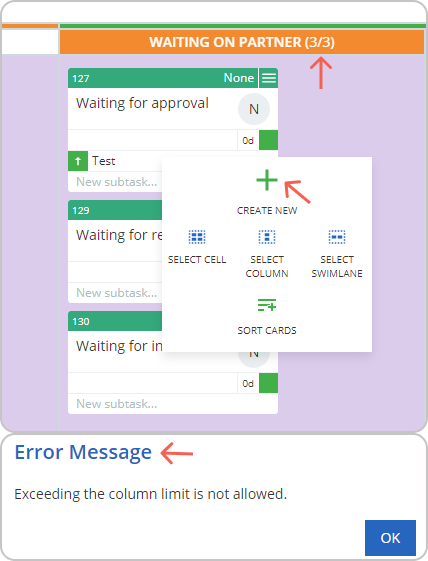 Use Cases & Benefits to Process Efficiency
How do businesses reach and measure process efficiency through Kanban? What are the milestones they face?
Starting with a digital Kanban board including all team members, setting up roles and responsibilities, using visual marks such as card stickers and blockers is a great way to introduce transparency across teams and locations. Combining these with an automatic notification system where select members are informed about critical events when they occur will make your process more efficient and stable. Here's how automation can help manage complex projects in the construction domain.
Visualizing the queue stages (columns) of your work process is especially useful when you struggle to keep track of the phases where work is waiting on partners. By creating a column on your Kanban board, such as "Waiting On External Activity" and configuring it as a queue stage, the efficiency of your flow will distinguish between these non-value-adding times and the value-adding tasks. This way, you get an accurate measurement of your process efficiency.
By properly configuring the cycle time of your Kanban boards individually, you can exclude the time when your tasks have been waiting on external activity. By ignoring that metric from your cycle time, you get an accurate view of the rhythm of your workflow as well as key observations on team performance and overall process efficiency.
How Process Efficiency Benefits Organizations?
Tracking efficiency using the Flow Efficiency Chart and the Process Efficiency widget will help you get deeper insights into work performance over time and analyze your improvement efforts.
Through the use of queueing and active columns, you get an easy identification of bottlenecks, such as the redundant stages in your workflow.
Through meaningful configuration of cycle time and eliminating non-value-adding tasks from the workflow, you minimize waste.
Wrap Up
Your workflow will always require your attention. You will have to think and rethink your initial approach, assess your efforts, and draw new conclusions.
Kanban's core values and practices are based on continuous improvement, and change is the driving force. By creating a habit of monitoring your process efficiency regularly, you will cultivate a behavior where change is not only an option but a necessity.
Kanban gives you the mindset to embrace improvement and Kanbanize - the tools to achieve your goals and excel.
So, how efficient is your workflow?

Iva Krasteva
SEO & Content Creator Expert
Analytical. Driven by constant learning and knowledge. Fascinated by people's creativity. Admiration for intellectual property, copywriter and SEO. Passion for nature's beauty, comic books, pop art and cinema.